GUIDE TO AUDIO/VIDEO CABLES
Version 2.0
I've noticed that many people are confused about all the different types of cables out there and what advantages each type has
So i made this tutorial to explain them
SECTION 1
The different cables
1. RF cable (aka Coaxial Cable)
This is the thick cable you use to connect to your antenna or cable service. This was the only type of cable back then and this is the only way to hook up your Xbox to older TV sets. The Xbox, if you haven't noticed yet, has no output for this so you will need an RF modulator. The main advantage I can think of that it is simple, only one cable is needed to transmit video and sound, also it sends all the channels at the same time so you can use the tuner on your TV. Its disadvantages are low picture quality and mono sound (half of stereo). Also this is an analog signal, for anyone who wants to know.
2. Composite
This is a step up from Coaxial, There are 3 separate cables. Yellow for video, white for the left channel audio, and red for the right channel audio. The advantages are that the picture quality is greatly enhanced and you have stereo sound. However there are some disadvantages, first of all not all TV sets support it (although most these days do), and you will need to have a separate tuner because this cable can only transmit one channel at a time. This isn't a big problem for the xbox. But you will need to carry a remote for your TV and digital cable (or satellite) receiver. Even with this disadvantage the picture quality is A LOT better then coaxial. This is also analog.
3. Svideo
S-video carries only the video signal so you will still need the composite cables to send audio. The only advantage is better video quality, the video signal is broken up which gives a better picture. The only disadvantage is that it doesn't carry audio. This is again analog.
4. Component
This is the best consumer cable out there. Like the s-video it only carries video. This cable consists of 3 cables, red, blue and green (the green is for brightness). This separates the color even more then s-video which makes the picture quality very good. However a major disadvantage is that not many TVs have this input. This is analog
5. Optical (toslink)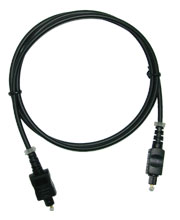 This cable is used for audio. This is a digital connection and this will give you surround sound. It works by sending light through a glass fiber. The major advantage is that this will give you surround sound whereas composite doesn't. However it costs more then composite.
6. Audio coaxial
This cable is actually a composite cable that can also send surround sound just as well as optical. It is a lot cheaper then optical so this is what I would recommend. And I have no idea why it's called audio coaxial cable when it isn't coaxial cable. This, like optical, is also digital.
SECTION 2
Which cable should I use for my TV?
Well I made a couple of scenarios; you pick the one that best describes you. Also this is just my opinion, if you don't agree with what I say, don't do it.
Scenario 1
You have a small TV 25in or smaller
If it has a composite cable use it, if not, coaxial is your only hope
S-video will also work but you won't see much of difference
If you have an expensive TV that has component, use it if you already have the cable BUT DON'T GO OUT AND BUY ONE, you won't see any difference at all!
Scenario 2
You have a peaty big TV, 25in to ~40in.
Use s-video or composite. Stay far away from coaxial
If your TV has component, you will see a change but not a big one. If you are a heavy gamer a component cable will help
Scenario 3
You have a large projection TV (non HDTV). 40 and up.
Use s-video, composite will work but it won't look its best.
If you have component use it, you will see a difference
Scenario 4
You have an awesome HDTV projection TV
Use s-video at least, composite if you have no other choice
Go for component whenever you have the chance. Everything is very clear, beautiful, and sharp.
Some General Tips
1. the same cable is used for composite, componant and audio coaxial. So you don't have to buy a special component cable if you have a composite cable.
2. use audio coaxial instead of optical, because it is a lot cheaper
3. using a Monster Power platinum coated cable is no better then a cheap brandless cable when it comes to digital signals,
Also if you see anything wrong with this tutorial or if you would like to add something just send me a pm or email me, I will fix it ASAP.
Good Luck
Edited by sparkac, 21 October 2003 - 11:59 PM.