Ok, these is a FAQ for all you DDR lovers like myself out there. Even if your a newbie, advanced, or a hardcore player these guides will help you just like it helped me. Please msg me Feedback, and if so I ask Shana to please Sticky this!
DDR Dictionary
1/4 step Placed on the beat of the song. Most basic songs are composed entirely of quarter notes. Shown in the steps page on this site in red.
1/8 step Placed exactly halfway between the beats of the song. Shown in the steps page on this site in blue.
1/16 step Placed exactly halfway between 1/8 steps. Dynamite Rave Single Maniac has several patterns which includes sixteenth steps. Shown in the steps page on this site in purple.
1/32 step Placed exactly halfway between 1/16 steps. New to DDRMAX2 and beyond. First featured in Tsugaru Heavy.
1.5x/2x/3x/5x/8x Speed modifiers that speed up the arrows to n-times their normal speed. Many players find songs easier to sight-read this way -- especially songs with very dense arrow patterns (bag, Orion.78).
Absolute March Marching from left to right when there is a measure of 1/4th left and right arrows. Innovated by DCB at the SVGL2 tournament in 2002.
Air Number of jumps in a song
Another Another name for Trick used in some versions of DDR
Balut Filipino delicacy. Similar to an aborted duck fetus boiled in the shell.
Bar Hugger One who refuses to let go of the bar and adamantly puts all their weight on the bar behind them throughout the whole song.
Bar Raping An unflattering term for bar-hugging.
Basic Easiest mode of steps on most versions of DDR. Difficulty is generally between 1 and 5 feet
Battle A mode of playing two players. Both players' arrows begin overlapped in the center at the bottom of the screen and branch outwards to the appropriate player's side. Introduced in 4th mix.
Beginner Easiest level of all. All songs are 1 foot. Only found on DDR USA, Dancing Stage EuroMIX, and DDR Extreme.
Bemani Konami's collection of music games
Beatmania Konami's original music game. Featuring 5 keys and a turntable where you hit keys in time to the music. Superceeded by IIDX.
Bong Thomas Bar flare, where the person lifts his/her body to go around the bar. Bong - bar (in Korean), Thomas - name of the gymnast who originated the move. (Thanks to Jason Ho for the definition.)
Boo The rating you get on a step when you hit the arrow pretty off-beat
Boost Same as Special on Solo2k, but featured on DDR Max. The arrows continually speed up as they get closer to the top.
Brake A modifier only available in the Trick Oni course in DDR Extreme, where the arrows slow down dramatically as theyreach the top of the screen.
Butterfly Turn The original U R D L series of steps featured in Butterfly on which many players first turned.
Cata see Catastrophic
Catastrophic The most difficult song ranking given to songs appearing on mixes prior to DDR MAX (6th mix). 9 footers.
Caution Drop Move used typically in PIU (but can be applied to DDR) where the player steps on two diagonals, then the center, then hits the other two diagonals with his/her hands
Chaos Irregularity of steps
Couple A mode of playing for two players where the steps complement each other.
Combo Number that represents your most recent sequence of consecutive perfects and greats.
Dance Dance Revolution One of the games in Konami's Bemani series. Involves stepping on arrows in rhythm
Dance With Intensity One of many unofficial computer DDR simulators
Dark mode Mode of playing where stationary arrows at top do not appear. Introduced in DDR Max2 (7th mix).
DDR Abbreviation for Dance Dance Revolution
Difficult DDR USA's equivalent of trick. Also on Dancing Stage EuroMIX.
DWI see Dance With Intensity
Double A mode where the DDRer plays on both sides at once
Edit Certain versions of DDR allow the player to insert a memory card and play steps that he created on a playstation.
Expert DDR USA's equivalent of maniac. Also on Dancing Stage EuroMIX.
Flat Mode where arrows are all the same color, regardless of beat. See Vivid
Freestyle A way of playing DDR where the object is to look good and perform for an audience
Freeze Number of freeze steps; also refers to the step introduced in DDR Max that requires the player to hold an arrow for some defined time
Fuwa Fuwa A modifier only available in the Trick Oni course in DDR Extreme, where the arrows move up and down in an accordion-like fashion before hitting the top of the screen.
Gallop Any isolated pair of successive 16th notes. Best exemplified in In the Navy SSR, or Cowgirl Maniac.
Gauge Bar that represents how well you are hitting the steps. When the bar reaches the bottom, your game is over
Good The rating you get on a step when you hit the arrow more than slightly off-beat
Good Attack A method of playing where the object is to get the most Goods possible
Great The rating you get on a step when you hit the arrow slightly before or after the beat. Keeps your combo going.
Great Attack A method of playing where the object is to get the most Greats possible
Groove Radar Introduced in DDR Max. Graphical representation of the song difficulty replacing the old 1-9 foot rating system. Measures five attributes: Voltage, Stream, Chaos, Freeze, Air
Hand Plant Using your hand to hit a panel
Hand Slap See Hand Plant
Heavy Equivalent to Maniac difficulty, but used on DDR MAX/6th mix
Hidden Mode of playing where arrows disappear before reaching the top of the screen.
Hi Guys! What began as an inside joke at SVGL2. Phrase coined by the Killer Pals as a universal greeting.
IIDX Popular Bemani title where you have 7-keys and a turntable. Many songs in DDR are also in IIDX. A continuation of the Beatmania franchise.
Impromptu Form of freestyle in which the player makes up his routine on the spot without prior preparation.
Knee Drop Using your knee to hit a panel
Konami Company that invented DDR
Koshiru Shuffle Move in Boom Boom Dollar Maniac where one hand is on the opposite pad, body is horizontal.
Left A mode of playing where the steps are rotated 90 degrees to the left.
Left Foot Only A style of playing where the player only uses his left foot to hit all the steps.
Light Equivalent to the Basic difficulty in DDRMAX/Extreme
Little Code that removes all steps except for quarter steps from a song. Often used to allow a less skilled player to play with a more advanced player on mixes that don't allow players to choose different difficulties.
LFO Abbreviation for Left Foot Only
Maniac Most difficult mode of steps on most versions of DDR. Difficulty is generally between 6 and 9 feet.
Maniac2 Term created and used on this site to denote the new maniac steps on 4th mix plus for old songs. Usually significantly harder than the old maniac steps. See Butterfly Upswing Mix.
Maniac-S Term on 4th mix plus and 5th mix machines to denote the old maniac single steps. On these machines, Maniac then refers to the new steps.
Maniac-D Term on 4th mix plus and 5th mix machines to denote the old maniac double steps.
Marvelous Term used in non-stop and Oni courses in DDR Extreme to denote perfect timing for a step. This accuracy is higher than "Perfect"
Matrix Walk Freestyle move where the performer puts one hand on the bar and walks on the screen. Most people frown on this, as it is known to damage machines
Mirror Mode of playing where arrows are rotated 180 degrees.
Miss The rating you get on a step when you don't hit the arrow anytime close to the beat
Newbie Person who is a beginner on DDR
N.G. Stands for 'No Good.' Rating given when you miss a freeze.
OK Rating given when you hold a freeze successfully.
Oni Mode Also known as Challenging Mode. A variation of Nonstop in which the player gets 4 lives, losing one life for each Good, Boo, Miss, or NG. Player regains between zero and three lives between each song.
Perfect The rating you get on a step when you hit the arrow exactly on the beat
Perfect Attack A method of judging accuracy among players. The predominant method used for tournaments in the United States. Score is based on percentage of perfect steps out of total steps, without regard to combo's.
PIU Abbreviation for Pump It Up. A Korean dancing game franchise similar to DDR.
RFO Abbreviation for Right Foot Only
Reverse When the arrows scroll from top to bottom instead of the usual bottom to top.
Reverse Boost See 'brake'.
Right A mode of playing where the steps are rotated 90 degrees to the right.
Right Foot Only A style of playing where the player only uses his right foot to hit all the steps.
Roulette Mode where random song is chosen for your play
Routine A predefined set of moves a performer uses for a given set of steps on a particular song
S4R 1. Sudden Shuffle on SSR mode.
2. Stealth Shuffle on SSR mode. In this mode, the player must play with another person who plays the steps without modification. The S4R player figures out which shuffle mode has been chosen, and must figure out which steps to hit.
Save Rating given in Unison mode when one person misses their arrow, but their partner hits it.
Score Attack A method of judging accuracy. Points are allotted differently among versions of DDR. Highest score wins.
Shuffle Mode of playing where arrows are shuffled in one of eight possible patterns.
Sight Read Playing a song without having seen/played/heard the song or the steps beforehand
Sink Arrows scroll from top down instead of bottom up.
Slide Using one foot to press one panel then another without lifting it off the stage, but by dragging it across the panels instead
Solo 6-panel version of DDR with the inclusion of upper-left and upper-right diagonal arrows. Also used as a setting in DDRMAX/Extreme which adds more colorful arrows to make sight-reading easier.
Special Arrows accelerate on their way up the screen. Featured only on Solo 2k.
Speed modifiers See "1.5x/2x/3x/5x/8x".
Spin Pivoting on a single foot 360 degrees.
SSR Abbreviation for Step Step Revolution
Standard DDR USA's equivalent of basic. Also on Dancing Stage EuroMIX. Standard is DDRMAX/Extreme's equiavent of Trick.
Stealth Mode of playing where arrows don't appear until you've missed them already.
Stepmania One of many unofficial dance simulators also ported to the Xbox home video console.
Step Step Revolution Another name for Maniac mode on certain versions of DDR
Stream Overall density of steps
Sudden Mode of playing where arrows appear just before they reach the top.
Trick Middle mode of steps on most versions of DDR. Difficulty is generally between 4 and 7 feet.
Triplets Elusive step whose existence was in doubt for some time. These steps break a single beat into 3 equal steps, or sometimes breaks two quarter beats into 3 steps. Only a few songs feature these special steps. A few single maniac songs include Gentle Stress, Afronova, Luv 2 Me. Shown in the steps page in green.
Turn Any series of steps on which a player rotates his body 360 degrees
UMA stands for Unidentified Mysterious Animal - said by the announcer in DDR MAX; also a character genre in 3rd Mix home version
Unison Both players share one group of arrows in the center of the screen; the color of the arrows determine which player it belongs to.
Versus Same as single player steps, but for two players.
Vivid Mode of playing where arrows are colored according to their beat timing. All quarter notes are in one color, eighth notes in another color, etc. See Flat
Voltage Peak density of steps
Tips and Techniques - Beginners
There are some key things that you must remember when you first play ddr. First of all, it's best that you have a little bit of rhythm. And by rhythm, I do not mean you know how to bob your head at a dance party. A big thing is you have to be able to pick up the "bass" beat when playing. It's typically a constant beat and pretty much all the steps on basic mode fall on that single beat. When you're listening to music typically, a lot of people tap their feat. When you're doing that, you're typically tapping on the "bass" beat. So just do the same thing in ddr, except step on the arrows. Remember, just because there isn't an arrow on the screen, that doesn't mean you can't tap your feet to stay on beat. You can always stay standing on the arrows even when there aren't any arrows on the screen. And even if there is an arrow, you can hit one of the other arrows that do not appear on the screen. For example, if a left arrow appears, you can hit left and right at the same time and you will still be counted as hitting left.
Secondly and possibly one of the things I can't stress enough is, "DO NOT STOMP". Trust me, just because you're playing "stomp to my beat" that does not literally mean stomp. All you have to do is put your weight onto the arrow and it will register. It will look and sound a lot better when you're playing if you're not stomping. Especially on single beats, all you have to do is transfer your weight to another arrow.
Third, try to remain on the arrows as much as possible. As in, don't step back into the center metal square after you hit an arrow. Just stay standing on the arrows and you will be less tired after you play cause you won't always be moving back to the center then out to the arrow then back to the center, etc…
Fourth, keep your feet low to the pad. The higher you lift it, the more energy you will exert. If you keep it low, you will be less likely to stomp and you'll be able to play a lot longer. I frequently hit the bolts on the pad with the bottom of my shoe cause my feet don't go very high at all…
Fifth point, don't play by watching the arrows, play by listening. You will hit a lot more arrows if you play off of the beat of the song rather than trying to hit it perfectly when it reaches the top part on the screen. Just listen to the beat and hit the arrow on the beat.
Sixth point, a lot of beginners do this. This is very important, "don't play with one foot." I mean don't use your left foot for the left arrow and your right foot for up, right, and down or vice-versa. Instead get used to hitting all the arrows with both feet. And always alternate your feet when possible. Of course use your judgment on when to switch. Obviously if it's a constant stream of right arrows you're not going to switch back and forth with your left and right feet. Here is a solution to stop playing with one foot. I'm not saying this is the best way, but the way I got myself from always using one foot to play was that I forced myself to play only with my other foot. So when I started out, I stood on the left arrow and used my right foot for up, right, and down. But then I forced myself to play standing on the right arrow and hitting left, up, and down with my left foot. After a while you get accustomed to playing with both feet and you will naturally alternate between feet. This is also a good way to get your feet faster at hitting the arrows because you're forcing each foot to learn to take up 75% of the arrow load.
At this point, you should be reaching trick mode songs. Now there are a lot of "3 steps" in trick mode which means that in-between the single beats, there is an extra step. The only thing I can say about this is try to listen to the song and stick in an extra beat in your head so you know when to step. It's kind of strange at first but you'll get used to it. Just play slower songs on trick so that you can get accustomed to the "3 steps".
One thing that can get your legs untangled or can be used on the "3 step" is the slide. I'm not going to get into this here cause it's covered in the freestyle section. It definitely looks cooler to do this than to just step on the quick beats and it helps out a lot if your legs get tangled.
If you get stuck on a song or you just want to improve your skills, watch other people play. I don't mean watch them freestyle. I mean take a look at their feet and see how they handle certain patterns of arrows. Then try to do the same thing or something similar. You can learn a lot from people who are good just because they've already gone through making their mistakes and have found the best solution to hit certain patterns of arrows. And lastly, I cannot stress this more. The best advice anyone has ever given me was from cristyne, who said "don't be afraid to play SSR." The best way to not waste your money and to play SSR songs is to play with someone who can pass them. Don't be afraid, no one is going to bite your head off if you ask to play with them. And seriously no one cares if you didn't pass. Everyone who can play SSR songs had to reach this point by just playing and failing at the beginning. And eventually you will learn to play it too. So don't worry what the crowd or anyone else thinks. Go out, play a lot, and have some fun
Tips and Techniques - Scoring
Scoring is easy. All you need to do is get all perfects! Then you'll get the highest score.
"Come on, EnoOn, we all know that. How do you get all perfects. That's what we want to know"
Well, it's important to keep in mind that it's all about getting perfects. Now that we know what our goal is, we can work towards it.
I'm not the best, but I do have some hints. A good starting place.
First, if you're learning to score, and you're used to freestyling or just passing songs, go back to easier songs. Concentrate on getting full combo on songs. Concentrate on timing. People who are used to just passing songs by the skin of their teeth are usually not used to trying for full combo on easier songs... they want to pass much harder songs, which is normal and good. But when working on score, perfects are more important than keeping your gauge up.
Also, start with songs without 8th notes (some people call them triplets or half-beats, but those are actually different things). Most basic songs below 5 feet are good for this... some favorites are Dynamite Rave Basic (but it has a lot of jumps) and End of the Century Basic. Also good are Boys Basic and El Ritmo Tropical Basic (at least for me). Start with an easy song and work on it until you get to the level you want to get with it... 85% perfect, 90% perfect, whatever you're trying to achieve.
So, now we're on an easier song. Here are, for me, the best ways to work on getting perfects:
1) Before the arrows even start, get the beat. Walk back and forth on the arrows to the beat of the song, get into the beat.
2) There are a couple things that the game does to help with timing that a lot of people don't know about: Just before the song starts, the arrows at the top will begin flashing. They always flash to the beat of the song. Also, when you step on an arrow, the corresponding arrow at the top of the screen will pulsate. If you're JUST on the beat, the flash of the arrow and the pulsating of the arrow will perfectly correspond. You can't really do a lot with this when the song is going, but you usually have enough time at the beginning to get yourself on the beat.
3) During the song, DON'T LOSE the beat. This means if there's a break, keep stepping the beat, or at least bounce a little, to remind yourself of it.
4) Masa said something that I hadn't really thought of, but it's definitely true, and I've followed it, and it helps... when you're practicing, try to keep track of the parts where you get off beat, and then work to fix it. If you have a home version, you can use the judge mode in training/practice mode to see whether you're off the beat, and which way you're off the beat, early or late. USE THIS.
5) When you start working on harder songs, notably songs with eighth notes, that you don't start rushing the beat. A lot of people don't do eighth notes evenly. To think about this, count a beat. Then count it twice as fast. A lot of people count eighth notes as just 3 really fast notes... but they are exactly twice as fast. It needs to be practiced. Same with 16th notes, and other rhythms. It requires practice.
6) A technical piece of information: To get a perfect, you need to be within 1/32nd note (an 1/8th of a "beat") of the arrow. This isn't going to mean much, except that it's not based on time... so in faster songs, you have a smaller margin of error, time wise. When you need to be thinking about this, it will be useful. If it doesn't make sense, ignore it.
7) Most of all... RELAX! Even though you need to hold these things in your head, you can't be thinking about them, and you can't get tense about them. Thinking slows you down, as does tension... and if you're slow, you'll be off beat. It helps to work on them one at a time, and watch yourself improve slowly... you can't learn them all at once.
Tips and Techniques - Performance
FYI: Entertaining a crowd and a DDR Veteran are two different things. Anything as little as looking away from the screen will entertain a crowd, but for seasoned DDR veteran, you'll need to pull out all stops and bust out something never done before. Or just know how to 'dance'.
It takes many things for a quality routine. Technique, Flow, Content, Comedy, Corrdination, Shock Value, and Crowd Control. Any one of these alone will just not work.
One fine example is Dj-8-Ball. His routines are well thought out and practiced. Such as his
Cafe Routine
, or his
Syncronized Love
routine.
Even more so, Kevin Kim's
Dam Darium
Routine foreshadows just about everyone in California. Not only does he have excellent technique, but 1. his arms techniques are ALWAYS clean, which is hard to say about most other freestylers here, and 2. his routine shows that he's put A LOT of practice in it.
Costumes alone will not win a tournament. Sure, it looks different from regular clothing, but if don't do anything special with it, might as well wear regular clothes. If you dress as a samurai, wield a sword. If you dress as a DBZ character, do some energy blast. If you dress as a breaker, for god sakes, B-BOY!
Relying on a single freestyle move will not win a tournament. I don't care if you defy gravity. If you rely on just one thing, you are on your own. Adding variety will better your chances.
On a related topic, sticking to overplayed, overused moves like these will (greatly) lessen your chances of placing.
Example: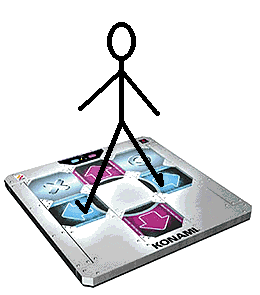 *These moves are a . Avoid at all costs.*
Most importantly of all, you must put a lot of time and practice in your routine. No one likes to see a really good, but sloppy routine, where the arms are flopping everywhere. The more time you commit to practicing your routine, the better looking your routine will come out. Practice is your friend.
Experience is also your friend. You can read freestyling tips as much as you like, but unless you go over and check out an actual tournament and do a routine, you'll never really find your true freestyle potential. Goto tournaments, check out placing routines, and have a feel for it. You can only get better by going out there and testing your mettle. After that, download the vids, and use that as building blocks for your next routine.
Finally, DO NOT COPY SOMEONE ELSE'S ROUTINE. You will be shunned as a result. Add your own flair, your own style and taste. People are looking for something different, not 25 routines of the same thing.
That is all. Good luck and have fun!
DDR - The Basics
It is assumed that you know what Dance Dance Revolution (referred to here as "DDR") is, since you have come to this website. However, you may not have played the game before. These are some questions commonly asked by people who are starting to play DDR.
I'm a beginner, completely new to DDR. What songs are good songs to start practicing on Single?
Most people will agree that songs on Basic with difficulties of less than 4 are good for beginners. This can include songs such as "Boom Boom Dollar", "Butterfly", "Silent Hill", and "Kick the Can".
After a bit of practice with these songs, the harder Basic songs, such as the various versions of "PARANOiA" and "Trip Machine", "Dynamite Rave", and "Afronova" should be practiced. These songs are either a bit faster, or have much longer periods of arrows without pauses in between.
A similar method can be used for Trick/Difficult and Maniac/Expert Difficulties.
I am pretty good with Single. What songs should I practice on Double?
This is my opinion, and people differ on this, but I think that one should be comfortable with at least Trick songs before attempting Double. Most Double songs require quite a bit of movement across both pads, and sightreading both sides is a little weird for the first few times on Double.
Anyway, same principle as above. Easier songs first, such as "Butterfly" and "La Senorita".
I love the music, and I want to listen to it even when I'm not playing DDR. Where do I get the music?
To buy the soundtracks, you can go to online vendors such as gamemusic.com or express.com. There are others out there, but these two have been used quite frequently by the author of this FAQ, and are dependable.
If you live near a shop that deals with imported video games and/or music, you can also check those out. Examples include Asahiya and Kinokuniya bookstores and video game stores such as Network Video in Northern California.
I want to play DDR at home. Where do I buy a copy?
There are a few online vendors of imported video games, including express.com and gamecave.com. Again, there are others, but these two are vendors that the author of this FAQ has found to be reliable.
If you are lucky enough to live close to a store that sells imported video games, then ask them if they sell copies of DDR. An example is Network Video in Northern California.
OK, seems like I have to make a shopping list of things to buy to play DDR at home. What do I need to have to play it at home?
If you own a Playstation, go out to the store and purchase DDR USA (see Konami Game Music Game News: Issue 1). If you want to go even further, try some of the imported versions.
The most common home versions of Dance Dance Revolution are the imported Playstation versions of the various mixes of DDR. To play these you will need the following:
A Playstation that can play Japanese/Asian games (either a Japanese PSX or a PSX with a mod-chip)
A copy of one of the various versions of DDR for the Playstation (to play the Club Version Append discs for Playstation, you will need DDR 2nd Mix)
(optional, but highly recommended) Dance mats for the Playstation (Instructions to modify these to make them more durable are contained in the Home Modding FAQ)
If you have a Dreamcast that can play Japanese games, you can choose to buy the Dreamcast versions of DDR. There is no Dreamcast version of DDR 3rd Mix or DDR 4th Mix. There are also pads made specifically for the Dreamcast which are a bit more durable than those made for the PSX.
I have a PSX with a Gameshark/Pro Action Replay so that I can play Japanese games. I can't get DDR to work.
Either get a mod-chip that will allow you to play DDR, purchase the home version of DDR USA, or use these codes below to play DDR on your Playstation:
I really like my Playstation/Dreamcast versions of DDR, but I want a machine, and have a lot of money. Who do I talk to?
Wow. The author of this FAQ would like to know when you get your machine.
In any case, you can either look on eBay for a machine, or you can try to contact vendors of imported arcade machines. One such vendor is Jeff Tao, who operates Arcade Infinity in Rowland Heights, CA. You can contact him at jt221@hotmail.com.
My friends and I really enjoy playing together at our local DDR machine, and we want to form a team. What do we need to do?
[steps onto soapbox] Forming a team seems to imply competition against other "teams". While competition often improves the skills of everyone involved, there is the possibility of negative feelings being fostered against those in other "teams". The author of this FAQ believes that teams are not necessary, and are sometimes actually more harmful than helpful. However, I believe that there are many different opinions on this one. [steps off soapbox]
You don't really need anything to start a team. Teams aren't necessary to play DDR. Forming a group of friends to play DDR with regularly is a good thing. After all, that's how DDRFreak.com started. All you need for a "team" is a group of people who are willing to play DDR with each other regularly. End of story.
HOME PAD MODDING (here you go for you NEWBIES of DDR)
One way to mod your pads is to cover it with hardwood floor covering. It'll definitely help your pads last longer and allow you to slide on the pads much like at the arcades. First, you'll need to get some materials. I'd say get a 3rd party mat. I modded my 3rd party mat and it works fine. I've used it for over half a year now and had no problems at all. You'll also need a wooden board that is at least 36x33. Try to get one that is of decent density so that when you're stepping on it, it doesn't just snap in half(so probably you'll need to get something at least half an inch tall). You'll also need some packaging tape(preferably the clear kind), a staple gun, and about 6 feet of hardwood floor covering per pad. You can get all this stuff at Home Depot. I'd say each particle board is about 5-10 dollars, packaging tape is 5 dollars, try to borrow someone's staple gun if you can cause it'd be stupid to buy a staple gun just to mod your pad, and the hardwood floor covering which will run you about 10 bucks. So total, this will cost about 20-25 dollars to mod each pad. And considering it helps your game play and increases the life of your pad, I'd say this is a bargain. Anyways, here are the instructions on how to mod your pad: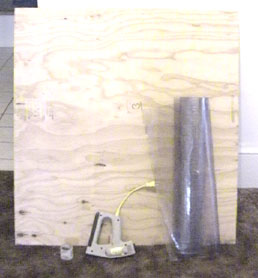 Materials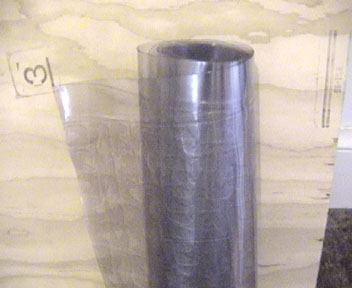 Hardwood floor covering
Lay your wooden board down and place the dance mat on top of your board.
Use your packaging tape and tape along the edges of the mat so that half the tape is covering the mat and the other half of the tape is along the wooden board. (make sure you pull your pad out flat so that it's not all puffy in the middle after you tape it down) Do it around all four edges of the mat.
Take the hardwood floor covering and lay it over the top of your mat with some of the covering extending past the width of the mat.
Now take your staple gun and staple down the hardwood floor covering to the side of the wooden board. Now cut the hardwood floor covering so that it is long enough to hang over the other side. Now staple the other side down with your staple gun. (NOTE: DO NOT STAPLE THROUGH THE PAD. STAPLE THE COVERING DOWN TO THE WOOD). The staples should be about 2 inches apart.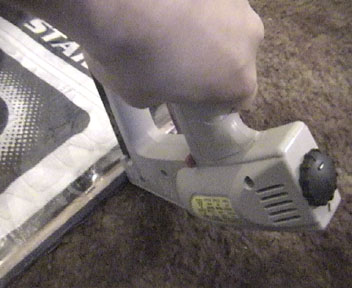 Stapling the covering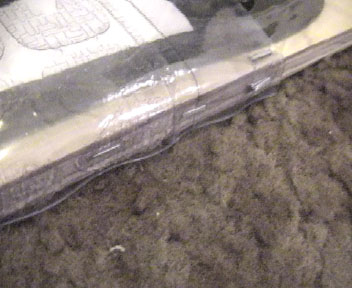 Staples
If you're getting the hardwood floor covering at Home Depot, it's not going to be wide enough to cover the entire mat. What you need to do is use another piece of hardwood floor covering and overlap a small section of the already stapled down covering and repeat steps 3 and 4. Then cut the excess covering off the bottom edge and staple the covering down on the bottom side of the wood.
Now take your packaging tape and tape over the section of the hardwood floor covering that overlaps on the other piece. Just use one piece of tape and tape from one side to the other. This will keep your feet from getting caught on the lip where the two pieces overlap.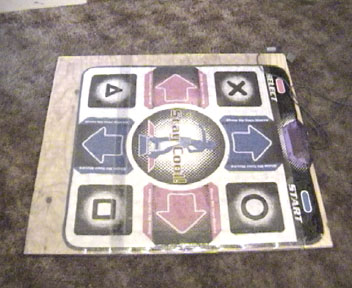 The finished product
And you have now completed modding your pad. You can now slide and not worry about messing up your pad. Have fun! =)
Props to PitterPanda, Eno0n, HyperBroken for making these guides.
Edited by AnThRaX, 21 December 2003 - 12:35 AM.