Hello,
I have been around for a while and noticed there were not very many DECENTLY priced LED rings avaliable to the scene. That is why i am now manufacturing them myself. The ring is made of hard plastic and will contain 8 LED's of your color choice (blue, red, amber, orange, pink, green, white, and UV). Eight LED's is plenty any more and you could blind yourself! LOL! LED's are much better than cathodes because they give more of a "true" color, but up until now they weren't near as easy to install. Well now you can install this as easy as you could install a cathode! The LED's face inward. At the moment i am working on a solution for the LE cases, and will let you know when i have those finished. The cost per ring is $15.00 shipped to anywhere in the US (Alaska, Hawaii, and Canada will be slightly higher, but contact me before ordering). The install will work much like a cold cathode install, simply plug into to the xbox molex with th PROVIDED adapter, then attach the ring to the top of your case. Now close up the case again and turn it on! That easy! At the moment i will be placing an LED order shortly and need to know who would like one so i know what to order. Thank you for looking and contact me if you have any questions whatsoever.
Please send orders to me via PM with what color you want and how many. I will then contact you for payment information.
Any orders placed before Tuesday should receive their ring(s) in approximately 1-2 weeks (i have to order LED's from my supplier then make them, this stuff takes time!) All orders after that should only take around 1 week or less once i receive my stock of LED's.
Bulk Discount:
1 ring = $15.00 each
2-5 rings = $12.50 each
5-10 = $10.00 each
10 or more = contact me before ordering

I also accept Money Orders, contact me for more information.
This is a picture of an early BETA version with only six LED's (Yours will have eight) installed on my personal xbox: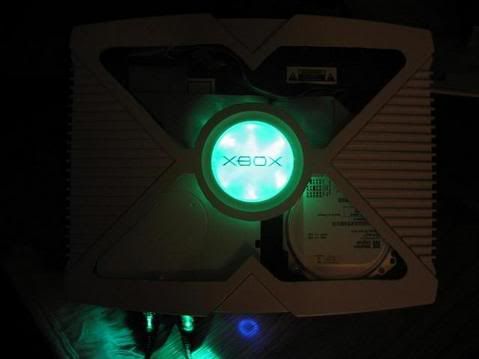 Edited by bvic01, 11 October 2004 - 10:51 PM.