Hey guys, I've got a bunch of broken stuff but might be usefull for some people that need some parts? I'm trying to make a total of alteast $46.06 USD ASAP so I can order some LEDs
I'll just post a pic with a few descriptions...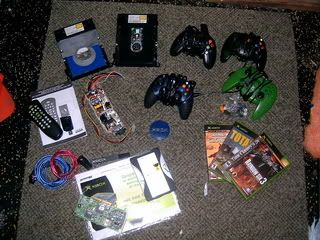 the remotes all of them are non working except for the big black one, its just like that big green one but I don'tlike it at all. The clear blue one was working great till one day it just started to pause the game when ever it wanted, Not sure what the problem was but that was my fav controller
DVD drives are thommys, if I remember one of them did read discs like 50 % but the other your lucky if you can get it to read a disc at all, They'ed be great for parts though. The games work fine the starwars/tetris pack is still sealed.
the hdd is a stock 8gb WD with unleash x installed, can format or return to stock if you want. The blue and red usb cables are usb-xbox port to use xbox remotes on your computer, they work great, Might not look the greatest but they work like a charm, was lookin for around 12 shipped priority on these.. the psu is a 1.2-1.5 psu with a blown fuse, this thing zapped me too many times so i said screw it lol. xbox dvd dongle work fine, don't have the box but have the instructions. Have the original xbox manual, still sealed. The pci card is a modem, I THINK it is a 28k but I'm not sure....
Well thats my junk for now, sad to say but I dont really wanna part with it, its nice to have all the extra parts arond to practice and but I'm in dire need of some leds. Thanks guys...
EDIT: I can get bigger pics of anything you guys want.. Just ask.
Edited by sk8phreak88, 04 January 2005 - 04:19 AM.