At first I commented in another thread, but I feel that this is important enough to deserve its own thread.
So, here's the deal. MS lied.
There is absolutely NOTHING wrong with the Xbox power cords. MS just had the recall to cover their butts (they had to do something, but recaling every 1.0/1.1 console would be way too expensive).
The real problem is the Foxlink power supply. There have been numerous reports of "loose power connectors" in xboxes, and the cause of this is that the solder joints on the PSU have actually broken where the connector mounts to the board, which can result in the xbox not powering on, or possibly even sparks, smoke, and fire.
this is a picture taken on one of MY OWN Foxlink 1.0/1.1 power supplies, and sure enough, the solder joints are broken. I checked another psu, they were broken too. So, although MS reports "about 1 in 10,000 failures", the problem is actually much more common, but usually has no results. The Foxlink PSU is a timebomb.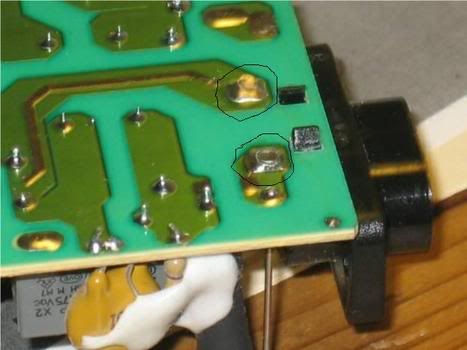 So, instead of taking the costly duty of recalling all older xboxes, what do they do? They give you a power cord with this huge GFI thing. This in no way will solve the problem, it is merely a bandaid. So, when your PSU sparks and shorts out, it just trips a switch instead of catching fire, but your xbox still doesn't work.
With the newer xboxes, you get a replacement power cord that doesnt look any different. Why? Because theres nothing wrong.
All of you with a 1.0 or 1.1, I would HIGHLY suggest checking to see if you have a foxlink PSU, and if you do, to resolder these 2 joints, a huge blob on em seems to fix the problem.
This was MS's uber-lame attempt at a coverup.