After reading about people lifting pads on this chip here is a mini picture guide to the chip. Hope it helps someone.
White DuoX 2
Bank 0 is Linux Cromwell Bios. Flash using Eurasia
Bank 1 is Cromwell Flashbios 3.03 (Can sometimes cause Blank Screen on a 1.6 for 20 or so reboots). Flash using Bios Disc as here
http://www.teamxecut...lashbios/cd.htm
Bios Size 512K each bank
Blue DuoX 2
Bank 0 is X2 (4979 usually) Suitable for V1 to V1.5 Xbox. Re-Flash using Evoxdash
Bank 1 is Evox M8.16 (M8+.16 on newer chips with bank protector swicth on). Suitable for 1.6 version only. Re-Flash using Evoxdash.
Bios size 512K each bank
Always Enabled
To make the chip always enable whichever button you boot from. Solder the BT pad on the chip to Pin 9 on the chip. "2nd pad in from the D0 point.
Image Below shows Banks and Alt points if you lift a pad ON THE CHIP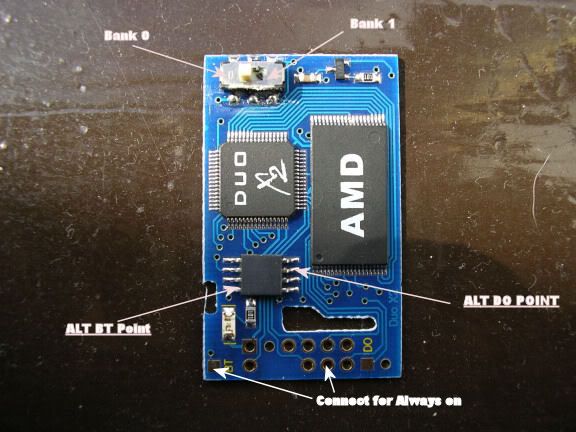 The Diagram Also Applies to the White DuoX 2
The Flash IDs to add to ini files for flashing for a DuoX 2 (White or Blue ) are
0x01d5,"AMD - Am29F080B",0x100000
0x04d5,"FUJITSU - MBM29F080A",0x100000
0xadd5," HYUNDAI - HY29F080",0x100000
The Correct Flash ID for the DuoX Lite is
0x01a4,"AMD Am29F040B",0x80000
Evox 3935 already contains the correct flash IDs and you should be able to flash your DuoX2 Lite with no problems
Also you can try HackDaBox's Flash Disc - it will contain the proper flash IDs
These are the preferred bioses for said Xbox versions:
XBOX V1.0 - v1.5 - X2 4981.06 (512K) or X2_5035_vOld_512k
XBOX V1.6A - v1.6B - EVOX M8 PLUS V1.6 (512K) or X2_5035_v16plus_512k
The X2 5035 bioses are only currently recommended for yourself for testing , and are only recommended for more advanced users. They haven't undergone the same testing as the older bioses, so use at your own risk.
Edited by Chancer, 15 June 2005 - 07:30 PM.