This tutorial assumes you already have installed dmagic1ís wheel mod, if you donít know how read my other tutorial here
http://forums.xbox-s...howtopic=390873
What you will need:
Txd Workshop 3
http://www.gtatools....=download&id=15
IMG Tool v1.3
http://download.t-n-...?file=IMGTool13
RW Analyse
http://people.freene...m/rwanalyze.zip
Collision File Editor and D3DX81ab.ddl (put the D3DX81ab.ddl in the directory of the col file editor)
http://people.freene.../colleditor.zip
http://people.freene...-m/d3dx81ab.zip
And a modded xbox with gta vice city on the hard drive.
Step 1
Download a car of your choice from various grand theft auto modding sites (check the links topic thatís pinned). I chose the 2004 BMW 325ci Convertible, which has its own .col file (not every car gas a .col file with it). It should contain a .TXD file a .DFF file and a read-me with what to replace in the handling.cfg and default.ide files.
Step 2
Extract your car to a folder on your desktop for easy use. Then open up your car in txd workshop 3, then click properties/compress/ok. It will compress it to either DXT1 or DXT3 depending on weather alpha is used. DO NOT PRESS COMPRESS ALL! IT WILL NOT WORK THAT WAY! You need to compress each one individually. Once youíve done that press save.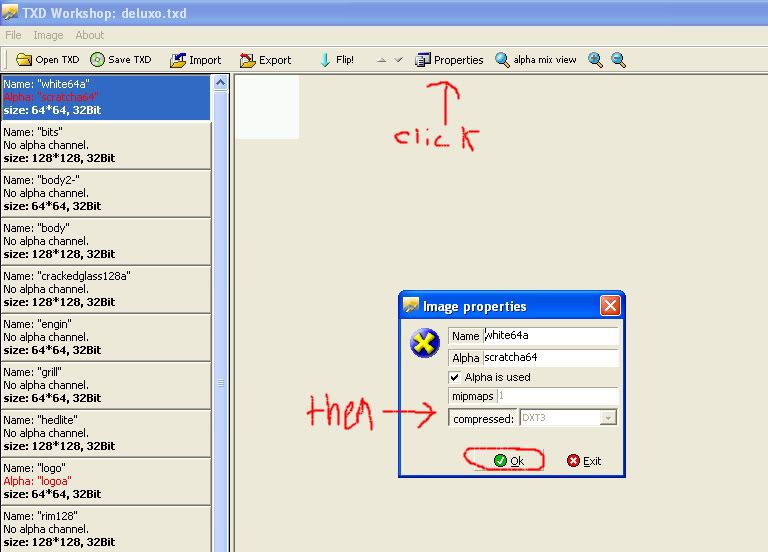 Step 3
Now open up your car.txd in RW Analyse, then do this: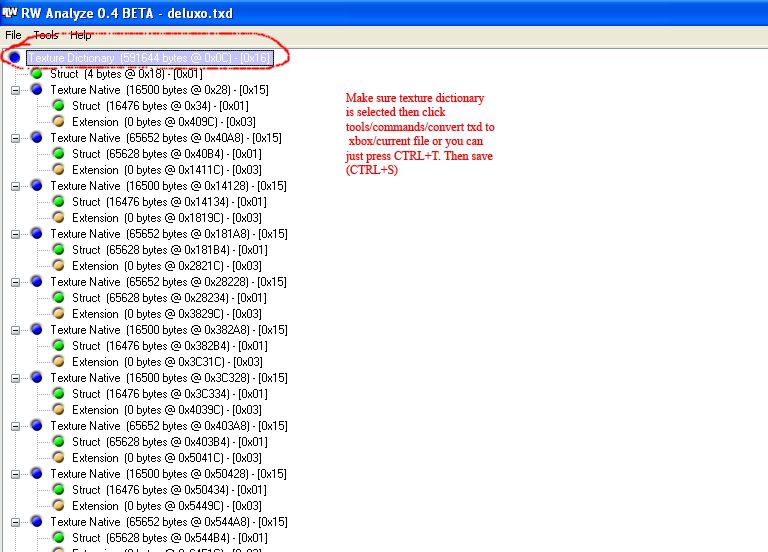 Step 4
Go back to the read-me that came with your car. It should look like this: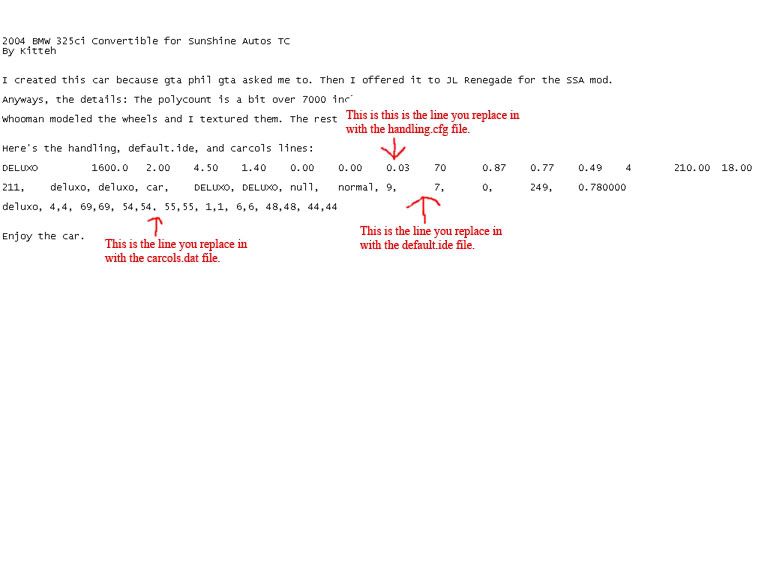 Step 5
Open up those files with notepad (handling.cfg, default.ide and carcols.dat), they are all located in the data folder. Then replace the line in the files with the ones given to you in the read-me.
Step 6
Once you have done that open up your gta3.img with img tool 3. Press f2 and find your car.txd and car.dff, in my case Iím finding ďdeluxo.txd and deluxo.dffĒ. Rename it deluxo_orig.txd and deluxo_orig.dff. Then go commands-> add, and add your txd and dff files. Rebuild your archive (commands->rebuild archive) and exit.
Step 7
If your car doesnít have a .col file with it skip to step 9
Step 8
Open up the collision file editor then press load. Load the vehicles.col located in gta vice city->models->coll->vehicles.col. Find your car.col (deluxo.col for me) and click replace, find the replacement that came with your car and replace it. Hit save and then exit.
Step 9
Now to ftp over all your stuff. Just replace all the stuff you modified (vehicles.col, default.ide, handling.cfg, carcols.dat and gta3.IMG) with the stuff on the hard drive. Always to remember to delete GTA_VC.CAP.Final if you donít it wont work!
Step 9
Go play vice city with your new cars!
*note*
A car you download may come with a particle.cfg file, you can use it if you want.
Thank-you for reading my tutorial and feel free to comment on it or ask for any help. This tutorial was totally made by scratch by me.
QUOTE
If you have done these things:

1) You installed dmagic1's wheel mod
2) You followed this tutorial correctly
3) You cleared the cache and deleteed GTAVC.CAP.final

And if it doesn't work, it's just one of those cars that won't work for gta vice city xbox.
Edited by Zdemon29958, 14 June 2005 - 09:00 AM.