How to Softmod Your Xbox Using XboxHDM
NOTE: THIS TUTORIAL INSTALLS UXE-COMPLETE, WHICH IS NOW AN OLDER SOFTMOD. THE CURRENT BEST SOFTMOD IS THE NDURE SOFTMOD. YOU CAN FIND THE NEW TUTORIAL HERE
This tutorial was written by Textbook and uses tools that Textbook did not make. He takes no credit for any of these, and gives full credit to the authors. All Textbook did was re-write the method involved in softmodding the Xbox using certain tools. This method would not be possible if we didnít have many dedicated people in the Xbox-Scene. Although there are many people who helped this method become possible, the big names stand out and I feel they need to be credited. A huge thanks is given to ldots, kingroach, and DaddyJ. Without them, this would not be possible.
First of all, it is HIGHLY recommended that you read the following threads:
The Art of Hotswapping
XboxHDM For Dummies
Disclaimer:
**NOTE Ė The creator of this tutorial, Textbook, nor www.xbox-scene.com or any of its members are responsible for any damage that may be caused while attempting anything in this tutorial. If you attempt in doing this, you do so at your own risk. If something gets broken, itís only your own fault and you should not blame anybody. Please notice that according to ANSI standards, hotswapping is not considered safe and is therefore only recommended if you canít find another way to modify your xbox. For more information on the technical details and safety of hotswapping, please read that first link titled "
The Art of Hotswapping
" **
Alright, let's get started...
Stuff That You Will Need
Computer (duh)
Xbox (duh)
CD Recorder in your computer
Blank CD-R
Nero
WinRAR
XboxHDM
(Save to Disk)
UXE Installer for XboxHDM (Send an email to xboxhdm@yahoo.com and check your mail a minute later)
Torx 20 Screwdriver for
opening the xbox
Whatever is needed to open up your computer case
Some intelligence and patience
Download the necessary files from above. Install Nero and WinRAR. After WinRAR is installed, use it to extract xboxhdm and the uxe installer.
Copy the initrd.gz file from UXEDM-1.2 (the UXE installer) and paste it to xboxhdm/linux/isolinux. There should already be an initrd.gz file here, so Windows will ask you if you want to overwrite, say "Yes".
Copy the sminstaller folder from UXEDM-1.2 (the UXE installer) and paste it to xboxhdm/linux.
Next, we will increase the amount of time that XboxHDM will stay at it's menu. By default, it is only set to stay at the menu for 5 minutes before defaultly entering into VGA Mode. We will increase this time to 10 minutes. To do this, locate the following file:
- xboxhdm/linux/isolinux/isolinux.cfg
Right-click on this and choose to Open with... and choose notepad. Change the timeout value from 300 to 600 like the picture below.
Save the file.
Go back to the xboxhdm folder and locate the following file:
make-iso-win.bat
Run this file and wait for about ten seconds. You should now have a file that was created titled "linux.iso"
We will now use Nero to burn the linux.iso image. Place a blank CD-R into your CD recorder and open up Nero Smartstart. First, make sure the 'CD' tab is selected.
Highlight the fifth icon, the one titled Copy and Backup
Select Burn Image to Disc
Smartstart will minimize to the task bar and Nero Express will open, with a window to browse for your image. Make sure to select the drop-down box for "files of type" and select All Images.
Locate the linux.iso file image and select it. Then, just burn the image to the CD.
Once the CD is finished, leave it in the CD drive and turn off your computer. Open up your computer case. Disconnect the 4-pin molex power connector and ide cable connected to the hard drive and let the cables hang freely out of the case.
Open The Xbox
so that the top cover is off. Use the Torx 20 screwdriver to do this. Disconnect the 4-pin molex power connector and ide cable going to the Xbox's hard drive. Slightly re-connect the ide cable so that the cable is just barely connected, but loose enough to easily be pulled out without shaking the drive. Connect the 4-pin molex power connector from the computer to the Xbox hard drive.
At this time, boot up your computer and after a couple of seconds, boot up your Xbox. Your computer should boot to the XboxHDM main menu screen.
And your Xbox should boot to it's main menu.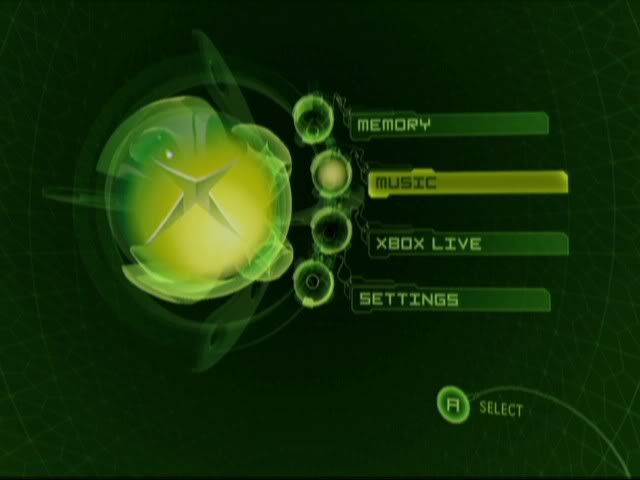 At this point, unhook the Xbox hard drive's IDE cable and quickly swap it with the computer's hanging IDE cable. So now, the Xbox hard drive should only be hooked up to the computer and it is safe to turn off your xbox.
At the XboxHDM main menu, press 1 to enter the VGA Console and you should see some scrolling text followed by this:
Type softmod and you should be given 5 options:
Now, it is recommended to choose NK Patcher. So, type 2 and hit enter. It should bring up a page saying Please Wait, Part 1 of 5. You really have to wait, it usually takes around 10-15 minutes for it to finish all five parts so go do something and check back on it in a little bit.
The softmod is installed when it says Done, No Exit. Turn off your computer, unhook the hard drive, and put it in your Xbox. If all went well, it will boot to EvoX and you have a softmodded Xbox.
Edited by krayzie, 09 March 2006 - 05:11 PM.