Hey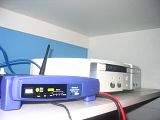 Just got my cupboard webserver setup, and registered on the up-time poject.
At the moment I have 02d 04hours 27mins 20sec under my belt after 2 restarts.
hopefully i can get through a longer while without a black out.
Sulfur has set up a team under 'xbox-scene"
and between us we have over 9d and 19hours of uptime and are ranked 846th of 1456 teams. (most of the last teams must have inactive members or like to reboot alot)
Anyone from the scene who hosts a webserver or leaves their machine on 24/7 is welcomed to join as the team is public.
step1.
register here
step3.
join our league
step2.
download a client
Sure this doesnt really achieve much, but it would be sure nice to see our team on top of the list.
It also compares different OS and their stability as a server.