i "winberg" do not take an resposibilty for your actions at recreating this moddification and hear by am showing you how to if you so choose.
ok with that out of the way here we go.
step one get your dvd rom drive out of your xbox360.
step 2 remove the holding platter from the top of the drive casing this my be differnt depending on your drive manufacter date.
next remove the four screws holding the case together located on the bottom.
now they are hard to see but there are 4 little black nubs that you must break or shave off to make the frame flush on top.
now mark on your acrylic/plexi/plastic sheet the width and length of the drive.
now whip out that dremel with a cutting wheel and cut out the center of the dvd drive locking platter holder thinga majiger, i did it this way the 2nd time around for a little better view at the disc.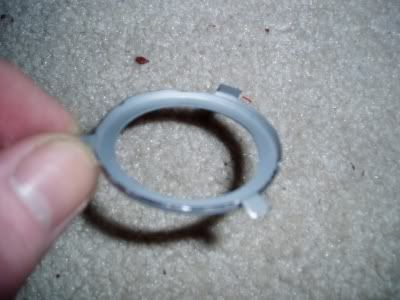 now mark your spot on where your going to epoxy the metal holder in place so that the locking platter doesnt fall out and jam your drive up.
just use a marker that will wash off.
just glue the 3 tabs down the acrylic/plexi/plastic but make sure the locking platter is in under the holder first or els you have to rip it up and re glue it.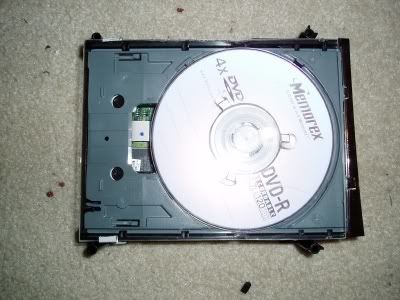 after that is all done drying you can plop it on and test it out.
ok so it works but i had to hold it down? whats the deal.
well i cut the drive case apart and made these little holding tabs.
see my next post.
and they attach were the screws go in, simple as that.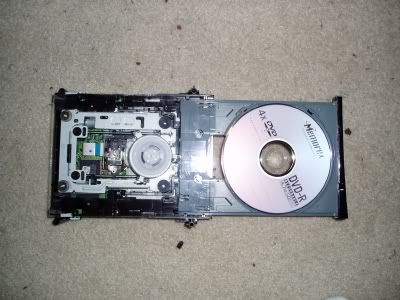 here is the disc ejected and you can see the internal workings.
good luck and be safe
-Winberg- 8)
Edited by xboxgamer733, 26 December 2008 - 07:46 PM.