Ok, so I am almost done with my box, but I came across a problem. I couldnt figure out a way to mask off the power symbol on the power button so I could paint it but have it still light up. I looked around on here, but no one has posted anything up on how to get around this obsticle. I tried a few ideas but screwed up the button royally. I went out to buy a replacement faceplate and found the TSW Pelican faceplate ,
, for only $9.99 at Game Stop.......bingo. I bought it thinking the button would be identical to the standard one, but low and behold the backing is different and you can actually remove the damn clear peice inside without destroying anything. Here are a few pics of what I am talking about
1. The button front veiw.....looks the same eh?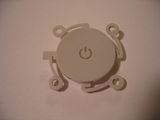 2. The different backing......
3. Sand down the glued tops of these posts, and gentley pry off the clear power symbol...........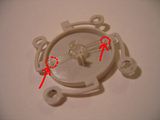 4. Bingo.....
5. Clean and simple, thank you Pelican....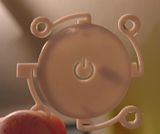 Well, I hope this helps those of you that got stuck where I did during this process. $10 is well worth the cure of a day long headach. Peace.