Well, I've been at it again! lol. Here's my second tutorial for everyone. It's not very difficult but sometimes tedious.
We'll be making an extra external power supply that you can access from outside of your xbox! Hints the external part
.
If you follow all the instructions properly... your power supply can be as sexy as this.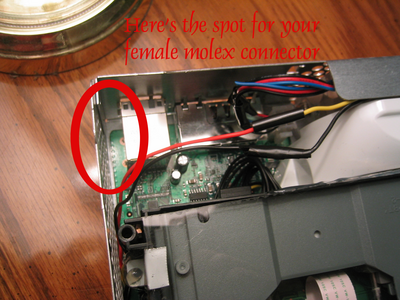 Here's where the connector fits.
INDEX
Supplies
Preparing the Internals
Trimming the Heat Shield
Trimming the Case
Installing the Connector
You'll need a few things to begin.
Supplies
Clamping device (needle nose, adjustable wrench, anything that works)
Molex 4 point female connector
Hot Glue
Hacksaw (with removable blade)
Dremel
400 grit+ Sand paper (if you want to touch up your case)
Here's the molex I used from my spare parts.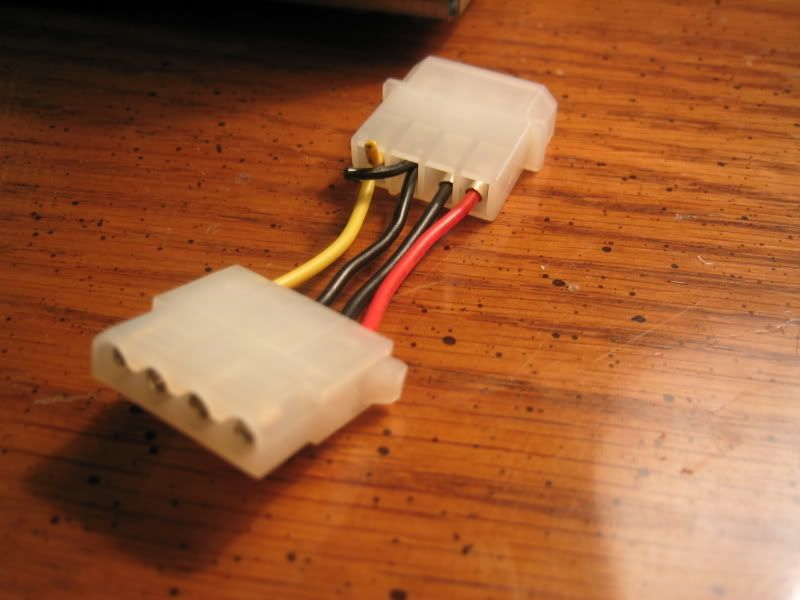 Preparing the Internals
To start things off, you are going to have to first take out your motherboard. I know... it can be a real hassle if you've got a lot of shit added on it. Especially when your solder joints don't like to stick.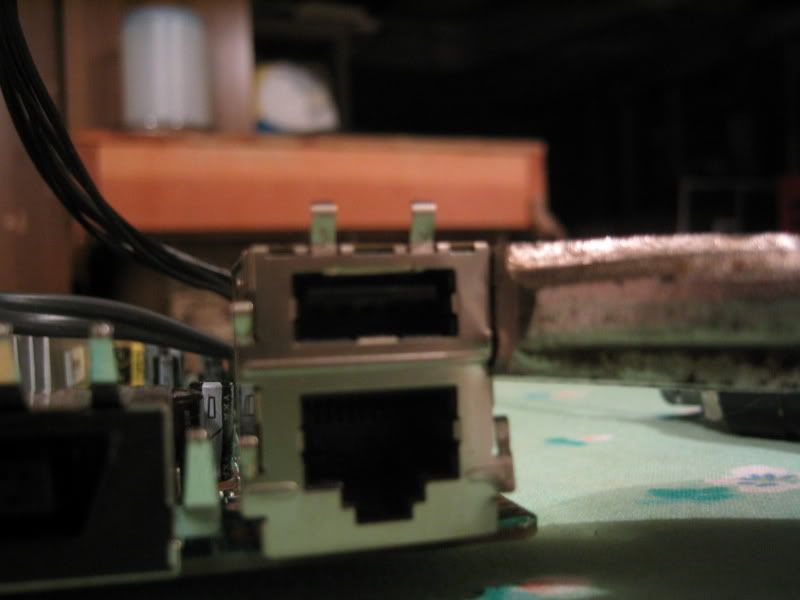 Now we are looking at the ethernet port on the motherboard. You are going to have to remove the two little prongs on the right side. Later on they are going to be in the way and will prevent you from installing your connector.
Use your clamping device and wiggle the pieces until they come loose. I found that about 5 wiggles back and forth and then a full 360 degree turn just takes them off cleanly and easily.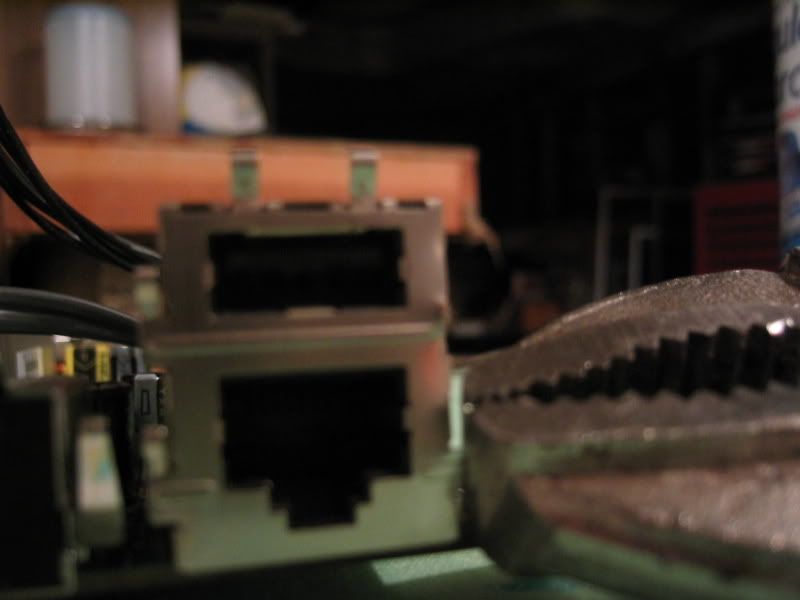 First one shown off.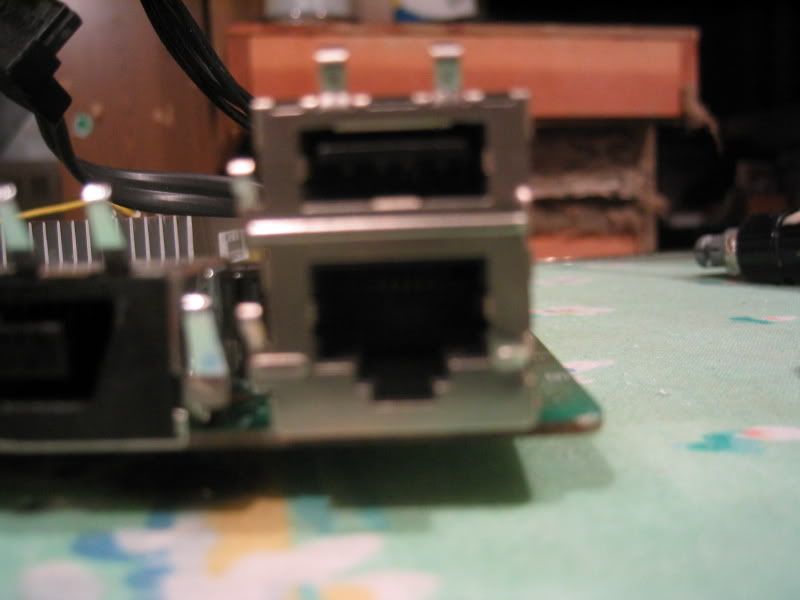 Both shown off.
With those two pieces off that's about all trimming we will have to do on the inside of the case. The rest of the trimming will be done on the actual case and heat shield. But don't put that motherboard back in, we've got more work to do on it in a bit.
Trimming the Heat Shield
This part was the most tedious. Partly because of the terrible angle offered by cutting with a hacksaw. You will require much patience for this part. That is only if you want it to look neat. If not, you're welcome to make some sloppy cuts with the good old tin smiths.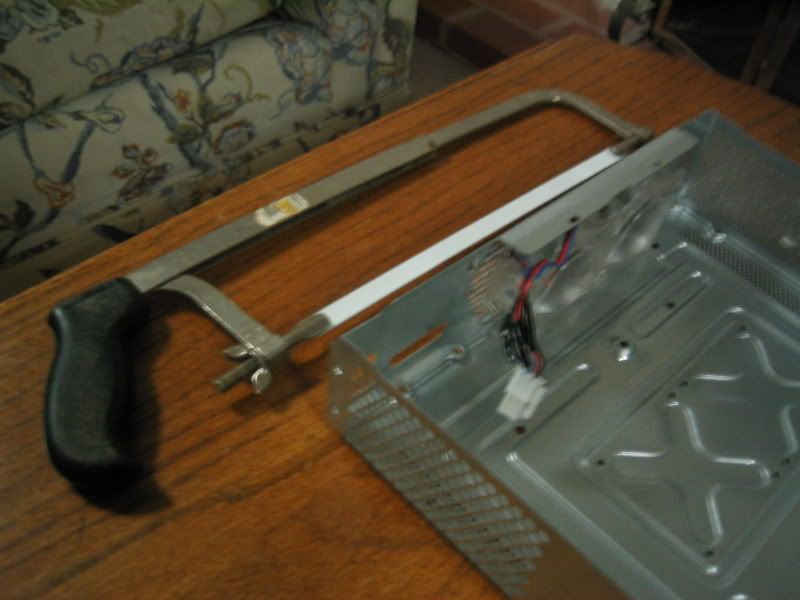 Grab your good old hacksaw and your heatshield.
Remove your hacksaw blade and feed it through the ethernet/USB port hole. Put it back on your hacksaw UPSIDE DOWN. It's the only way that you can get an angle to cut what you need.
Here's that crappy angle I've been talking about the whole time. For some people it will require many one-motion cuts away from you. That's why it took me so long. I couldn't cut while I was slicing the saw back towards my body.
I just cooked up this simple diagram real quick to show you the two cuts you need to make. ONLY TWO. The picture shows my motherboard in there.... Don't worry, when I was cutting it wasn't
.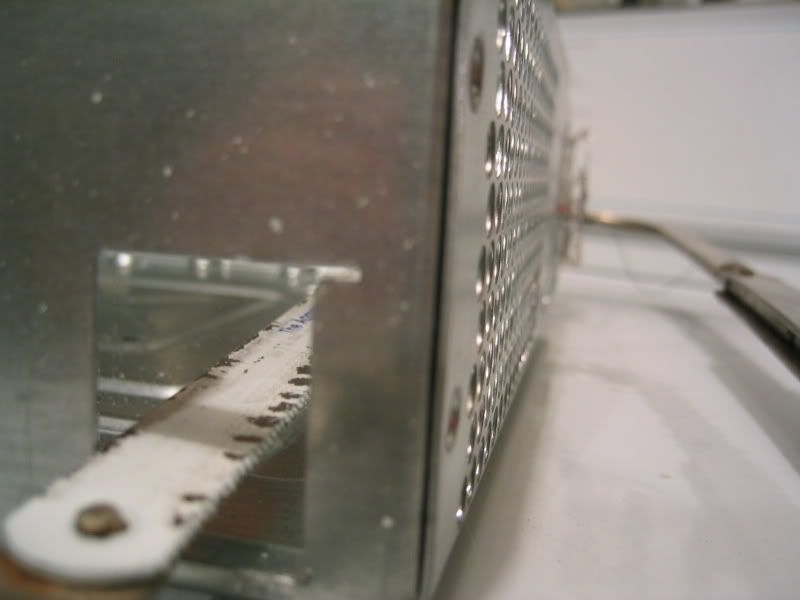 After five minutes.
Five more minutes later. But, im starting to get the hang of it!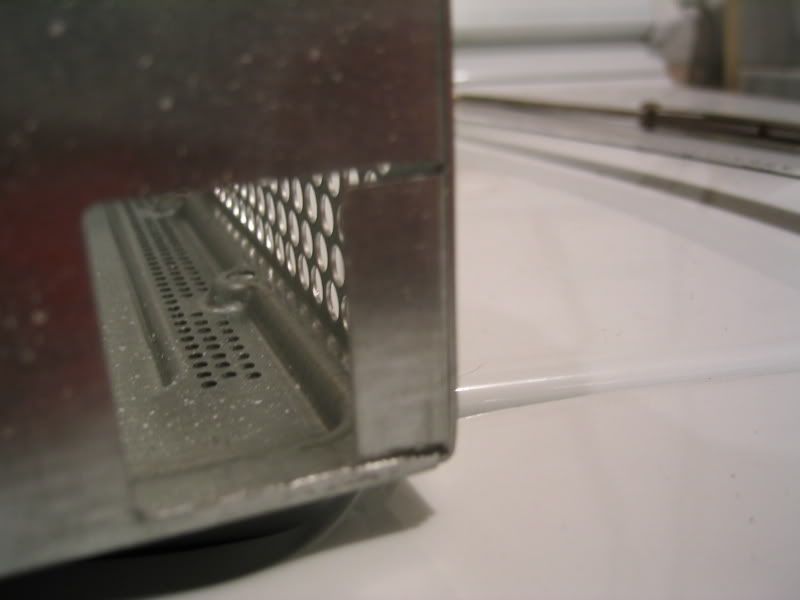 With the two cuts finished, we're done with the hacksaw.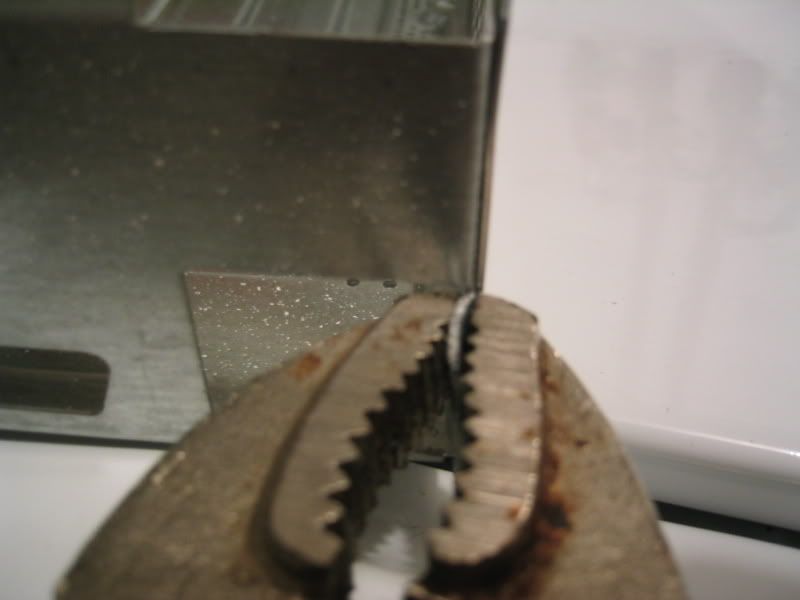 Grab that clamping device again. Next you need to bend the little piece you just cut. Bend it towards you and out of the heatshield.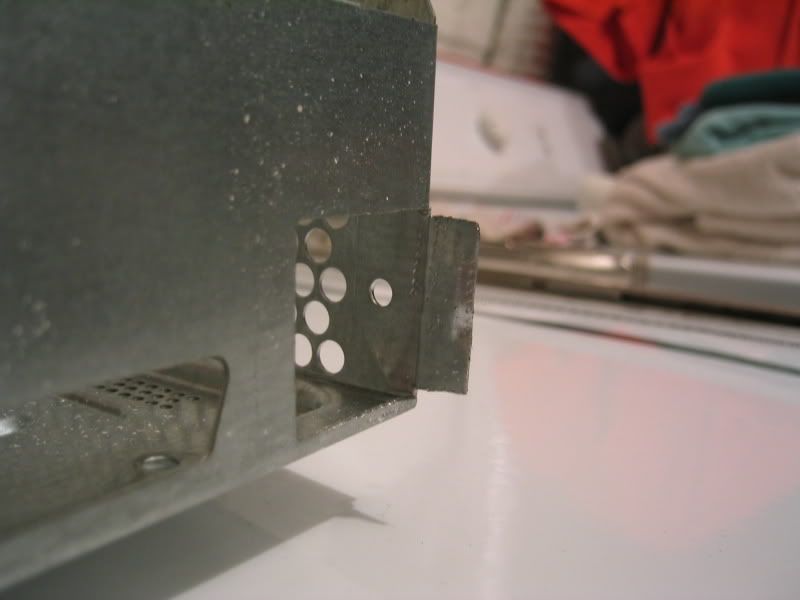 Shown out of the box.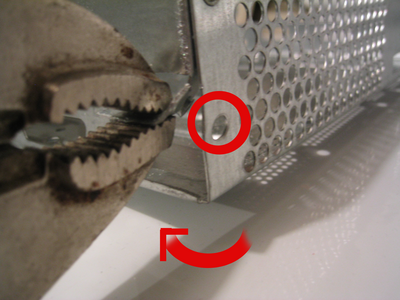 Now you want to clamp that little piece again. This time you are going to rotate your wrist 180 degrees to the left to break the ONE "weld" on the heat shield.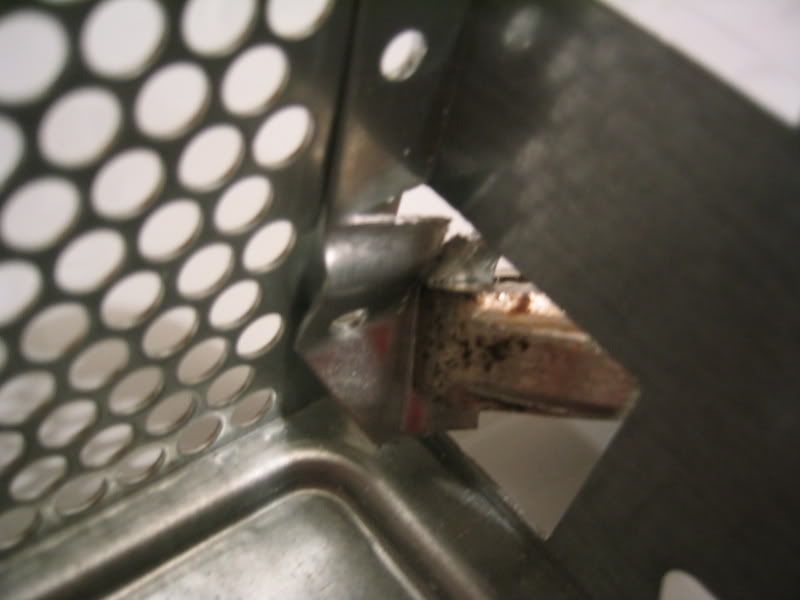 Keep wiggling the piece and the metel with split nice and clean.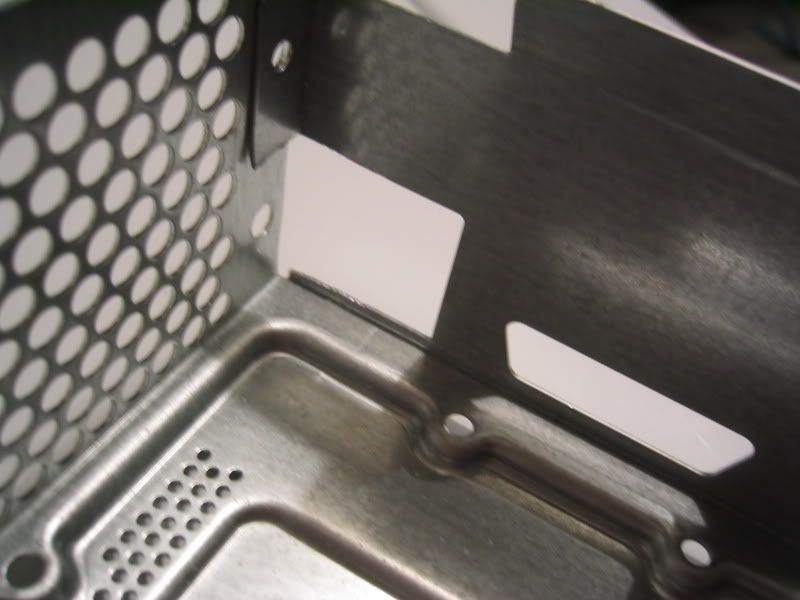 Here's what the finished product looks like! Yay!
Trimming the Case
This is the easiest part of the process. I used several dremel tips to make the nice and neat curves uniform to the stock plugs. Use whatever tips that suit you best.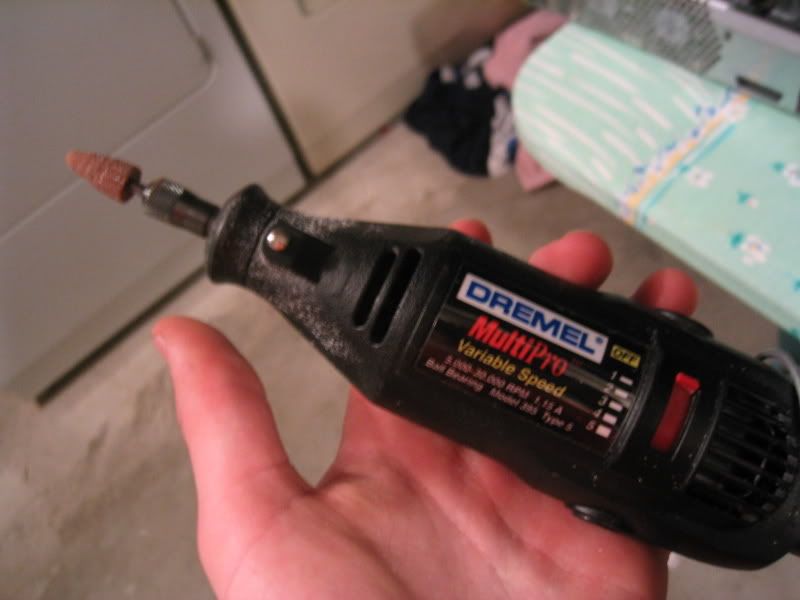 Pull out your handy dandy dremel.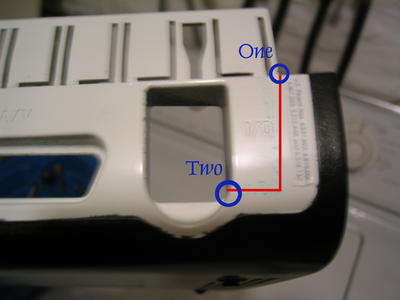 Here's another diagram I made to help show where you need to cut.
Points #1 #2 - Here's where you want to line up your cuts to. If you look at the insides of your case you can see that the path is nicely supported and is almost "mapped out."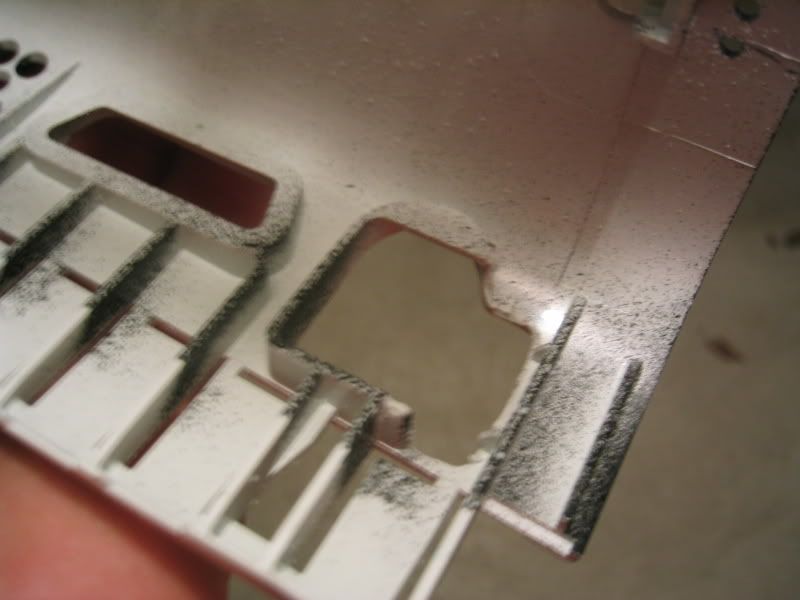 Here's what you'll end up with on the inside. (Please excuse some of my sloppy painting)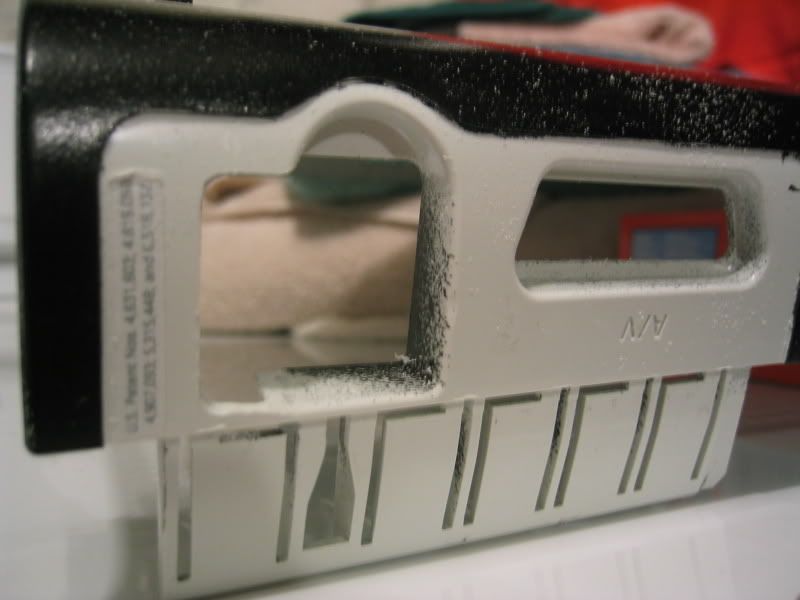 The outside view. (This really degrades my painting skills. But don't worry, that's not visable with plugs put in)
The next step is to sand it down a little bit. No picture required to show you how to do this one
.
Installing the Connector
Almost finished. There's not too much you can screw up on while doing this.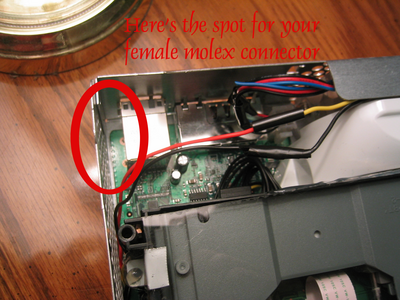 Here's the same picture shown at the begining of the tutorial.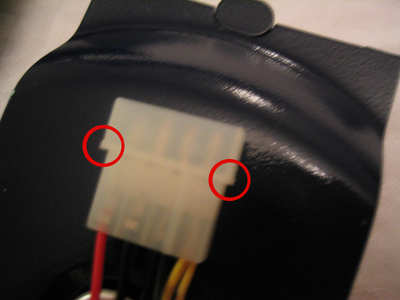 To make your connector fit in its spot like a shoe, you are going to need to trim down the edges. Just cut the two pieces circled in the picture.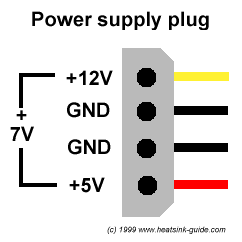 Here is your standard molex plug. Hook up your molex to whatever specifications you want. I used only the 12v and grounds. But, most devices require the 5v as well.
For this step you can choose whatever power supply you want to hook your connector up to. I'm taking my power from the 12v source on the DVD player.
Now you can screw your mother board back in.
Now line up your connector to the edge of your case. KEEP THAT POSITION! It's crucial that you don't move it while you are securing it in your xbox. Now, remove the case when you have the desired postition.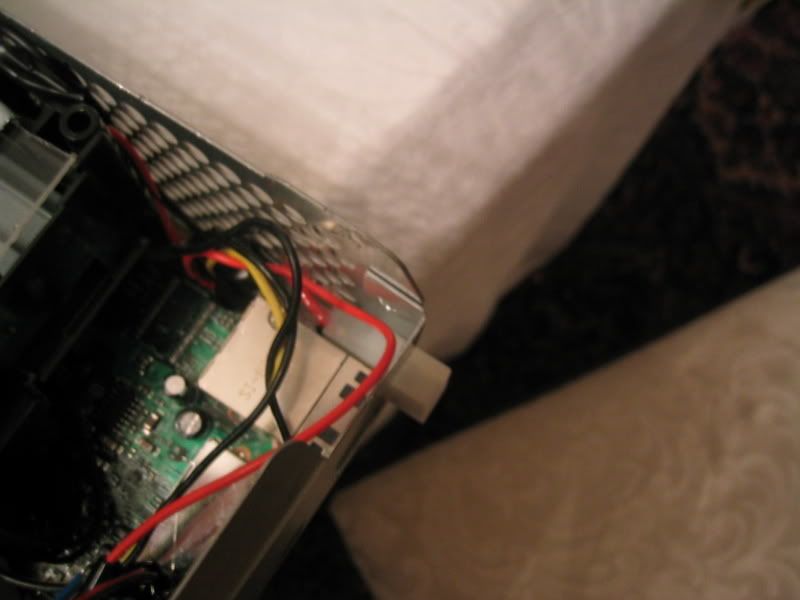 It should look something like this.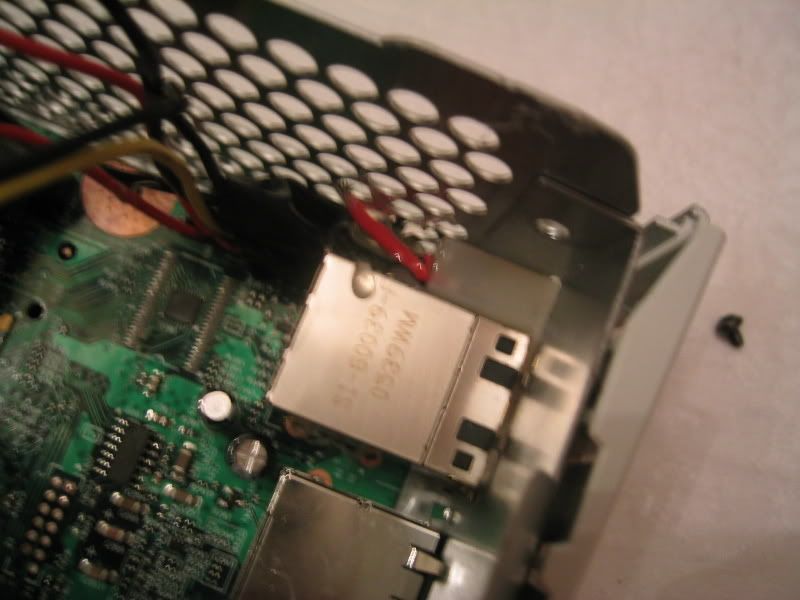 Now you want to drop it in and cover it with hot glue. To be safe, I hot glued it through that "weld" we broke earlier and on the back of it.
Give it 5 minutes and it won't move an inch!!!! That baby is good to go.
Test it out, put back together your case, and enjoy your new power supply!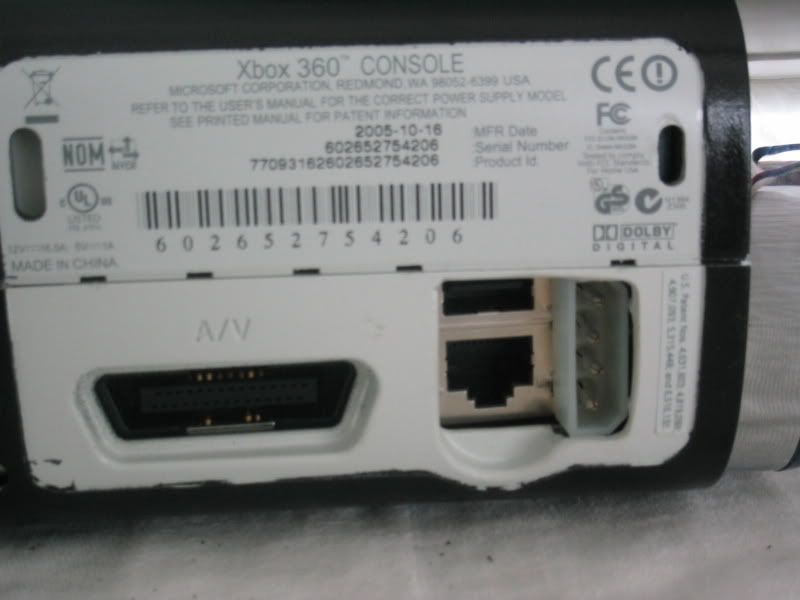 Happy modding guys! If you get stuck you need some additional help, don't hesitate to PM me.
Your friend,
Sloppy Fat Dump