After a nightmare of idiocy with Xbox support, I decided that you guys here probably know more.
I'm trying to get my 360 to connect to my MCE PC, and vice versa. I currently have my network setup like this (and wish to keep it this way):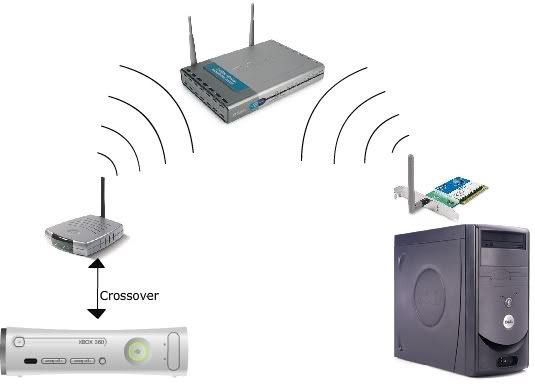 The problem is, I can't connect to my 360 unless I connect my PC directly to my router using an ethernet cable. This is a problem, as my router is in another room. Infact, each piece of equipment is in a different room.
I am only trying to get it to connect, ATM, since I still haven't upgraded to an 802.11a+g network (still on B+G). Is it because the speed of my connection on my PC is too slow (11mbps - yeah, I know it's slow) or does it require a direct ethernet connection? If so, since a wireless ethernet bridge practically "emulates" a wired connection, would using one of those on my PC end make all the difference?