I'm about 95% on the skin atm. Got a couple of hang ups however:
First, I wish their was a way to bypass the UXSplash.png loading logo all together and just go straight into my intro movie. I haven't got a clue how to do that, or if that's even possible. As a second alternative, their is a picture I'd subsitute in it's place, but I wish their was a way to get rid of the fade effect. It's not a smooth fade anyway when it's loading all the junk I got going on.
3rd problem I'm having is with the playlist. For some reason the tracks will appear outside of the playlist box. The other issue with the playlist is that I can't see the last song on the playlist! In otherwords, if I have 44 tracks, I can only see 43, the last one I can select, but it's off screen (this isn't a video calibration issue)
Anyway, on to the screens. It's basicly Project Mayhem III 1.0 with a ton of garbage on top. I'm pretty satisfied with it right now with exception to the CD Icon that looks like a donut. The Main Window plays my custom movies from my fav games, Driv3r, Resident Evil 4, RTCW, Fable. The Little TV on the left is also animated! It basicly displays LoXBoX with a bunch of static and kinda dances around, that is until you're browsing applications or games. The TV has a semi translucent screen with shading/interlacing so icons kinda look like they're on tv. =D Here's the Pix. Take notice of my problem with the playlist.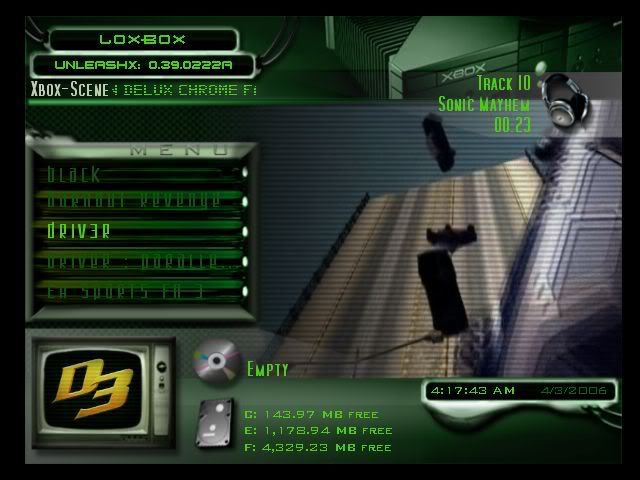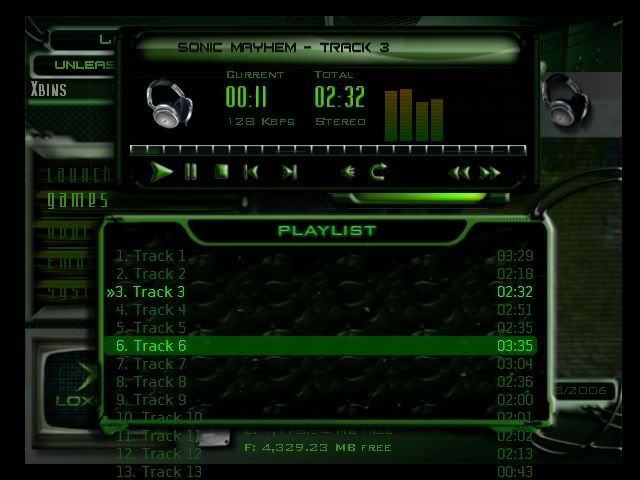 View all the pix here:
http://s16.photobuck...onte/Xbox/Dash/