====================================
MetaPhaze's guide for backing up Xbox 360 Games
With Hitachi 47DJ's (Possibly other Hitachi Drives)
V1.1 / 08-14-2006
====================================
Index
1.) Tools Needed
2.) Intro
3.) Getting the SS.BIN
4.) Ripping the game with Wxripper
5.) CRC Errors
6.) Merging the ISO with the SS.BIN
7.) Burning
8.) Thank you
====================================
Tools Needed
Patience (Yes, you need this!)
Drive Tools
Wxripper
Xbox 360 SS Merger
CloneCD
====================================
Intro
This guide is to help people with OPA - Xtreme v2.1 firmware - Hitachi 7in1 firmware. Many are having problems not flashing the drive, but backing up their original game. Follow this guide and you should come out with a good backup that will play in your Xbox 360. I plan on updating this guide with pictures and more detailed information in the near future as time permits.
First thing is first you need to have your drive flashed with OPA - Xtreme v2.1 firmware - Hitachi 7in1 firmware. To do this follow the instructions included with the firmware in the !README! file.
If your having problems getting Windows to detect the Hitachi drive after the flash make sure to re-read the !README! file. As it states with the PC and Xbox 360 already off. Power on the Xbox 360 and eject the disc tray. For some reason on mine I have to push it twice. Once the tray is ejected unplug the power from the back of the Xbox 360. Now plug it back in, and power up the Xbox 360. With a successful flash this will put your Hitachi drive in Mode B.
Now at this point you should be able to see your Hitachi drive in Windows. Put your Xbox 360 game in to the Hitachi drive. You should see in "My Computer" that it says you have a XBOX360 game in your Hitachi drive.
====================================
Getting the SS.BIN
Now we need to extract the SS information from the disc. To do this simply open up Drive Tools. Once drive tools is open you should see a button that says "Get Security Sector". Click this button. This will now prompt you to safe the Security Sector file. You will want to name the file SS.BIN.
Now at your option you can remove the Xbox 360 from your computer, as you will no longer need it. Or you can leave it connected that is up to you. To remove it from your computer please power off the computer first, then power off the Xbox 360 and disconnect the SATA cable and the ground.
====================================
Ripping the game with Wxripper
The next thing we need to do is dump the data off your original Xbox 360 game. To do this we need a spare DVD drive or your current one to take apart. Now I have not taken apart every DVD drive apart so I can't help you with your specific drive. I have taken apart Pioneers DVR105 and 111D and they work great. Basically remove the drive from your PC. Flip the drive upside down. You should now see 4-6 screws holding the bottom metal plate to the rest of the drive. Remove these screws. Take apart your DVD player so you no longer have the top half of the DVD drive. Hopefully you have a magnetic system to hold your DVD in your DVD drive. To find out take the small circle piece (may be part of a smaller metal plate inside the drive) and hold it over the black circular part that your DVD disc sits on. If its magnetic your all set to go, if its mechanical good luck, I couldn't get my other mechanical drive DVD drive to hold the disc down it kept flying out of the drive.
Now that you have the drive apart replace by just setting the drive on the bottom metal plate that you took off first so you have it sitting on a good surface. Reconnect the drive to your computer (obviously leaving it outside of your computer so you can access it.
Now you need to run wxripper to rip the game. To do this place a large DVD movie in your DVD drive. I used Empire which is 7.9GB. Some say the DVD has to be 8GB or larger, but I've had success with DVD Movies as small as 7.4GB.
Once you have inserted the DVD Movie in to your DVD drive start wxripper.
You should now see wxripper opened on your desktop and should look something like this;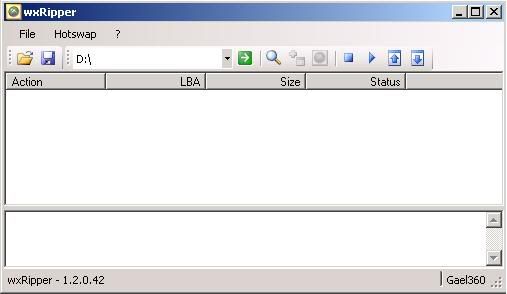 Now click the drop down box to select the drive that the movie is inserted in to.
Then under the hotswap drop down menu select "Find Magic Number". You should now see a bunch of information populate the large box in the middle.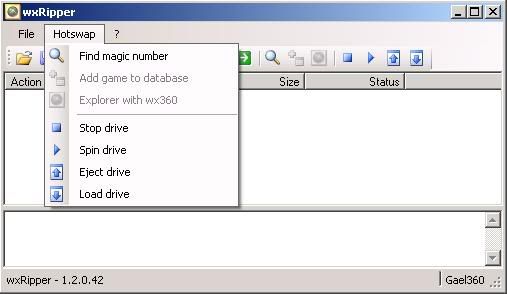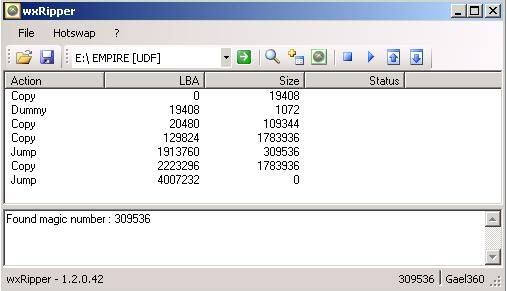 Now go back to the hotswap drop down menu and select Stop Drive. Your drive should now stop spinning. Do not attempt to remove a DVD from the drive while its spinning.
At this point you need to remove the DVD movie
WITHOUT EJECTING THE DISC
. To do this simply remove the magnet holding down the DVD movie and replace it with your Xbox 360 game, then replace the magnet again. Now click Spin drive, the drive should spin back up again.
Now we can begin dumping the Xbox 360 Disc. I say disc because we are not just dumping the game, we are dumping the whole disc, game, video, audio,
and the blank sectors
of the disc. To do this click the File drop down menu and Start Dump, and save the file. If you have no CRC errors skip ahead to the SS merger section.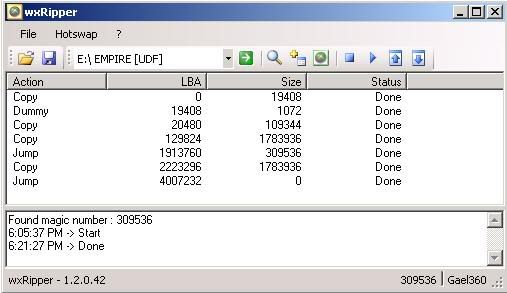 ====================================
CRC Errors
If you have CRC errors don't fret not all is lost like I original thought. The first thing that is most important is
MAKE SURE THE ORIGINAL XBOX 360 GAME IS CLEAN!
I can't stress this enough. Most of all my CRC errors were caused by smudges and scratches on my original game. If you still get CRC errors then we need to make some changes to Wxripper. Once your done dumping the game and wxripper has returned CRC errors go to the File drop down menu in wxripper and select "Save layout file". Now open the layout file with Notepad, it should look like this;
QUOTE
C19408
D1072
C109344
C1783936
J309536
C1783936
J0
Now please read
Psoff
's description on CRC errors and how to correct them, if you don't understand what he has said keep reading to my explanation on how to edit.
QUOTE(Psoff)
Hey everyone. Here are some quick tips for people getting CRC errors on certain games using wxRipper.

Regarding the layout file:

- Usually the first 3 lines are like this:

* C19408
* D1072
* C109344

- People say to change them to this (bold represents the changes):

* D19408 <- D = Dummy instead of C (Copy)
* D1072 <- Same as original
* D109344 <- D= Dummy instead of C (Copy)

In this case, all you're doing is 'faking' the first three lines. I figured out that 9 out of 10 problems occur at the 3rd line, so that's really the only one you need to Dummy. Therefore:

- Most of the time this will work (bold represents the only change):

* C19408 <- Same as original
* D1072 <- Same as original
* D109344 <- D = Dummy instead of C (Copy)

This way you get more of the original information. I'm not sure if this matters, but I say more is better when it comes to duplicating a game.

If you want to go even further:

- Since I noticed most people (myself included) occasionally get a CRC error at 91136, escpeically on games like Tomb Raider and Hitman, I use this layout (replace first 3 lines with these 4):

* C19408 <- Same as orignal
* D1072 <- Same as orignal
* C91135 <- Original used to be C109344, which I split into 2 parts, stopping at 1 byte before my CRC error @ 91136
* D18209 <- Dummy the remainder of the part that gives the error. 18209 (this line) + 91135 (previous line) = 109344 (original number)

Hope this helps!
What Psoff is saying in the last section is take the third line in the layout file which should be 109344 and subtract the number that gave you the error in the case he is describing that would be 91135 (he got the error at 91136). If you do the math
109344 - 91135 = 18209.
Now that we have those two number the number right before the error and the diffrence we need to edit the layout file.
So edit the third line C109344 and put in C91135 in its place. Then
ADD THIS LINE
inbetween the third and fourth line D18209 (the diffrence).
Once you have made the adjustments to the layout file go back to wxripper and click the file drop down menu and select open layout file. You should now see at the top of wxripper it says you have the layout file selected. Now re-dump the game.
This method has corrrected the problems with the two games I had problems ripping Hitman & Dead Rising (besides the dirty ones) Below you will find a copy of my layout file for each of those games.
Dead Rising Layout file
QUOTE
C19408
D1072
C89087
D20257
C1783936
J309536
C1783936
J0

Hitman Layout file
QUOTE
C19408
D1072
C91135
D18209
C1783936
J309536
C1783936
J0
====================================
Merging the ISO with the SS.BIN
Now at this point you should have two files. A SS.BIN and a game.iso. Now we need to merge these two files together. To do this open Xbox 360 SS Merger. Click the … buton next to ISO file and select your game.iso. Then click the … buton next to SS file. Finally click Merge and create layer break file. Once completed you should now have a game.dvd file.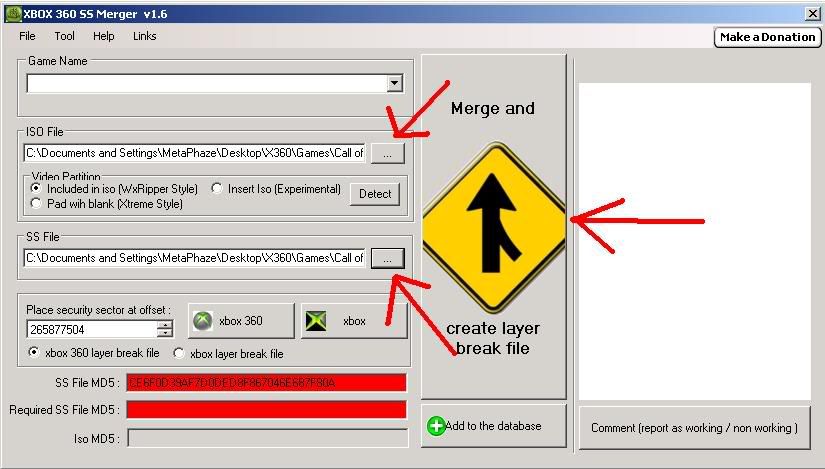 ====================================
Burning
At this point your all set for burning. Open up CloneCD select Write to a disc, and select the game.dvd file. Burn it at the slowest speed (2.4x) with DVD+R DL Media. I have only used a Pioneer DVR111D to burn my X360 games. So I can not comment on other DVD Burners and Booksetting issues. However one misconception I want to clear up right now is you do not need a special firmware on your 111D drive despite what everyone keeps telling you. The proof is in the pudding, I have backed up successfully 9 of my original Xbox 360 games without issues using my 111D with the old stock firmware.
====================================
Thank You
People listed here are thanked in no specific order for helping me get to this point;
GaryOpa, Psoff, Gabbiani, creators of the tools used, and everyone on Xbox-Scene.com for contributing information. If you have any questions please don't hesitate to ask in this thread. Please do not PM me with question.