This is something JezzX said he was making but I couldn't wait. This mod will allow you to have individual control over the blade, gamercard, header/rss, context menu, and button/info text colors. All you have to do is open includes.xml and you will see this at the top
QUOTE
<!-- Begin Text Color includes(FF000000=Black/FFffffff=White) -->

<include name="BladeTextColor">
<textcolor>FF000000</textcolor>
</include>

<include name="HeaderTextColor">
<textcolor>FFffffff</textcolor>
</include>

<include name="Button/InfoTextColor">
<textcolor>FFffffff</textcolor>
</include>

<include name="GamercardTextColor">
<textcolor>FFffffff</textcolor>
</include>

<include name="ContextMenuTextColor">
<textcolor>FF000000</textcolor>
</include>
Then all you have to do is change FF000000 or FFffffff to what ever you want.
I also included a submenu that has some various features in it but the most important one is the reload skin option, so after you change text color all you have to do is reload the skin instead of restarting. Just hit black to bring up the submenu. Here's a picture of the submenu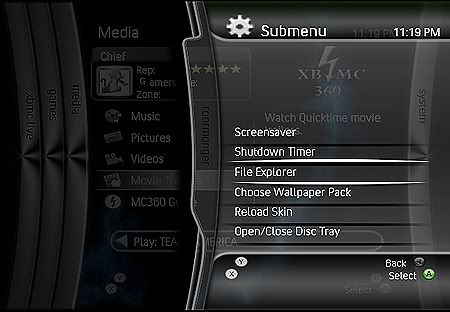 If you noticed anything I missed let me know, I got tired and frustrated half way through this. I spent time checking stuff though, but I don't have internet to my xbox so there's some stuff I couldn't check out.
Download Here
P.S.
Here is a list of color codes
Edited by roormonger, 12 September 2006 - 04:11 AM.