Here are the insides of the PnC battery pack as well as how to get it apart without completely trashing it in the process.
You'll need an X-acto knife with a decent blade and the some super glue to put it back together.
Start off by going down both sides with the blade of the X-acto knife. Don't go twisting or prying with the blade, run it in a straight line, any twisting or prying is just going to snap the tip of the blade off.
After a few runs along the sides it should look something like this now.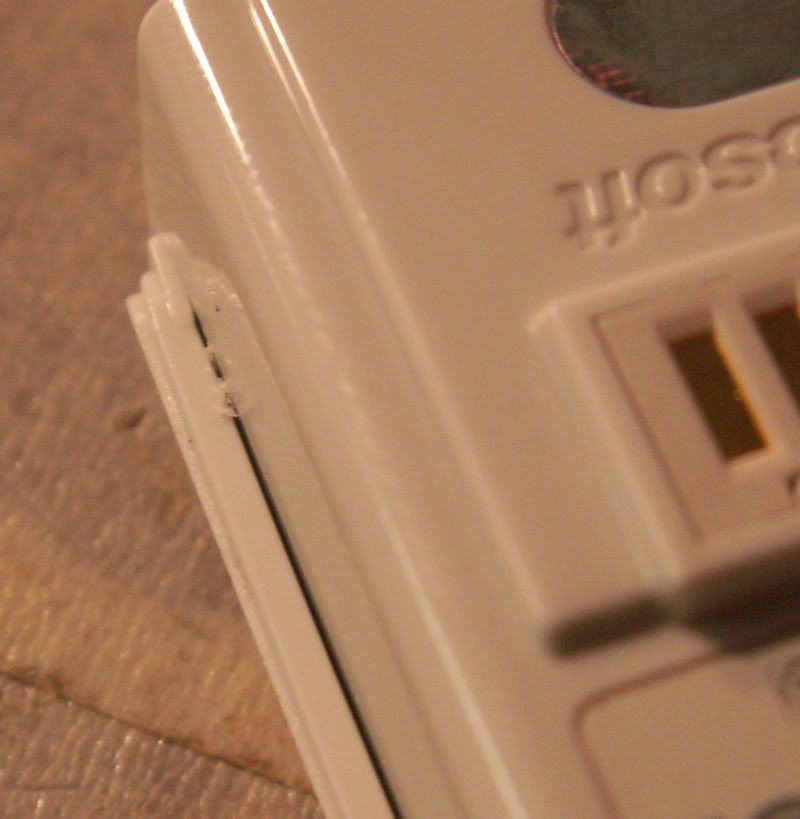 The big pain of taking this thing apart is the bottom of it.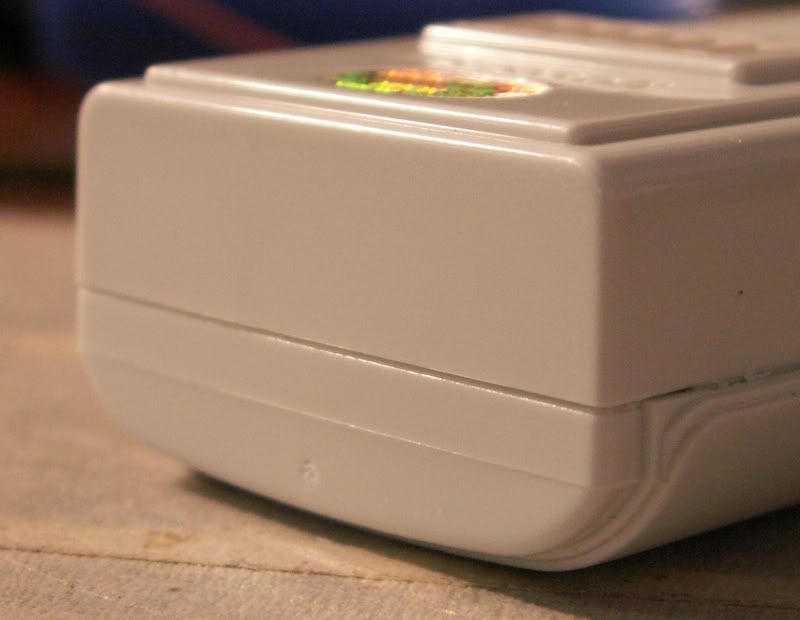 I just slice straight thru it, you only have to go a couple of millimeters deep before you're all the way thru and can start to prying on it a little bit. It takes maybe 5 of 6 good passes with the blade to get all the way thru, you'll feel it when it breaks thru, so pay attention and be careful.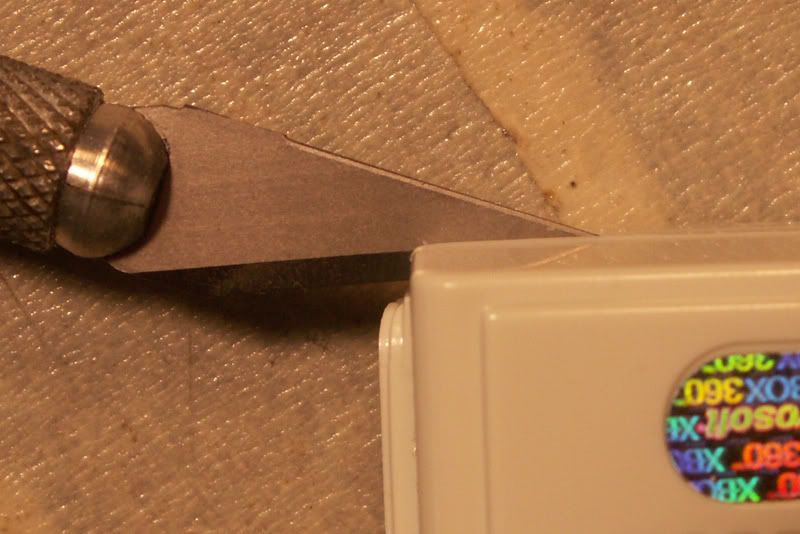 You may want to run down the sides a couple more times and make sure nothing more can be broken loose there, you'll hear some creaking if something broke loose. Alternate between corners and pry a little bit on each one until you have a small gap. You'll be able to see the Batteries thru it and can tell that you don't want to go cutting really deep here or you'll get into them.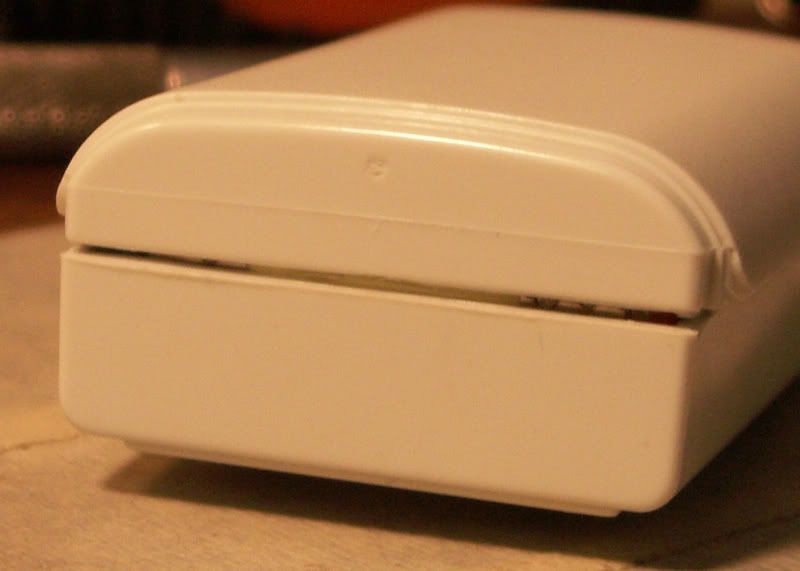 It'll take a little bit of force to get the halves seperated, you can see it's fused together as to not come apart easily at all. BE CAREFUL, when it finally breaks loose the batteries are glued in the top half, the connector and circuit board are in the bottom half. When it finally breaks loose and both halves want to go flying in opposite directions you could tear up the Thermistor and/or battery leads, BE CAREFUL. If you do tear out the Thermistor and only use the controller and PnC Kit to charge up your battery don't worry about it, it's not used at all when connected that way. I'm not sure about the Quick Charge Kit, I don't have one to tear apart, but I assume it IS used for that thing. So if ya charge your batteries with it and tear it off you'll need to fix it back up first.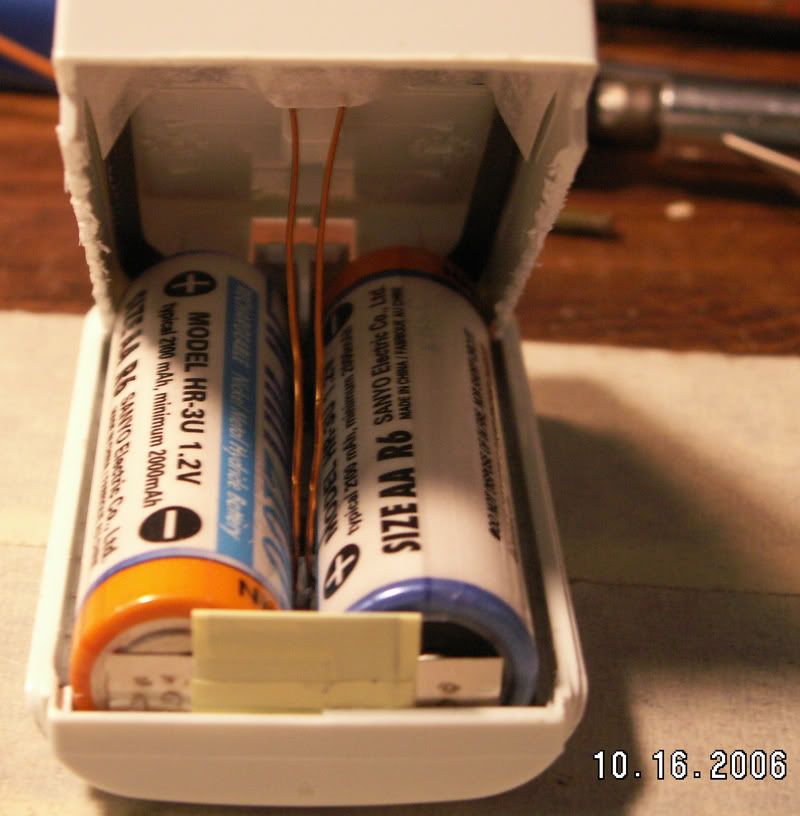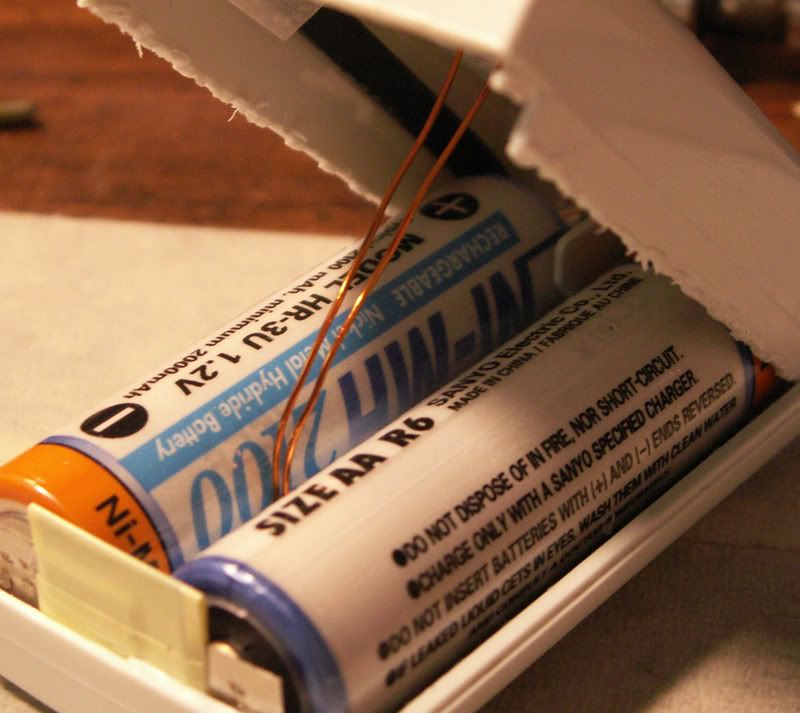 Once ya have the two halves seperated you can pry the batteries out of the top half, they're held in with a little silicone, or maybe a lot, I'm sure this differs some from pack to pack. This one didn't have too much holding it in though.
Careful not to loose the spring that's on the button.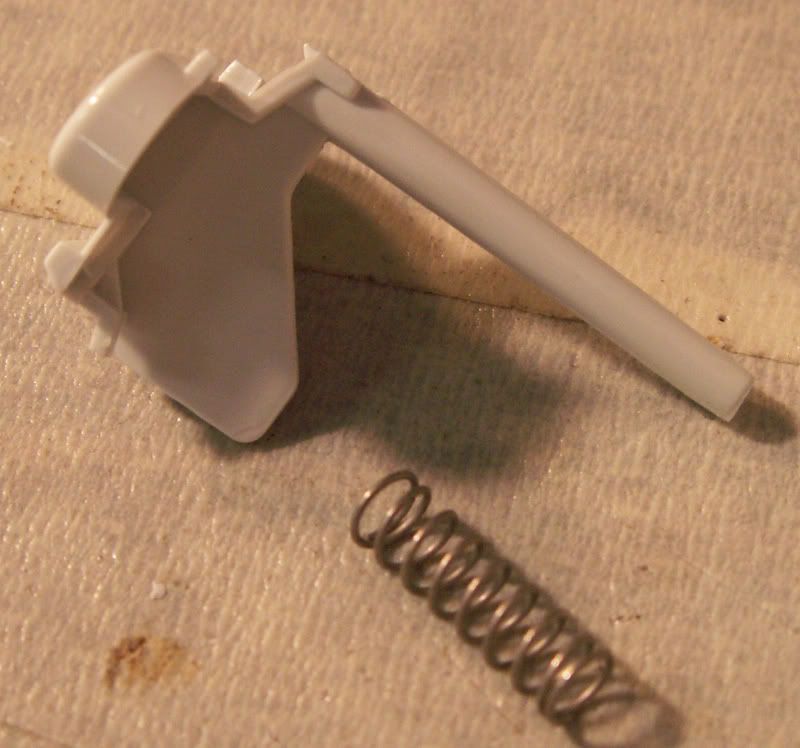 If you've painted it while it was apart, BEFORE you go to glue it back together make sure there is NO paint in either half at the spots where you'll be putting the glue. A little bit of Super Glue can go a long way if it's used right. Make sure you press the halves firmly back together for a few minutes until the glue sets up good, use a couple of rubber bands or set something of a decent weight on it, a big hardback book for example, to keep them pressed together for awhile.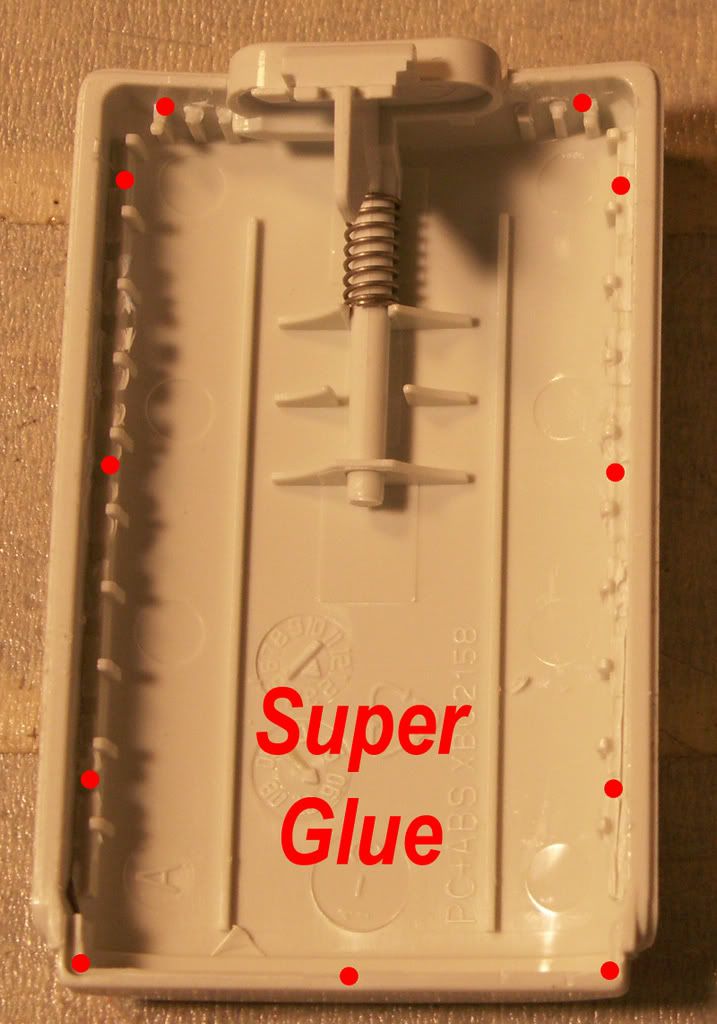 This is a little more in depth of what's inside the PnC battery pack.
The batteries are Sanyo, Model HR-3U 2100mAh and are the Nickel Metal Hydride type.
Under this insulation strip...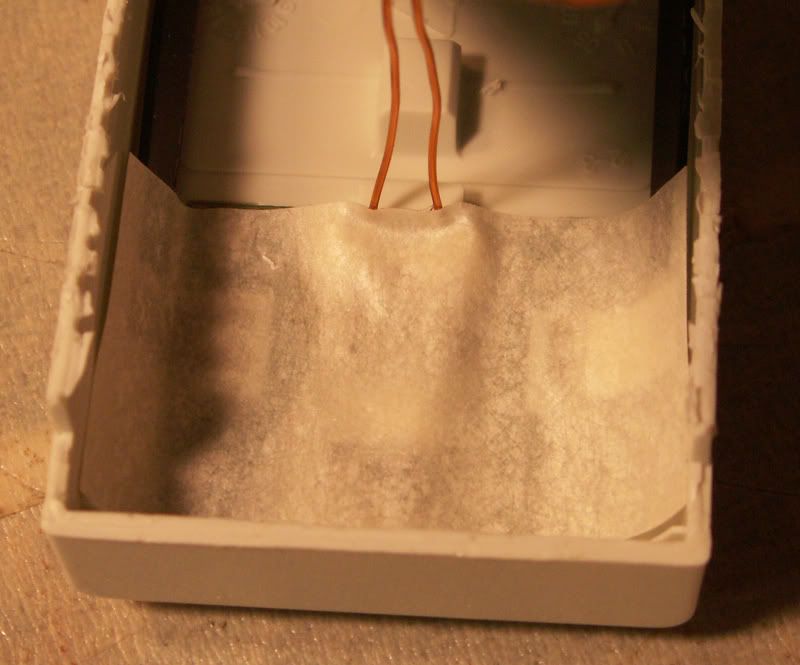 ...is the circuit board with Connector, EEPROM (Atmel 24C04N) and a few other parts.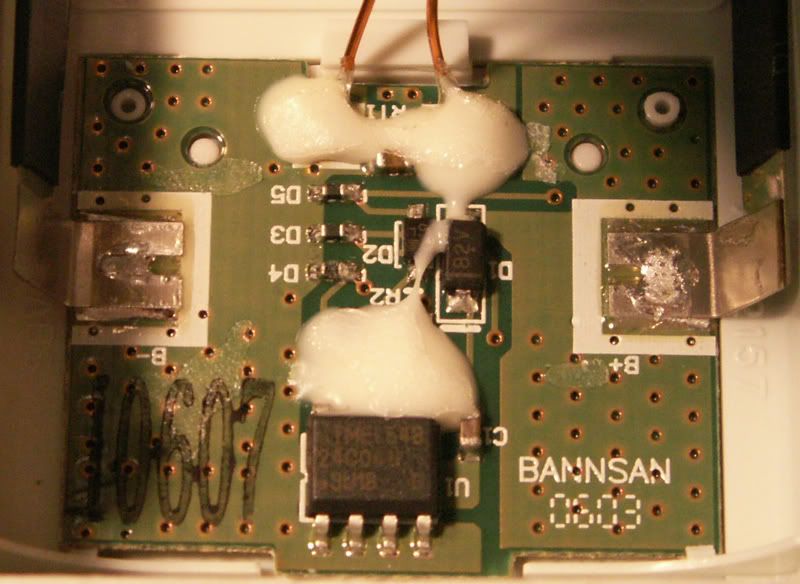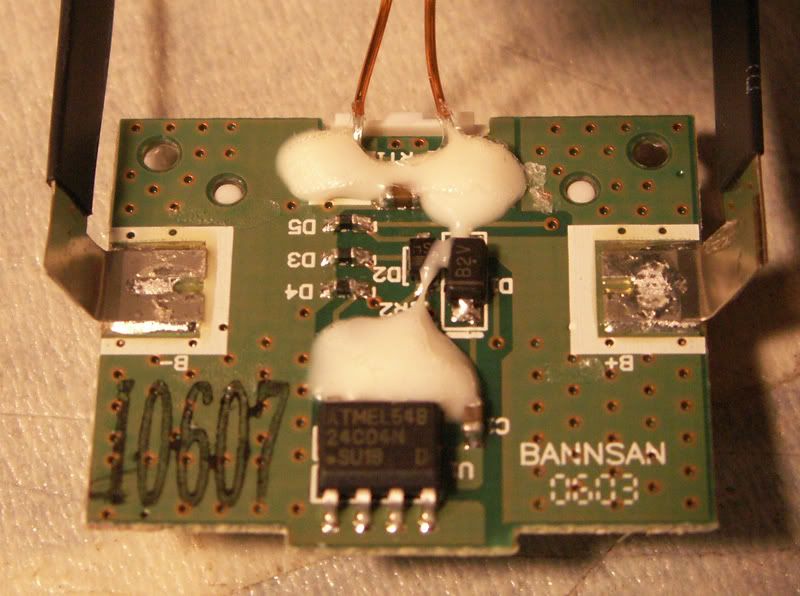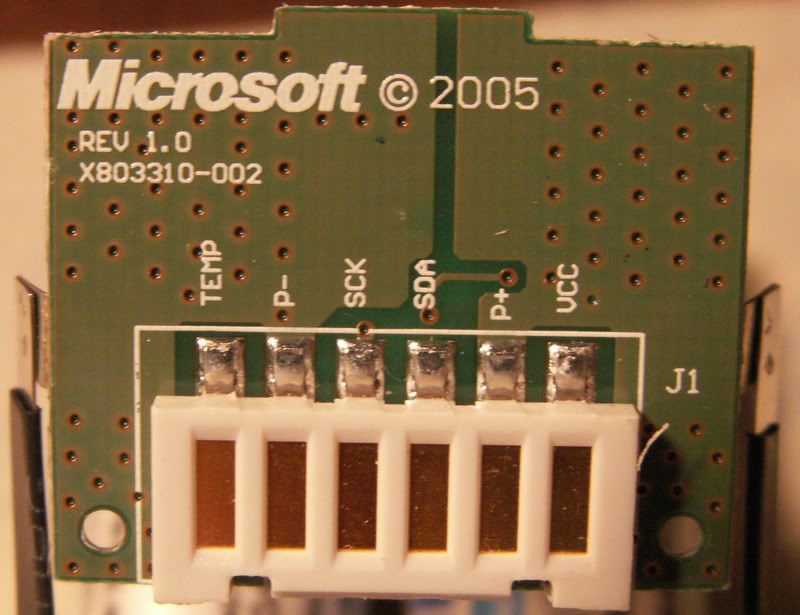 This is what contact does what on the connector, if ya didn't see the board markings from the pic above this one. B-/P- is ground.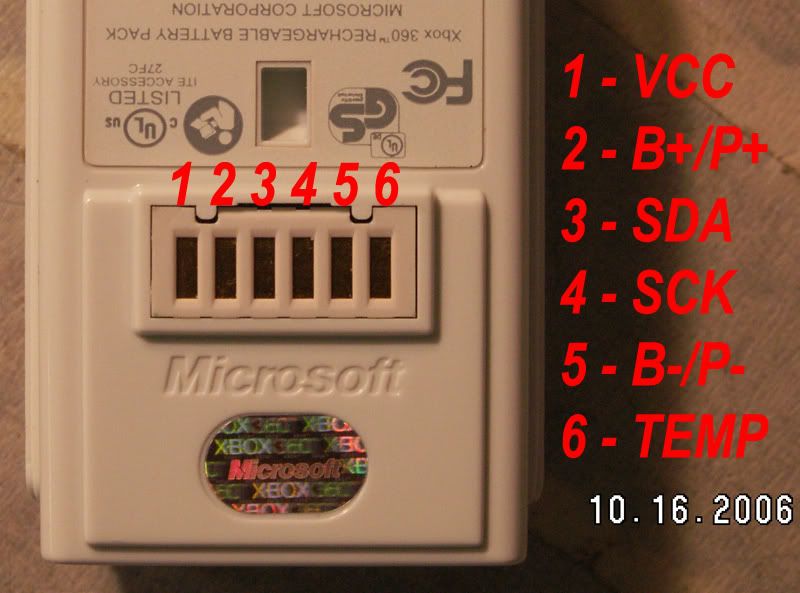 This is the schematic of the circuit board.