Well this one I have been working on for a lil over a week(due to work). The first "phase" consisted of just hooking up a 9v battery and testing how it would react. I see no real point in having resistance on it and extra sensor bars are $10. This idea came from the pain it is to wrap up the huge long sensor bar cord and from my girlfriend (and her mom) always wanting me to bring the Wii to their place.
Some of the idea came from me thinking "just hook a 9v up" which was the first "phase" I mentioned. Yet with no real way of turning off the 9v was completely pointless to have it in the first place. So why not hook power and 9v to it. Well now we would be running an additional 9v which would just break it. I figured that when the Wii is at home I can use the cord because I know that I don't really need it wireless because Im not using a projector, an amazingly big tv, or having the Wii far at all. Then when the gf complains about me not going over then I can quickly remove the bar then run over there without having to hook it up or worry about the cord.
So with both a safety plan, so I don't accidently kick in an additional 9v, and not have to worry about it
with
a removal power cord I present to you a simple yet very satisfying and effective way to take care of it. My Wireless and Wired Sensor bar.
Clean with no cord.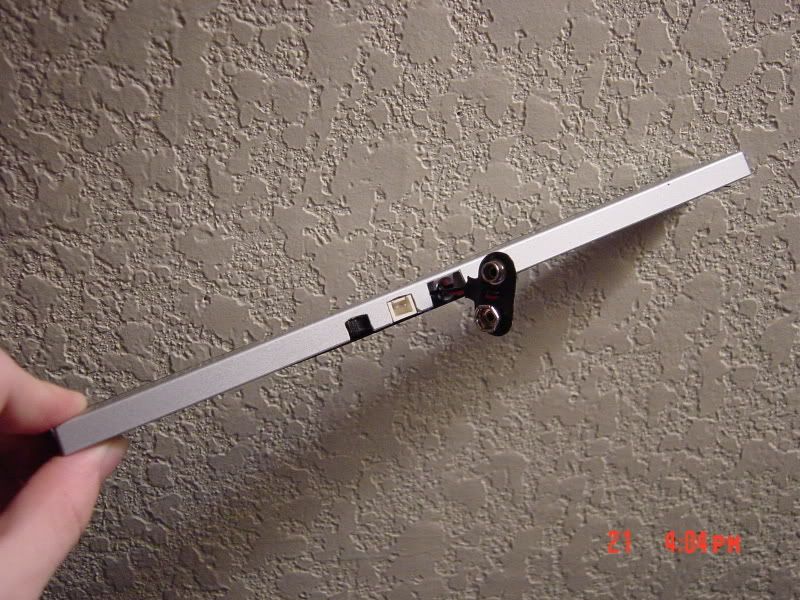 Back. A little sloppier than I had hoped but im very tired.
Switch to choose either 9v battery or power port.
The 3 layers of heatshrink will keep it from bending. The fact that I removed the clip that holds it to the port will act as a quick disconnect(so if i step on the cord it will come out fast without worrying)
I also explained to a friend that im keeping the 9v connector loose because its good to have something weigh the sensor bar down instead of having it lay on top or on bottom where it can move around. (also creating a separate 9v connector like the power point would be stupid because Id probably lose it.) I did in fact modify the plastic stand that came with it to house a 9v but when I painted it looked very sloppy and im going to work on that whenever I feel like it. Thats not a huge deal.
Hope you like it.
Edited by Sir Crx, 21 December 2006 - 08:48 AM.