For those who do not know I was not born with a left hand (my arm stops right at the wrist). Im currently a sophmore this year in High school and have played football the past 2 years. My freshman year I was the starting right guard for that whole season (7-3 Overall). This past season I was the starting center (8-2, League Champs) (yes CENTER, it might sound weird to you all snapping the ball and getting up out of a stance with one hand, but it worked). I'm also not the biggest linemen ever (5'10, 180lbs)
Anyway I've been lifting hard the past two years, but certain lifts do not work out so well. For example I can bench 185lbs, and parallel squat 365lbs all without the need of my prostetic. However when it comes to Hexbar deadlift, and power cleans I runinto trouble, not having a hand on the left side, it seems impossible to lift, so I use my prostetic for my lifting on these 2 lifts. Hexbard seems to work fine, but power cleans are a completely different story.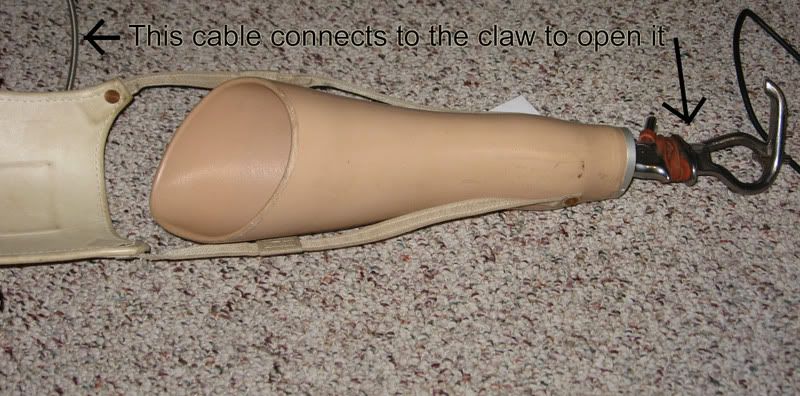 For those who are unaware of a power clean, basically the bar with weight is on the ground. Your shins are are resting on the bar. You lift it straight up, right about to your stomache/chest. Then you jump to get underneath the bar where you rack the bar by "flicking" your wrists back. As you can see I cannot "flick" my wrist 90 degrees in order to rack on my left side, so my technique is really funky. However I had a dream the other night where i did power clean successfully and my prostetic was heavily modified, he is a rough stech of what it looked like
That V shape (not a rod, its going to be about 1-1.5inches wide for each side) is mounted to a bearing to it will swing up and down freely. The bar itself will be fitted into the V, and have an added steel bar or quick relase type pin going thru the V to keep the bar firmly in place. Since I need it to swing about 90 degrees back, a hydraulic system would seem to work. Basically as you see in the picture the hydraulic motor would sit under the V on one side, and when triggered explode out and flick the V 90 degrees. Added to that I was wondering if its possible to have a modified switch to the hydraulic motor, to where itskind of flat and i could put on the ground next to my foot and when I jump after pulling up the bar to get underneth it, as i land my feet, id make sure to step on the swtich, thus triggering the "flick" to where i can successfully rack the bar.
Here is my main questing here, I have no idea on what hydraulic systems work be best for this, or if there are any other options here. If anyone is good with hydraulic motors please reply or pm me, I'd really appreciate your help!
-Mike