Here we go again, but wireless this time.
Wired Controller points are shown
HERE
.
Pay no attention to the traces that are colored, just the lettering that points to the spot. These are about the best locations to go attaching wires to if you're wanting to add more buttons to the controller. If you're making an Arcade Stick they're pretty useful too, though you can just scratch off the black contact material on the button's contacts and solder there if ya wish also. That method is no good for adding extra buttons to a controller you want to keep functional though, so I made these up for that purpose mainly. One of the Guide button spots had to be made on a Via, so if you want to duplicate that button you'll have to attach a wire to it. Have a read
HERE
for the proper way to scrape down, prep and solder a wire to a Via so it's (hopefully) not damaged in the process and ya get a good connection that will last for some time. Removing the Triggers to get to a few of the spots is needed also and just makes it a lot easier. You have to desolder 3 joints and then they unclip from the board. The plastic can be cut away where the wires are so if ya need to reinstall them they don't pinch it, there's plenty of places it makes contact with the board and removing a little doesn't change how it sits, just groove out a little of it where it would be pinching a wire so it's just barely touching it instead, then reinstall it.
The spots are labeled as such...
A = A
B = B
X = X
Y = Y
DU = D-pad Up
DD = D-pad Down
DL = D-pad Left
DR = D-pad Right
BK = Back
ST = Start
GU = Guide
SY = Sync
LB = Left Bumper
RB = Right Bumper
LT = Left Trigger
RT = Right Trigger
LSC = Left Thumb Stick "Click" Button
RSC = Right Thumb Stick "Click" Button
Each button has two spot, like A1 and A2. It doesn't matter which one you attach to which side of your new button, as long as you get these two points to touch, you'll duplicate that button when it's pressed. Some buttons do share a common line, so they've been compounded on that one spot to make it less cluttered, for example: A, D-pad Down, D-pad up and the Right Bumper (A2/DD2/DU2/RB2) all share a common connection, so for any of those buttons you can attach 1 of the two wires for your new button to that spot, and then the other wire would go to A1, DD1, DU1 or RB1 respectively.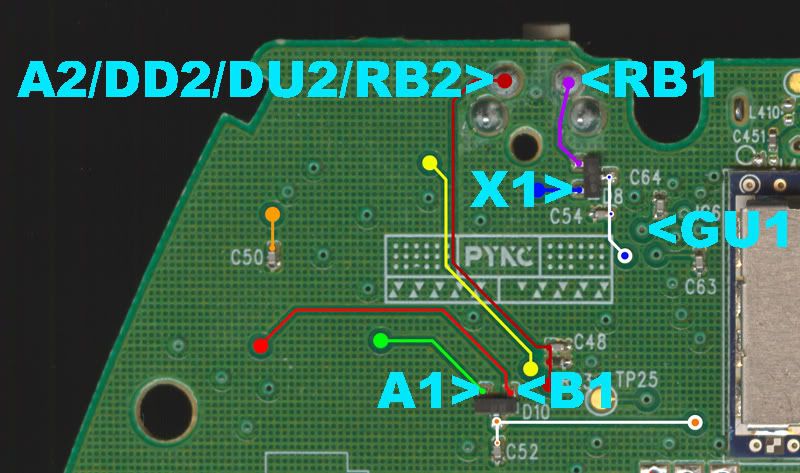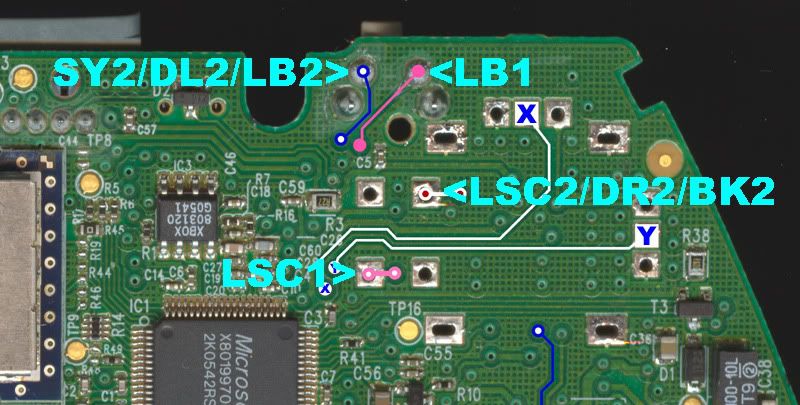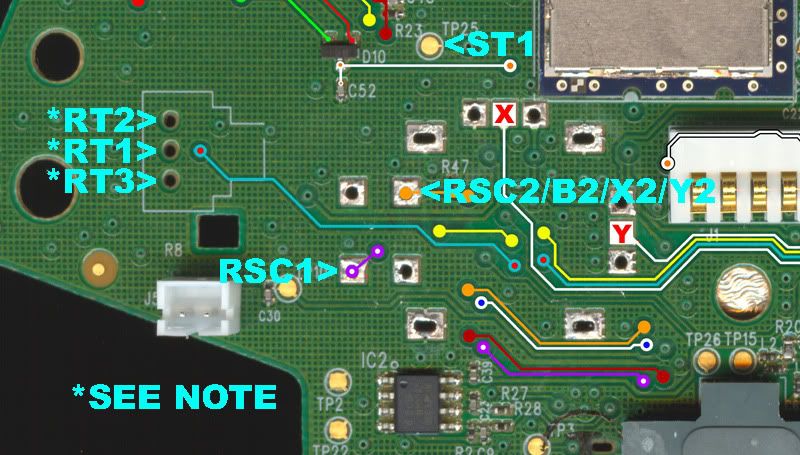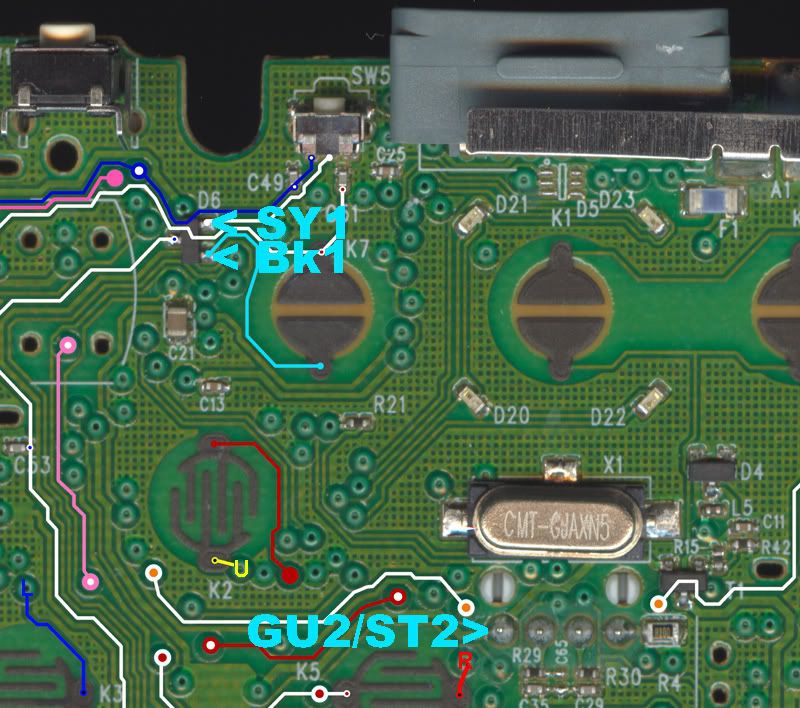 *NOTE:
Actual soldering for the LT and RT spots is on the opposite side of the board. If you're going to attach an extra button to duplicate one of the Triggers, you use LT1 and LT2, or RT1 and RT2 respectively. The reason LT3/RT3 is there and marked is ONLY for those making an Arcade stick and wishing to remove the Triggers from the board for whatever reason. If the Trigger IS removed a 10k Resistor MUST be installed from LT1 to LT3 or RT1 to RT3. Any common variety 10k 1/4w will do just fine. This is to keep the controller "thinking" that a Trigger is installed and "off", not pulled. Removing it without installing the 10k Resistor will cause it to act up in some cases, the new button either will not work or will not return to the "off" position when released. Pressing the new button you're installing between 1 and 2 will duplicate the "on", pulled effect of the Trigger. Also note that you WILL lose the Analog function on the new Trigger button, it will either be on or off, no middle ground like you can achieve by pulling the Trigger partly in. This does not change the way the Trigger acts if it's left installed, it will still be Analog when you use it.
TOP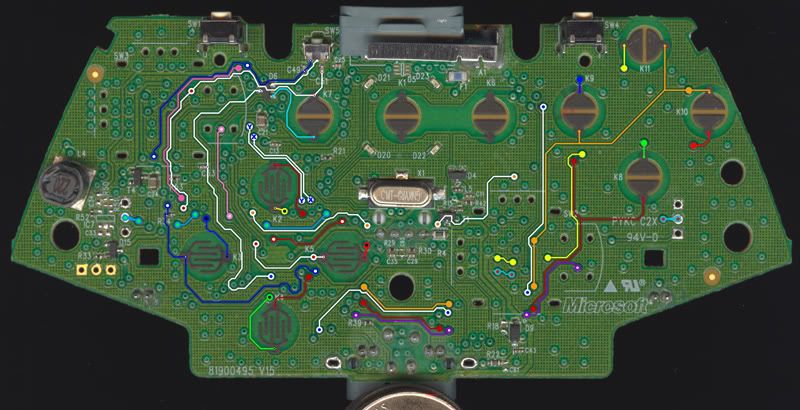 BOTTOM
MATRIX LAYOUT
Edited by RDC, 07 December 2012 - 12:42 AM.