ok ok ok first let me start of with the basics, theres a lot of pictures in this tutorial because i know everyone loves pictures and can learn from them better than words. i wont ever delet these photos from my photobucket account so no matter what you guys can always see them! hows that for a deal. also this would be the internet that your on right now, and the internet is not school, so ill say sorry now for my improper grammar, spelling, not capitalized starting of sentences, and run on sentences. i will also tell you right now that the photos arent of the best quality because the camera itself is over 5 years old, and every time i have the money to buy a new one i go out and buy stupid stuff like this!
yay and lastly i am sorry if you dont like my rambling on and on about useless stuff, so if you dont like reading it all just look at the photos
i suggest you already have some expirience with modding as you need to take apart your 360 and solder small points on the bottom side of your motherboard.
alright so now to the tutorial part
i take no responsibility for you killing your xbox or anything else around it. i have completed this mod the exact way as shown so if you follow directions everything will go as planned and it will turn out great. if you start your xbox on fire, which starts the cookies next to it on fire, which ignites the carpet and burns down the whole house and kills your dog, dont sue me because i do have this warning in here. the rest of the stuff that should be in here i will substitute with BLAH BLAH BLAH
ok we will start off with buying a hip pad screen. i got mine from some hong kong place on ebay. it was 15 bucks with 5 dollar shipping. if you plan on doing this mod you should do this as soon as possible as these type of products are getting more and more scarce everyday.
i ordered a xbox hip pad screen and got a gamecube controller in a beatup torn open plastic case that said xbox hip pad screen in blue crayon on it. but who cares im not using it for xbox anyways. this is what mine looked like when i took it out of the box and got rid of all the other crap that came with it
now if we flip it over it will look like this and you will notice 6 screws on the back which i have outlined in red
after you unscrew these the case should basically fall apart fairly easy leaving you the juicey insides to devour... i mean use on your xbox. it will look like this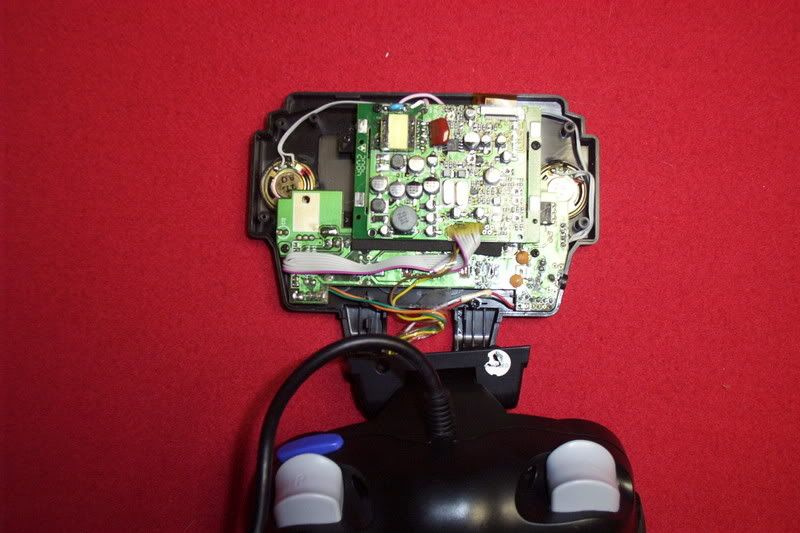 now if we get a close up of it with my shitty camera you can notice a small ribbon cable at the top right which i have unplugged very carefully... you should keep your eye on it at all times as they are trickey and like to break themselves when no one is watching
now there are several screws scattered around the place, all of which are visible when you open the case up, you should have no problem removing them as they arnt like the ribbon cable and dont like playing tricks on you. here is what it should look like after you remove all the screws and take out the components. cut the wires keeping them as long as possible, and take that shitty controller and throw it at your little sister or something i dont care, we dont need it anymore
now that the hip pad is taken apart i can give you a techinical extreme photoshopped version of what this should look like. if you dont understand this drawing from looking at it you are probably retarded, but ill explain even more for anyone under 7. there are three parts inside the hip pad,
1.) screen
2.) screen board thingy
3.) other board thingy with power wires on it
do nothing to number 1.)
with number 2.) you should see a yellow wire and a brown wire. you should have cut these when you cut the bunch of them that go into the controller. the yellow wire gets soldered to the scart on the bottom of the motherboard. you need to take apart you 360 and then take out your motherboard to get at it, and then solder it to the number 7 pin on the mobo. the brown wire you solder to the pin directly above and to the left a tad of the yellow wire. you have just soldered video ground and video +. now go eat those cookies
with number 3.) you will notice a green cable and a orange/yellow cable. solder green to the bottom side of the mobo where it says - ground, and solder the yellow/orange wire to where it says 12v. you will also notice a few other colors, red white and black. we dont need these so just tear them off. you can also tear the speakers off too cuz they suck
DO NOT POST YET SECOND HALF WILL COME IN 10 SECONDS
and lastly you will need to bridge the two points shown together so you can see both the lcd and the tv at the same time, or play the lcd without the cables in, idk it does something special like that so just do it
this is what it looks like when you solder your extender wires to the bottom of the motherboard
dont forget to use protection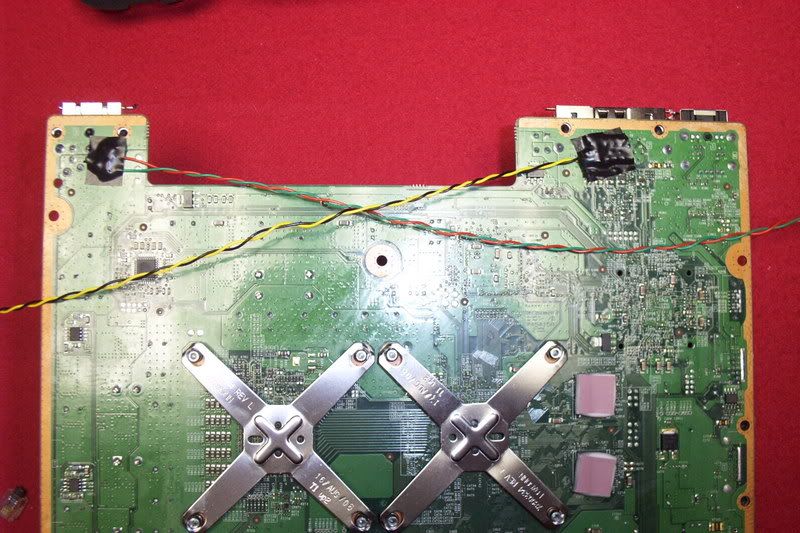 after all of that we put the motherboard back on the metal caseing and run the wires up through the gap by the fans and solder the wires to the corresponding points. here is everything shown just layed out flat spaced out on my pride and joy 800 dollar pool table where i did all of this on.
now we plug in the cables and hope to hell the sweat dripping down our forheads doesnt land on the motherboard and cause the xbox to catch on fire and ignite the cookies.
.
.
.
.
.
.
.
.
and now the moment we have all been waiting for...
.
.
drum roll please
.
.
power button on!
SCORE IT WORKS! now go outside and do a backflip in the 6 feet of snow we have
go munch down on the cookies beside the xbox
go crazy cuz you just made my xbox not one of a kind!
so here she is with the lights off. once again im sorry my camera sucks ass but this thing looks just like a psp screen in real person. no defects, no weird colors, none of that crap.
and here she is in the best mode i have on my camera. i use it on all of my photos, and not by choice
FUZZY MODE!
note that if you screen doesnt turn on right away mess with the knobs to make sure that they are not set so theres no brightness or something like that, or mabey look at the power switch on the bottom right that says off, and flip it to on.
its the weekend so i think ill gash into my lovely xbox tomarrow and flush mount this bad boy.
but remember... theres plenty of places to put it so be creative, use some bondo
ill make a small tut on mounting this hopefully tomarrow but until then tell me what you guys think. your looking at (1/1) hip pad 360 in the world; whos gonna praise it and make it smile first, and whos gonna flame it and make it cry first?
until then, happy modding
special thanks to:
sapper - i stole a pic from you to make my diagram. he is the person to make the tut for doing this on the first xbox
RBJtech- cool dude who knows what hes talking about.
my mommy - for making chocolate chip cookies which i ate while working on this