Before I begin I'd like to say 99% of the credit for this goes to G0t M4xx 21 who figured it out first, both with trace cutting, as well as the no trace cutting method where Resistors are removed and is the basis for this tutorial, I have to take 1% though for doing these pics and pointing out some alternate soldering points to hopefully make it a little easier for some.
NOTE:
You do NOT need to remove the connector for any part of this mod, it's been removed so I could get a good scan of the board and it shows off what traces go where for anyone doing repair work.
OK, here we go. For starters this is the RF version of the board, as there are at present 3 that I'm aware of, RF, RF01 and RF02, and the differences will be covered as we go. You'll need some small wire for this 30awg or so, and a fairly steady hand for the (de)soldering you'll have to do, as well as an X-acto knife and magnifying glass depending on the RF board version you have.
This will only swap the "Ring of Light" colors from Green to Red and Red to Green, If you want the center LED changed to Red you will have to replace that one with a Red one, and it's an 0603 SMD type.
First off you need to remove 4 Surface Mount Resistors, R3, R4, R21 and R22. These things are small and if you can't find them or see them to remove them then get some magnifying glass to help out or stop now before you make a mess.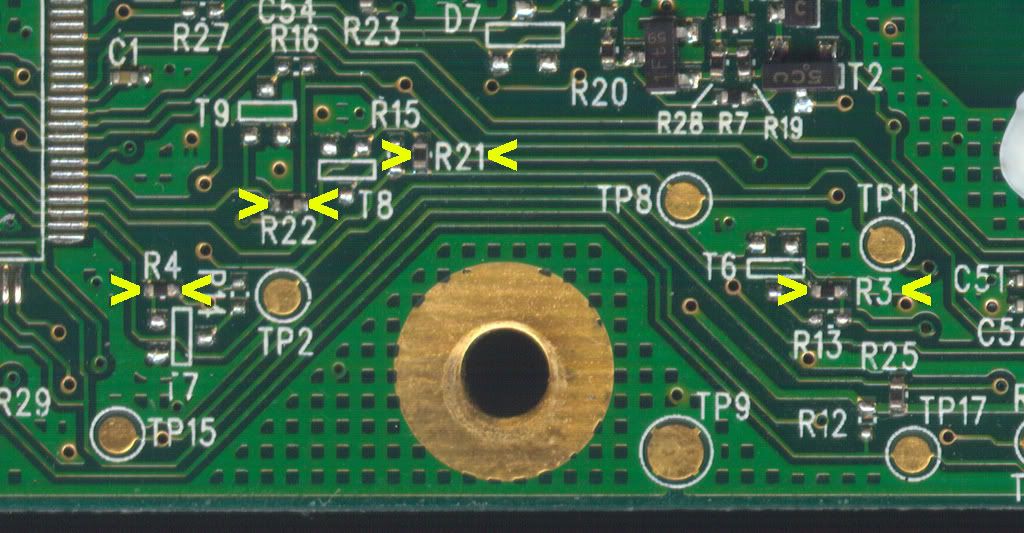 NOTE:
This is the RF01 that does not have these Resistors installed. On this RF01 version you have to cut 4 traces instead of removing 4 Resistors, and then proceed the same as the RF version.
Use an Xacto knife and a magnifying glass and carefully cut just enough to sever the trace at the Resistor locations, R3, R4, R21 and R22. If you need to restore the board to it's original setup you can just install jumper wires where the Resistors would have been, or use some 0ohm Resistors.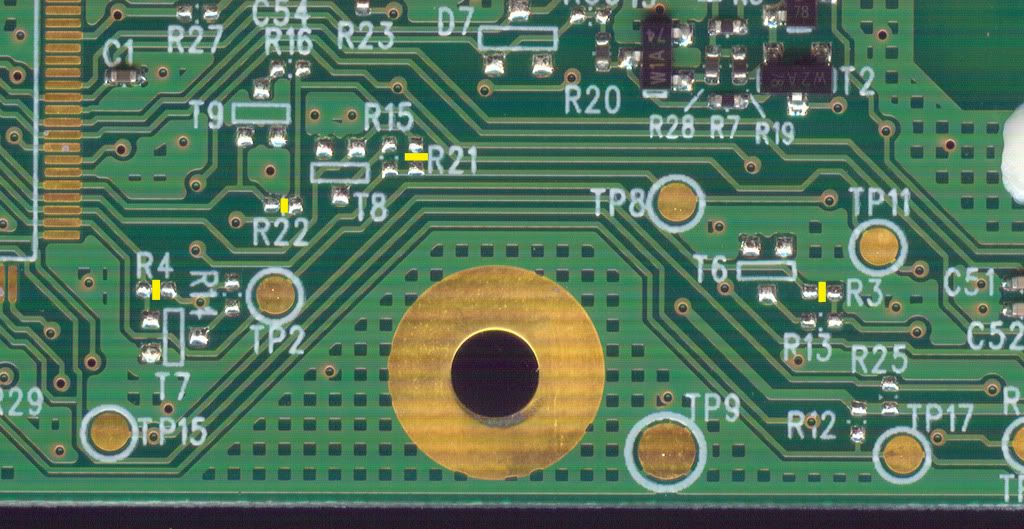 NOTE 2:
There is a newer version of this RF board (RF02) that is a good bit different from these here, when I get one of these to scan and trace out I'll update this again.
After you have those removed, and they must be for this to work properly, you need to "connect the colors" to get the LED colors swapped. Just connect Violet to Violet, Blue to Blue and so on. The colors of the spots have jack to do with the LED colors, they're just those colors to show you what you need to connect to where.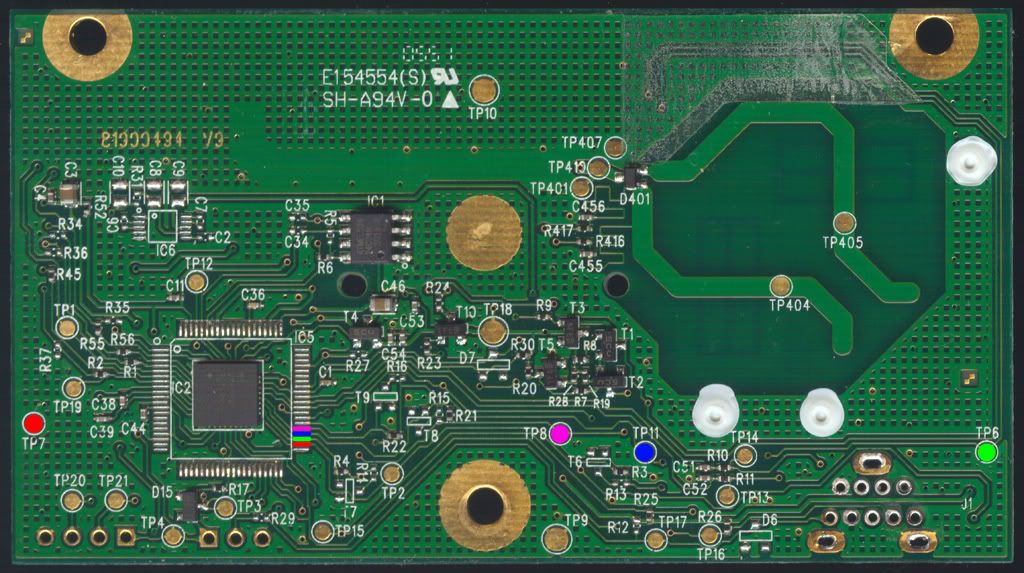 This is what it should look like after it's all wired up.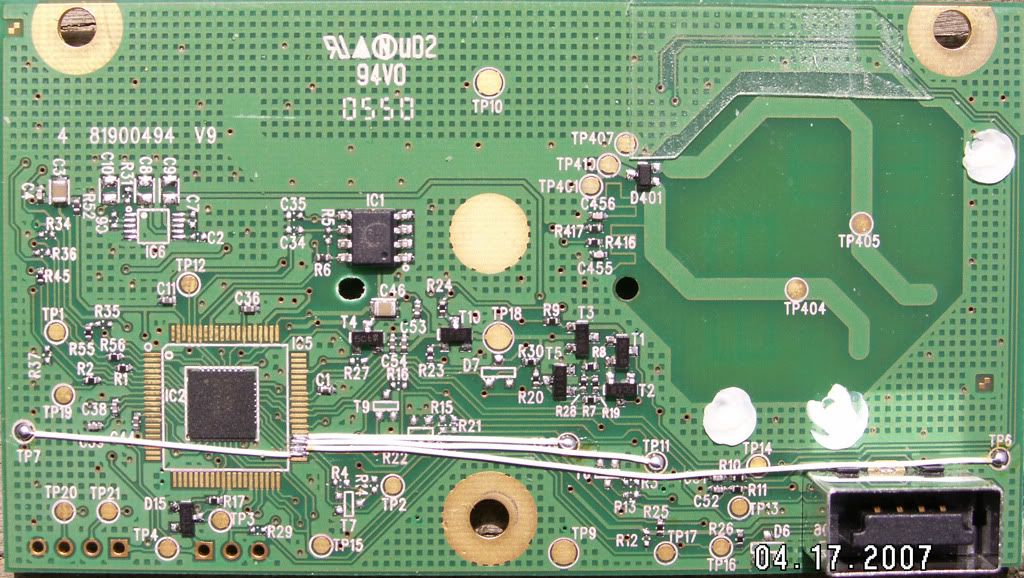 Alternate Spots
These are alternate spots to do the "connect the colors" part, you MUST still remove the Resistors, or cut the Traces depending on your board version, for this to work. Some of you may have better luck with these spots since they're not all side by side like in the previous picture, that's something that can even get a person that's good at soldering in a mess sometimes. These points, while just as small, are more in the open and may be a little easier for you to hit.
Connect the spot at...
T9 to TP8 (Violet)
T8 to TP11 (Blue)
T7 to TP6 (Green)
TP2 to TP7 (Red)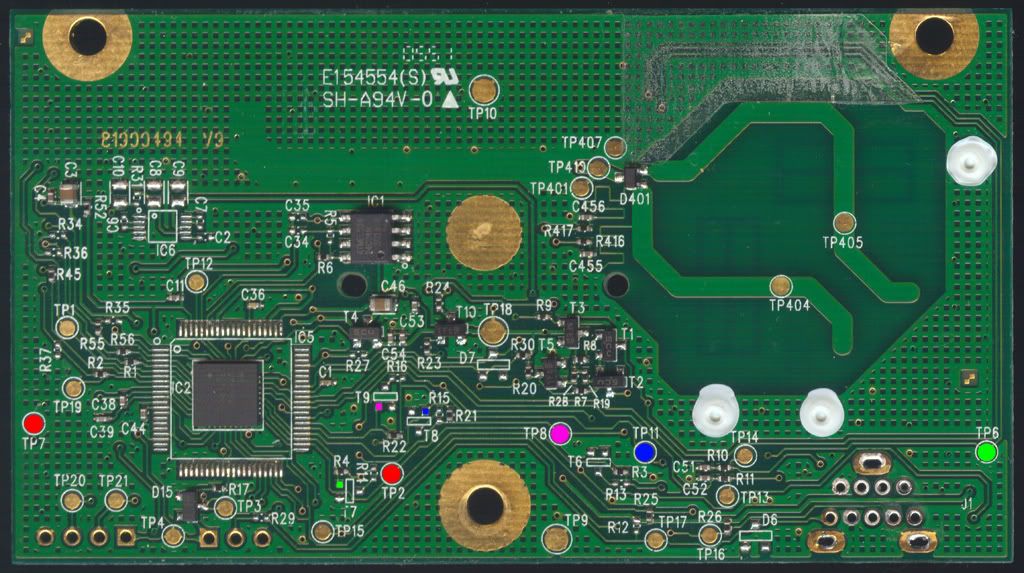 Make sure you keep your wire runs away from the screw hole there at the bottom and the grounding spot in the middle, you don't want any to get pinched when reinstalling the board onto the 360.
Here are some "clean" shots of the RF-RoL board Top and Bottom for anyone that may need them for whatever.
RF
TOP
BOTTOM
RF01
TOP
BOTTOM
Edited by RDC, 08 August 2010 - 01:01 PM.