Hey it's time to get rid of my xbox, i have a couple too many...hehe
This one is a 1.6 official crystal xbox. And it comes with the original box and controller.
I just put the X3 chip in it a few days ago, still has the retail hdd and I set it up with the slayer's install disc. XBMC is the current dash, but you can switch between evox, avalaunch, and unleashx as well. Now onto the pictures, the X3 switch is on the side because it interfered with the underglow on the front.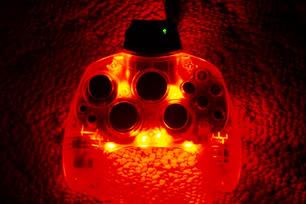 This is the original controller, it will be included like this...red and orange leds. It's bright, but not really distracting while playing. The top of the case (controller case, not the xbox) has a small crack in it but that's just from normal wear. I didn't throw it or anything
It has a 20 led ring under the jewel pointing out, 2 blue leds in each port, blue power/eject button...red for errors, and a 20 led front underglow...let's be honest, the thing is freakin sexy (for an xbox).
I'll accept the first person to offer me $260, otherwise send me a PM with an offer or just reply to the thread, I'll keep an eye on it. Free bump me if you read this too
Thanks!
Edit: I forgot to mention if you're seriously interested and want any more pictures taken or anything of the sort, just let me know. Also, the X3 switch isn't shown in any of the pictures because I didn't put it in until a few days after I took the pictures. And the third picture is prior to the underglow, but you get the main idea.
Edited by BobBrkersMyHero, 21 July 2007 - 05:27 AM.