Well... seeing as no one has done a tutorial on this yet, I will do it (I know its sad that some people find it hard to open the xplorer guitar).
Its pretty simple:
Tools you'll need:
Phillips Screwdriver (you'll need big and small headed tips)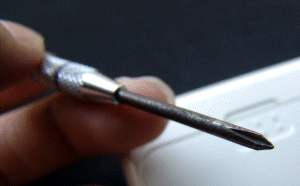 Remove these screws:
When you remove them just pull off the "top" or "back" or the guitar which is the same piece in which you just removed the screws in.
Once you get it open it should look something like this:
Same thing... remove the screws highlighted.
Note: Be careful when you remove the whammy bar and make sure you remember how its assembled because I dropped mine by accident and I had to put it back on.
The neck is pretty much the same thing.... just remove the screws and pick up the "back" part of it. Once open, you will see the buttons. Just remove them or leave them on there but you have to take off the little board on it. Just use the screwdriver to remove those screws.
At the bottom part of the neck, you will see four screws... remove those and remove the neck from the body of the guitar.
You should have this so far:
Body and Neck
Fret Buttons and Start/Back/Guide/D-Pad
All the boards
And well... that's pretty much it. To assemble it back together just retrace your steps. I painted mine Flat Black and Red.. don't know why it looks like orange though.
Happy modding!
Edited by oZKa, 25 July 2007 - 08:03 PM.