This isn't what I'd call a full blow tutorial, more like the 'meat' of it, but it shows what you need to know to make a Six-Axis PS3 controller into a Southpaw controller. Besides, if ya can pull this part of it off ya don't need any baby-sitting step by step tutorial anyway and if you're planning on hacking into a PS3 controller ya need to be fairly good at this type of thing anyway.
I give fair warning up front, if you've never had your hand on a soldering iron before or are a beginner this is most definitely NOT where you should be learning how or your next project, nor is this something that you can compare to installing a modchip in an XBOX, PS2 yes as you'll be all too familiar with the definition of 'small' and close' since Sony, if nothing else, really does know how to cram it all into a small space.
This is only for swapping the Sticks or Sticks/Clicks (Clicks are the stick buttons, L3 & R3)
If you're doing just the sticks then take the controller apart, not going into this cuz if ya need help here ya have no business at all going any further with this. Once ya have the bottom off the controller (no need to remove the board from the top half) you'll need to cut 4 traces (the Red lines) and they're in groups of 2. Where I have them marked it's pretty easy to cut them an not mess anything else up, unless you go really wild or happen to slip with the X-acto knife while doing it.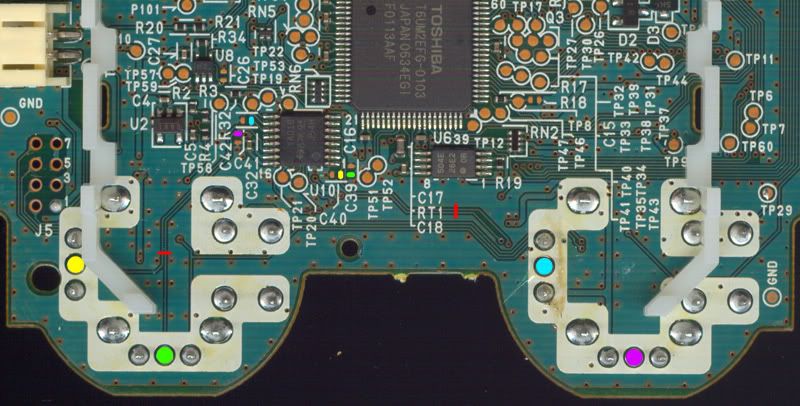 Once ya have the traces cut it's just a matter of connecting the colored dots, which isn't quite as easy as it sounds, but is all that ya have to do and then ya have a SP (Sticks only) PS3 controller. Even though the copper pads seem exposed, the entire board is coated in a very thin clear varnish, so for those marked small spots you'll have to scrape them very lightly in order to get solder to stick to them good before ya go attaching the wires, use an X-acto knife or Fiberglass pen to do so. Once you're all done with that and it's wired up it should look something like this here.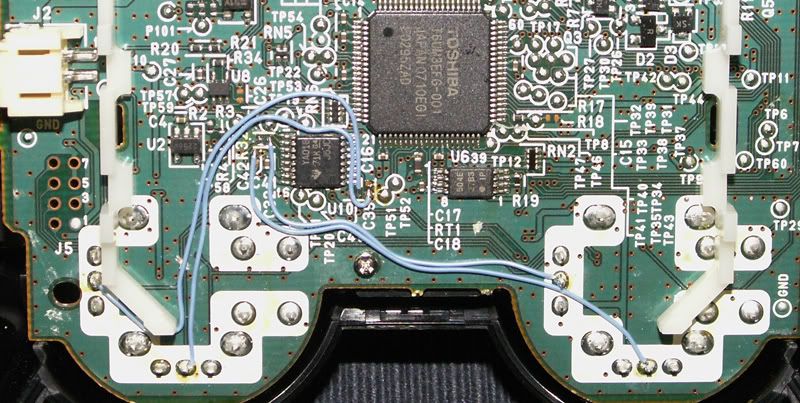 Now, if you're one of the SP gamers that needs the Clicks (L3 & R3) swapped along with the sticks (or just the Clicks swapped for whatever reason) then ya have a couple more traces to cut and 2 more wires to run to do that part of it. This is also MUCH more difficult than just doing the Stick swap part of it because you have to be very careful with the trace cutting here as well as scrape down a via to attach one of the wires to and that's something that's not the easiest thing to do on a good sized board, and with the PS3 controller's board being about half that 'normal' size it's a good deal more challenging and a good magnifying glass is something you'll really like to have handy for this.
I've marked 2 different spots for the trace cuts, ya only need to use one, but make SURE that these are the ONLY 2 traces that ya cut here, there are others close to it and from the pic it may look like ya have room to spare (especially in the close up below) but this stuff is very small and very close together, so if you're even the slightest bit unsure about it don't go laying the X-acto blade to the board anyway, practice on something until ya can do it properly or put the controller back together and just have it done for ya, the only other option is to learn to play with right handed controls.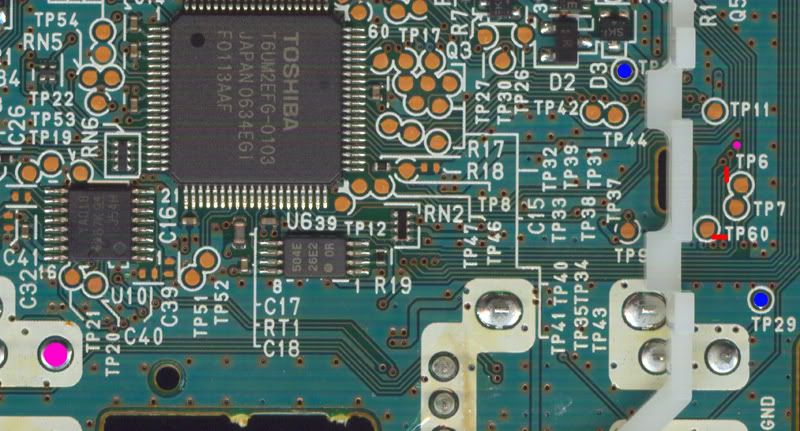 This is a close up of the traces that need to be cut and the via, again use either spot, both if ya really want to, but only one spot needs to be used to sever the 2 traces. After that it's the same procedure as it was for the Sticks, just connect the colored dots and you're done, L3 is R3 and vice-versa. EXTREME care should be taken when scraping the coating from the via to prep it for attaching the wire, use an X-acto knife of a Fiberglass pen, but do it very lightly as you don't want to damage the trace/via here.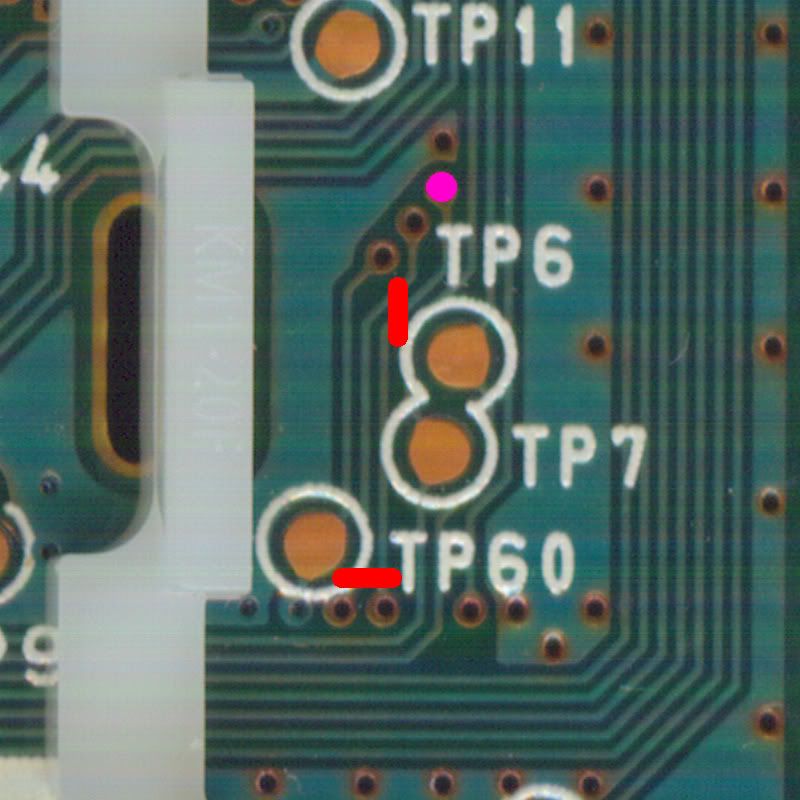 This is another one I did that has the Sticks/Clicks swapped just to show roughly what it should look like.