Hey Everyone, In a thread I made earlier I asked about putting system information in the emulator section. Apparently no one really was interested. That's ok, but I wanted it anyhow so I've been working on a custom emulator window. I'm using a custom window because I got confused when trying to incorporate this stuff into a 'view' don't ask me why, I barely know what the heck I'm doing.
I just wanted to show you guys my work. Keep in mind that the skin I'm using is my own xtv mod (which I've also redid in the past couple of days.) My skin mod won't be available for download, so I won't bother posting pics other than this emu section.... sorry, the skin is basically a conglameration of all of my 'favorite' views, in a black/red theme, added and customized buttons, and Macguyvers scroll wheel for an alternate homepage....
anyhow this is how it looks, sorry for the large pictures, I did compress them though... By the way, I don't take any credit for this really, except for the idea. As you can see, even though my skin is an xtv mod, this look much like Basics-vision media view 2.... this is because I modeled it after it. I didn't actually use the code since like I said, I got all mixed up trying to make a view how I wanted, and ended up writing the xml for the entire window my self... with referenceing and some of the basics-vision graphics of course. I couldn't even get the "panel" container thing right... but im rambling. Thanks Jezz and ninet9mustang for a great skin, and chief of course for the xtv skin.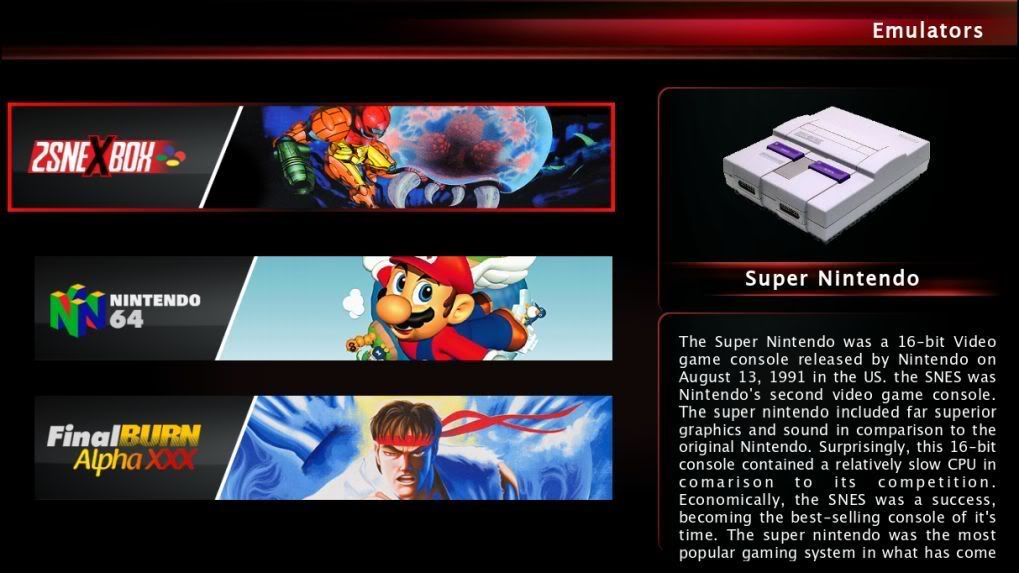 lol don't make fun of me.