After stuffing a
Wireless CG board into a Duke
I thought doing an S-controller with one of the new Wired CL boards would be a suitable follow up, because I'm not stuffing a Wireless one in there for anything. That CL controller can be hacked down to pretty much nothing (2in. x 1-1/4in.) and stuffed in almost whatever to make a 360 controller with very little to rebuild on it to get it working again, just 2 wires minus the Rumble circuitry and even it can be added back on externally fairly easily.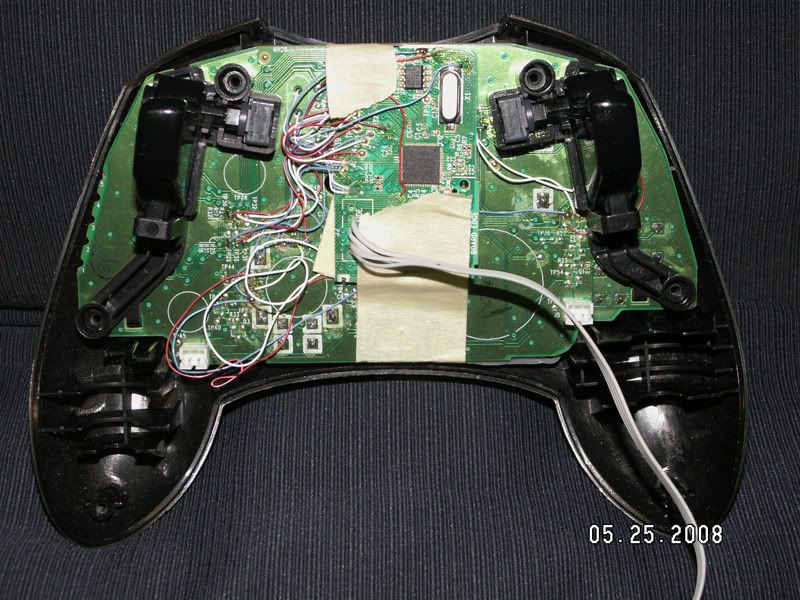 Right now all of the main things are done, all that's left to do is straighten out the throw of the Sticks (they don't have as much movement as in a 360 shell so they're acting sluggish) the Guide button, Rumble motors, Headset connector and LEDs, and the 3 latter can be done without if one were so inclined, I'm not, but ya could.
This was done over just a couple of days, lot of it staring at the thing figuring out what to do, guess that's the hard part though.
It's nowhere near as difficult as that beast of a Duke controller is to do. (I haven't touched that one in 5 months but dug it out the other day and started doing some more work on it)
The lower memory card slot of course will be tossed on this thing, top one will probably be covered as well and the headset jack installed there. Not sure where or how I'll do the Guide button and LEDs on this one, still thinking on a good Guide button setup for the Duke as well, using some small tact switch just doesn't cut it for me there.