Hey all, yeah I know it was a bit of a Nintendo reference for the description, but we'll all survive and you'll understand it after reading more if ya don't get it now.
After getting the
PS360
controller mostly done, I showed it off to a friend that liked it, but said he preferred the PS1/2/3 controller layout for certain game types and wondered if I could make a 360 controller fit in a PS3 shell, so I'm finding out that ya indeed can.
Right now I have the D-pad, Select (Back), PS (Guide) and Start buttons wired up as well as the movements of the Left Stick and they're all working.
This will be a Wired controller when it's all done with, no way would I even think of cramming a Wireless in there unless I had new boards made up (and that entails a whole lot, but is doable) just not enough room for it now how things are setup. No matter how much hacking ya did you'd still end up with a controller twice the size of the PS3 one trying to make it Wireless, this one will look no different really than a stock PS3 controller when it's all done.
The Wired CL board can be cut down to roughly the size of the PS3 controllers battery pack and is where it will sit when it's all done, it's the same board and method I used for the
360 S-controller
. The PS3 controller board has been stripped of nearly all components to make room for the board and wiring and is really just there to hold the sticks and button contacts, though they're on a separate film of they're own that still plugs into the main board here, and anyone that's had a PS2/3 controller apart probably knows what I'm referring to.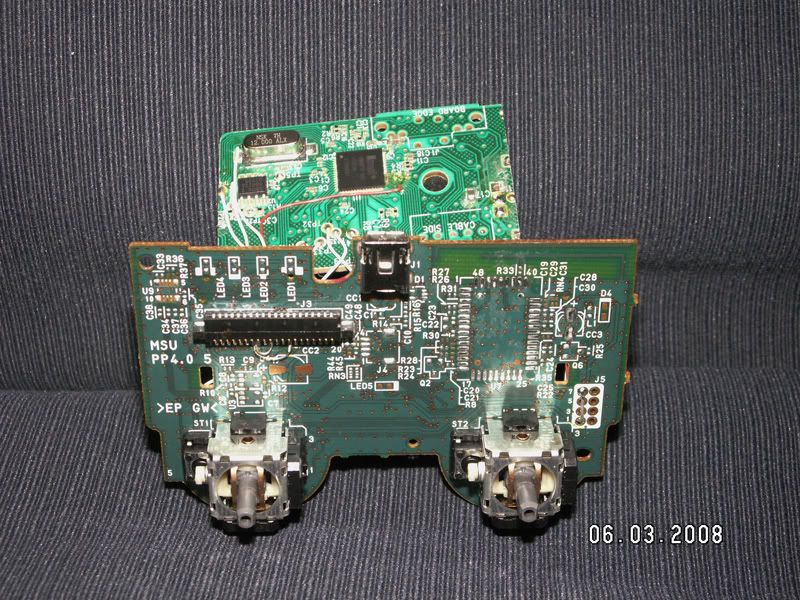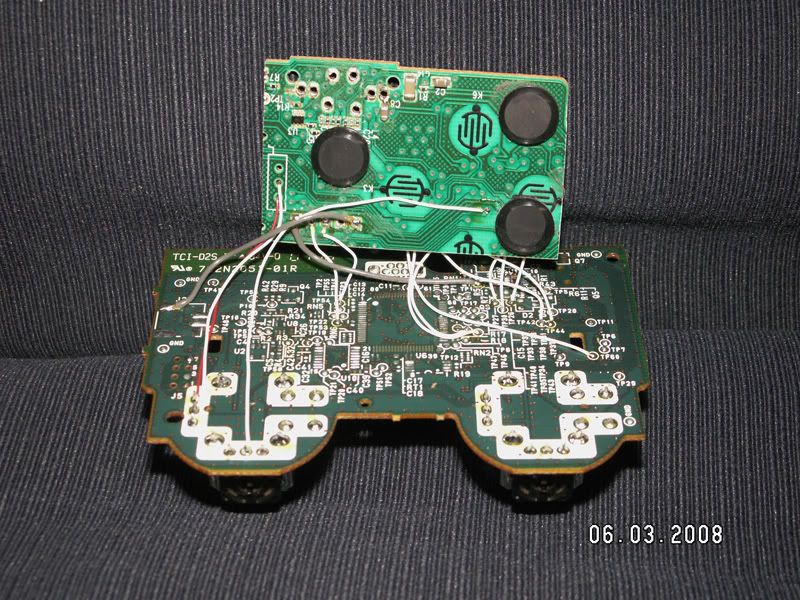 This poor PS3 controller was a dud anyway, the Tilt on it for some reason was all jacked up and not working from day one, though I didn't find that out until after
installing 3 switches
and their
mess of wiring
in it for Southpaw, so needless to say that was infuriating but I just set it off to the side and figured it would come in handy for something sooner or later, and later is here, so it was a perfect candidate for this.
The Mini USB connector will stay in place and any Mini USB cable can be use for plugging it into the 360 or PC. The LEDs will be redone with the stock Greenies from a 360 controller and I may change the buttons over from the PS3 setup to the ABXY and something more resembling a Guide button, not sure yet.
This will all go in the PS3 DualShock 3 controller shell that was originally home to the board I used for the PS360 controller, so it'll have Rumble as well when it's all done, just like it did in it's previous life. The only thing that there will not be, and it gripes me as well, the Triggers will not be analog anymore. This is because of the way the PS3 button contacts are and having to swap it over to the CL layout of the 360 board, it's all just a mess, but when it's all done they will work, just not analog like a stock controller.
Edited by RDC, 12 July 2010 - 07:39 PM.