Here's a little info that I've been mulling over for awhile and haven't seen anyone get into when talking about how crappy the 360 D-pad is, which it is, very.
What happens when ya try and push in just one direction on the D-pad is you also end up pushing on the adjacent directions somewhat, it's not you, it's what happens when ya have a flat disc and try to only push down on 1/4 of it. When ya push up you also end up pushing left right some on the rubber pad under the D-pad, that's what has the contact material on it that makes the connection with the carbon trace contacts on the board, there's no way around that with this setup. It's also the exact same setup as what's in the S-controller, there is no difference there other than color and one alignment tab that serves no real purpose other than to keep the thing from spinning around, it could be 4 or 1 or 3 and make no difference, so ya go looking a little bit further and what do ya find that is different...
The way the carbon contacts are designed on the actual board is where the real problem is at. Tear apart an old S-controller or even a Duke and look at those contacts, then compare them to the ones on a 360 controller. The ones on the S/Duke are just 2 big pads while the ones on the 360 controllers are fanned out like interlocking fingers that don't quite touch.
S-CONTROLLER
360 CONTROLLER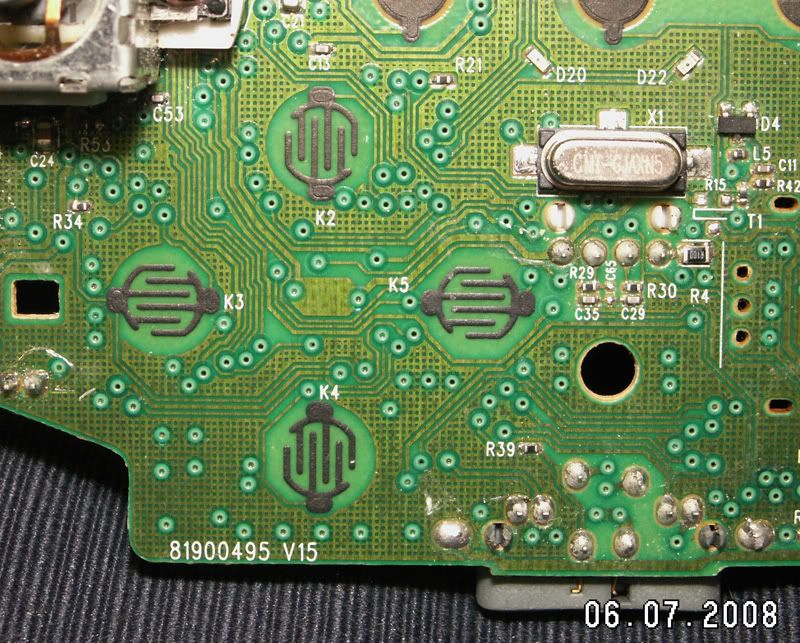 Now some may argue this carbon trace setup is used on a ton of good controllers, and I agree it is, but we're talking about the 360 controller here vs. the S-controller, which granted has no 1st place prize for a D-pad either, but is by far much better than the one on the 360 controller. Others may also notice a controller that has a good D-pad it's usually thiner and the D-pad is somewhat bigger around, neither of which the 360 controllers are.
If ya look at the way these contacts are setup on the S/Duke controllers also you'll see that they're laid out so when ya push up you really can't get the left/right set to make full contact, even if the pad is pushed halfway down trying to, it's only able to make contact with half of the thing and that's not enough to make it work, same if you push left/right, ya can't really get a full connection to be made on the adjacent directions contacts because of how they are designed on the board.
S-CONTROLLER
On the 360 controller you can make contact with the adjacent directions when trying to push in only one because of the way these contacts are laid out on the board and that's the main reason I believe the thing is so picky and misfires all the time.
360 CONTROLLER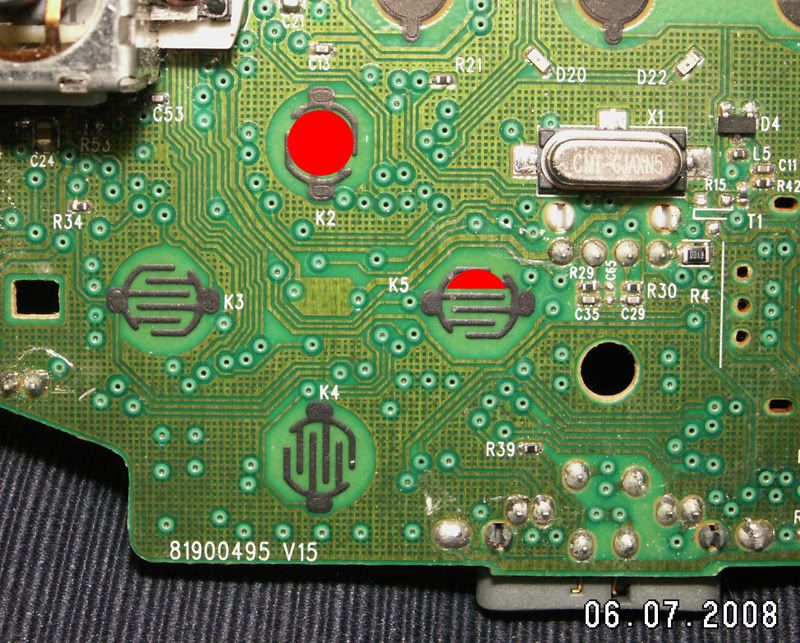 Just navigating thru the dashboard can be a real PITA sometimes as I'm sure a lot of ya have experienced and forget about playing something that ya actually want to be accurate in with it, like an arcade game or THPS. If M$ would just redesign that part of it on the board I'd wager the D-pad issues would drop significantly.
(NOTE: I haven't tried any of these methods yet as I took the entire D-pad setup from an S-controller and '
graphed
' it onto a 360 board)
A couple of things someone might try (besides sanding out the inside edge of the shell which IMHO does nothing for the actual problem and only keeps the thing from making that tarded clicking noise some controllers make in one direction or another) is to tape off the 'problem areas' and see how it plays then. Use a very thin tape, like scotch or some packing tape and cover just the spots in blue.
Alternately, or use it with the above method, you can change the pivot point some of the D-pad which should also make the thing work a little better since it will not be able to push down as much on the adjacent pads when only trying to push in one direction. This can be done by stacking a couple pieces of tape in the very center of the D-pad area, less than 1mm high, you'll have to experiment with it.