Hey guys. I have a custom, two-tone gold/black Xbox for sale. This was my first modded Xbox, but we barely use it anymore. We use to have them all over our house as media centers, but they have since been replaced by 360's and other gadgets.
The Xbox has a 60GB HDD installed, is softmodded, and is already loaded with the latest versions of XBMC and such. I can put any applications/dashboard on there for you, just let me know what you want. Comes with the console, video cables, and power cables.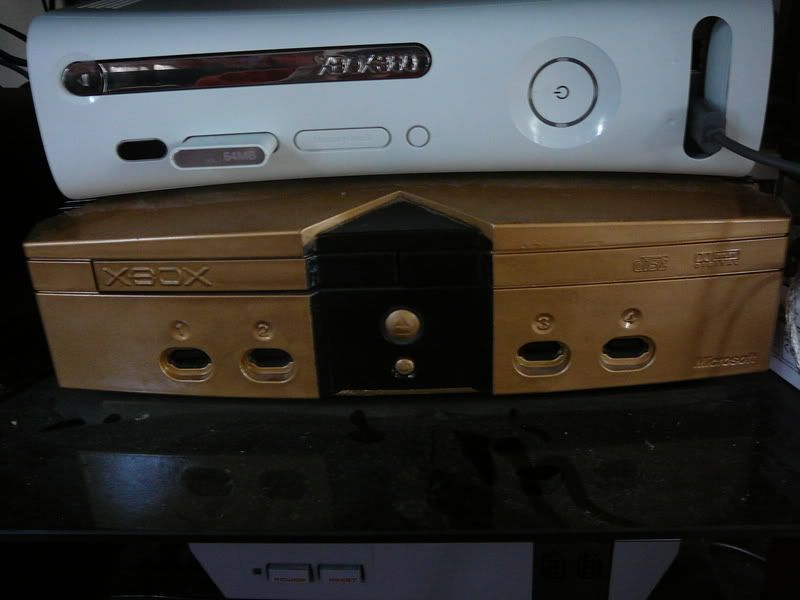 If you would like more pictures I can take them.
Here are some random accessories I have:
Xbox to Usb homemade cable (use flash drives/keyboard on Xbox)
Usb to Xbox homemade cable (use Xbox controller on pc)
8GB Stock Xbox HDD
20GB IDE HDD (just found out it cannot be locked. You will need a chipped xbox to use this drive!)
Custom Gold Xbox w/ 60GB HDD
2x Duke Xbox controllers (one doesn't have break away cable!)
1x Logitech Wireless Controller w/Dongle (Controller no longer functions correctly, thumbsticks continuously spin. . Dongle works fine.)
Multiple Xbox Live communicator adapters
1x Xbox DVD playback kit, dongle only