Alright…as a lot of y'all know (and for those who don't) I had a major stroke in 2003. I lost the ability to speak and my right side was paralyzed. My sons and their friend (EverestX) modded an xbox for me to use to help me rehabilitate myself. I hooked into X-S in 2005 and got into the graphics forum…and it also was instrumental in furthering more rehabilitation. Anyway…my
aphasia
is a real problem…so if I don't make any sense; it's just my "word salad" that scrambles my speech and text. So bear with me.
I bought my Chevelle in 1988 when I lived in the high desert in Apple Valley, CA after my car was stolen. In 1990 we drove it to get back to Texas. I, my wife, and my 2 sons, and two chow-chows packed into the car. Drove it for a couple o' years…and it O.D.'ed. Fast forward to 1998 (? The exact year escapes me.) The a/c unit in the house takes a crap in July…didn't have the funds to get it fixed. So I'm talkin' to EvX's dad (Pat) and he wants to buy the car for right about what I needed to pay to fix it. So I sold it to 'em. Then a few years later I bought a 76 Malibu …beautiful car! Fast forward again…between Pat and EvX and myself think that I would like to have my 67 back, and Pat and I make a deal because he wanted to have a big car for Ev to drive…well anyway, I traded for my 76 Malibu to them for getting my 67 Chevelle + $1000 bucks in return. It was a good trade…all of the body bushings, and the suspension were done (they were doing a resto.) They used some top notch parts to do it. On top of that; the interior was gutted. ( As a sidelight…after the trade; about a year after EvX is driving it he has a pretty gnarly wreck…he's in the ICU and wakes up after a day or so…first thing out of his mouth was "John's (me) is gonna kill me." He didn't care that he was in the hospital, and that his car was wrecked; he was worried I'd be pissed! : )
Well; two years ago I built a Chevy 350; with the help of my best friend, and recently I finally felt like I could tackle getting this car on the road again. This is the year! I've been working on it quite a bit lately, and hope to be driving it April (of course…the interior and paint and body will have to take a while longer, ya know how the economy is.) i know it looks pretty ratty...but it is a solid car!
I'm gonna start this wip with a couple o' recent pix…
this is what I would like it to look like...

this is what it looked like a few weeks ago...
I love these wheels...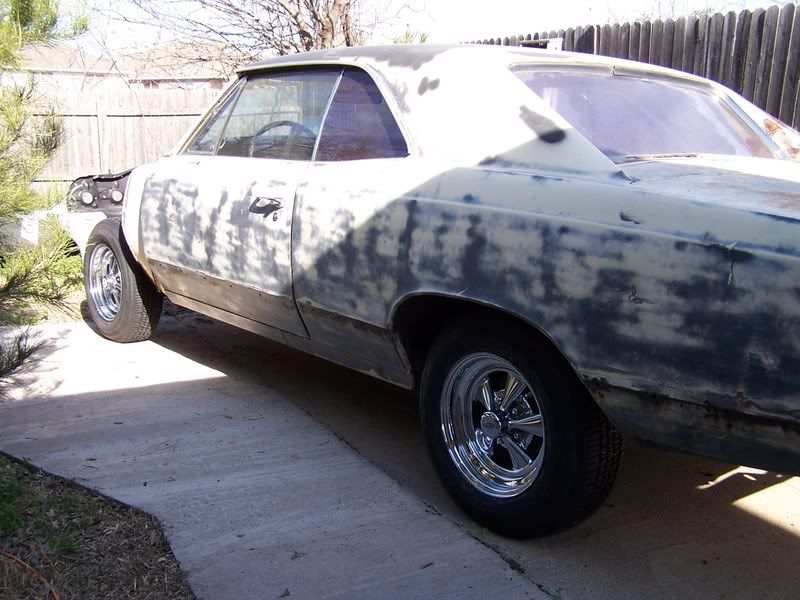 got my motor and powerglide installed....
work might be slow...but i'll update as frequently as i can.