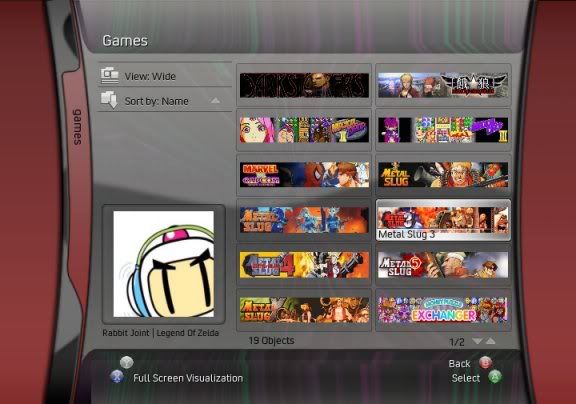 One of the handier features of XBMC is it's ability to boot an emulator and have it load a given ROM right away. This is done via
shortcut files
, tiny text documents that detail with where the emulator is, where the ROM is, and so on and so forth.
The catch is that creating these shortcut files for each of your ROMs can potentially be... "somewhat tedious". The purpose of this program is to automate the process as much as is possible.
More shortcuts with less work.
Anyway,
here ya go
.
You'll need the
Sun Java VM
, assuming you don't already have it (you might need to reboot after installing).
v1.0 - 11/03/2009
Initial release.
v2.0 - 16/03/2009
Including thumb paths in shortcuts is now optional.
v3.0 - 19/03/2009
Bug fix, would incorrectly identify extensions on occasion.
v4.0 - 20/04/2009
Support for the Xtras icon directory layout.
v5.0 - 30/04/2009
The use of the "&" symbol is now acceptable in ROM names.
v6.0 - 06/05/2009
Added INI file support.
v7.0 - 29/11/2009
Thumbnail paths no longer embedded in shortcuts by default. Additional ROM extensions added to the watch list.
v8.0 - 22/01/2010
Support for sub-folders included in "listing.txt".
v9.0 - 24/01/2010
Bug fix, possible crash when dealing with multiple sub-directories of ROMs.
v10.0 - 19/04/2010
Detected ROM file extensions are now handled by "CutCreator.ini", so the list can be altered by users.
v11.0 - 20/04/2010
"GenerateDirectoryListing.bat" now accepts optional parameters.
First is the target search directory, second is where the ROMs are located on the console.
Do not include trailing slashes when entering paths as parameters!!
"CutCreator.bat" also now accepts optional parameters.
If you use the "/defaults" arguement, it won't ask you any questions when it runs.
(It'll assume everything in the listing/INI files is correct).
You may also specify an alternate INI file to use by simply throwing in its name as an arguement.
Refer
here
for more information on using these parameters.
v12.0 - 24/04/2010
"GenerateDirectoryListing.bat" now accepts a third optional parameter.
This is the path to the folder containing art you wish to use with your CUTs. This will generate an
extra listing file, called "Thumbs.lst", which "CutCreator.bat" will use to copy any identically
titled images alongside your CUT files.
JPG/PNG files will be detected, if both are present, PNG will be used. Files will be renamed to use
a TBN extension.
v13.0 - 17/05/2010
If FBL's "favorites.ini" file is present in the CutCreator directory, you may opt to have shortcuts display
according to the game titles detailed in that file. Useful for MAME-style games (eg, "mslug" will automatically
display as "Metal Slug: Super Vehicle-001" within XBMC).
v14.0 - 18/05/2010
When using FBL's "favorites.ini", CutCreator now attempts to "guess" the parent titles of child sets not
explicitly covered by the INI file (eg, "mslug3nd" will automatically display as
"Metal Slug 3 (mslug3nd, child of mslug3)" if the INI offers no specific title for that child ROM).
v15.0 - 30/05/2010
No longer uses FBL's "favorites.ini" - now instead uses the included file "Game Titles.txt", based on the MAME source, v0.138 (you'd think they'd be up to at least v0.8 or something by now...).
When using this file to determine titles, including regional + child set info is optional.
Deprecated Xtras-icon directory layout support re-documented as for use with XPort screenshot folders.
v16.0 - 31/05/2010
Fixed crash when dealing with short filenames.
v17.0 - 03/06/2010
Screenshot paths can now be incorporated into "Game Titles.txt", and can optionally be incorporated into CUTs.
Included "Game Titles (C64).txt" for Commodore 64. Replace the default version ("Game Titles.txt")
with this if you wish to use it. It's based on the GB64 v07 Database.
Edited by Bomb Bloke, 16 September 2010 - 11:21 AM.