This isn't a full blown kinda trace repair tutorial, everyone goes about this sort of thing a little different way and it really depends on the type of board you're working on, the size of the traces and the level of damage involved as to how it should be approached to repair it. This is just to show some of how I go about fixing up something this small damaged in this way and if nothing else will show some that are attempting or wishing to do this kinda of thing one of the ways that it can be gone about, though be aware, this isn't yer every day trace repair job and after ya actually get a first hand look at the size of the traces on your board you'll understand why.
Here is the damage in question..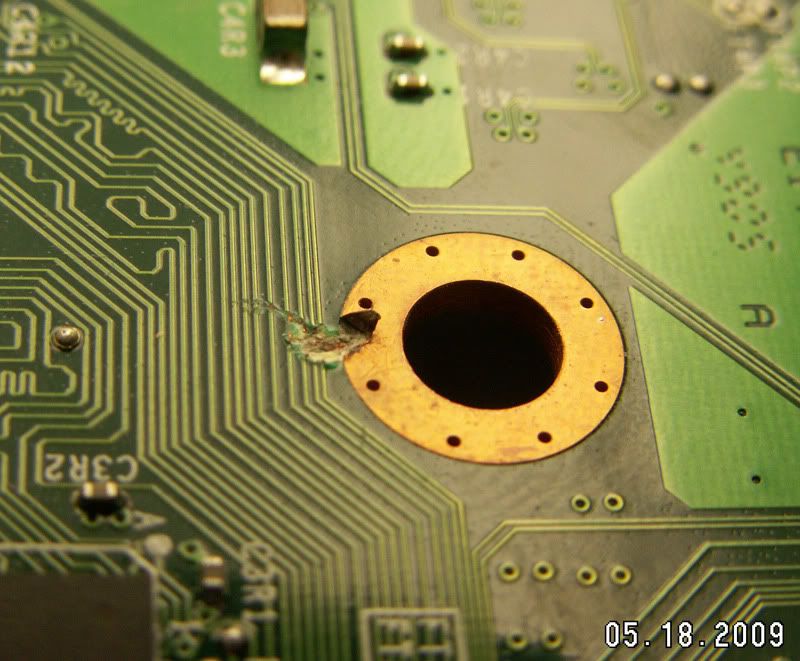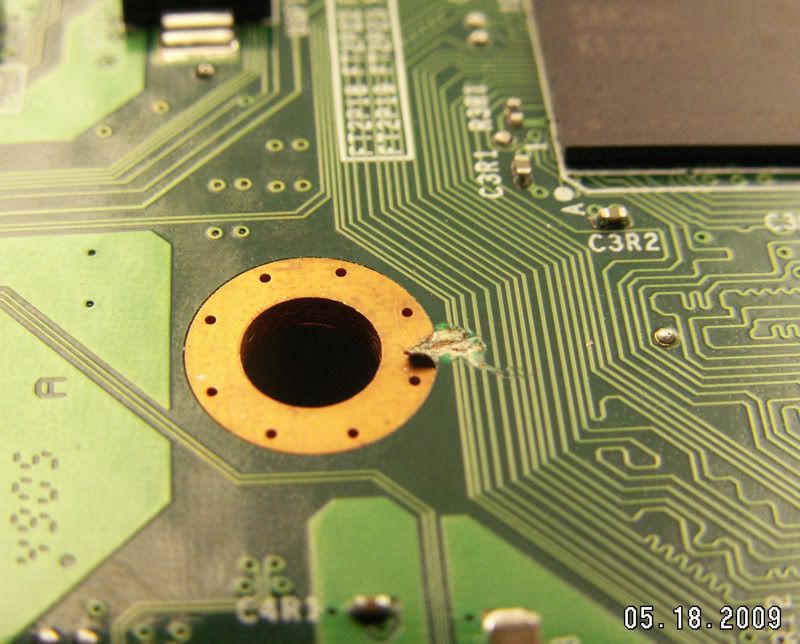 No idea how it happened, but it doesn't take a rocket scientist to figure out it was X-clamp + not being careful related. On a side not, with these traces damaged like this the 360 has no Video output, shows the 3RL, but no Secondary error code can be obtained, in fact Eject works like it should making the drive's tray open up.
At first glance it looks like 4 to 5 traces are bad, but after getting all of the 'loose' bits and such cleaned away it's only 3 that are really severed and need some attention, with the 4th one being a little dinged up, but still intact.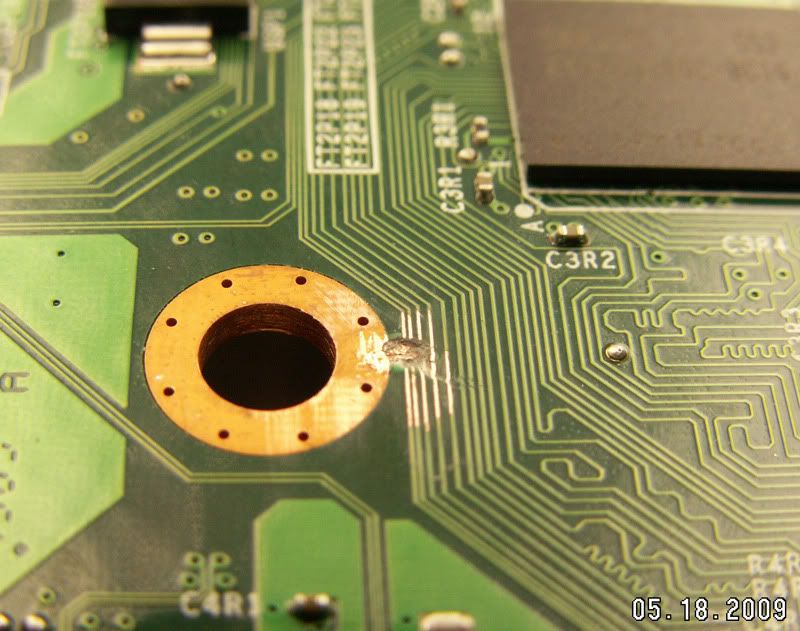 You may notice there is copper in the bottom of the gouge in the board. This is one of the inside layers, and is a power line for the GPU, so we need to do something with it before repairing the traces above it, the last thing ya want to do is short this to Ground or one of the lines you're repairing.
All this really takes is a tiny bit of Super Glue, not a drop, just a tad, in fact 1/10th of a tad. You can use a needle and get a little bit of glue on the tip of it, then dab it into the open crater there to cover the exposed trace and insulate it.
NOTE:
Be EXTREMELY careful using Super Glue around any place you'll be soldering to later on, as soon as an iron hits that stuff it fumes up and if ya get it in yer eyes you'll wish you'd never heard of Super Glue, Soldering or even had eyes for it to get in there in the first place.
This is what it looks like after a tiny bit of glue is applied to get that exposed trace in there covered up.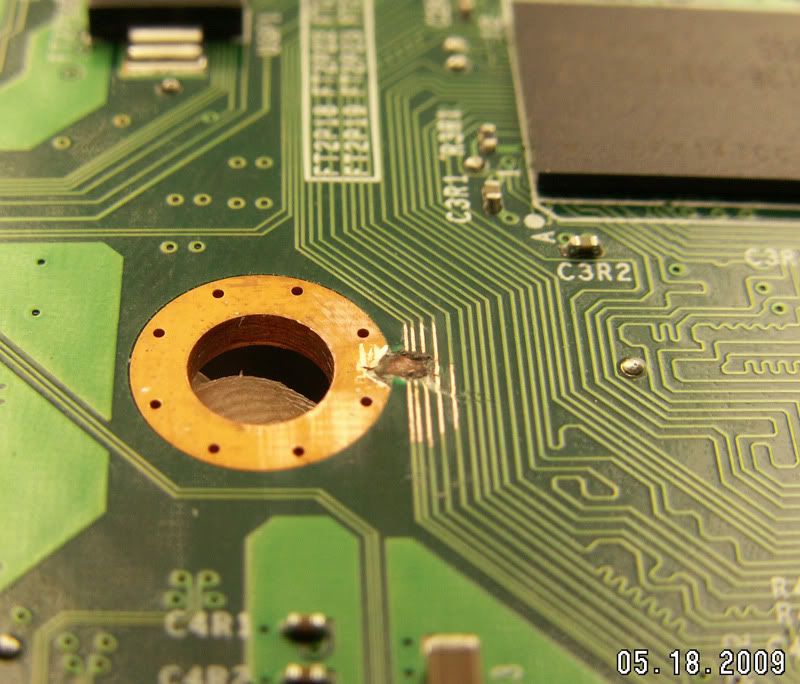 Now that has been taken care of we get out the Masking tape and the tiny arse wire. If ya are new to soldering/working with really small components (SMT/SMD) get to learn to use masking tape, it's one of the best 3rd, 4th and 5th set of hands you can have for working on that kinda thing, and for doing trace repair work this small is in most cases a must. The reason Masking tape is good is because ya can't melt it with the solder or the iron (as long as you're doing things properly) it's easy to remove and the only down side is when it gets hot the 'sticky' backing of it stays behind on the board when ya remove it, which can easily be cleaned up with some Rubbing Alcohol and a few Q-tips, so there's really no down side to using it.
What ya do is 'mask off' just one trace. Start at one side or the other, not in the middle, and mask just one off like so..
Make sure you're as close to the trace as ya can get, ya don't want the soldering you're about to do get on any of the other traces.
Once ya have that done lay the wire on the trace and tape it at both ends so it's as straight and flat against the trace you're repairing as ya can get it, then solder away.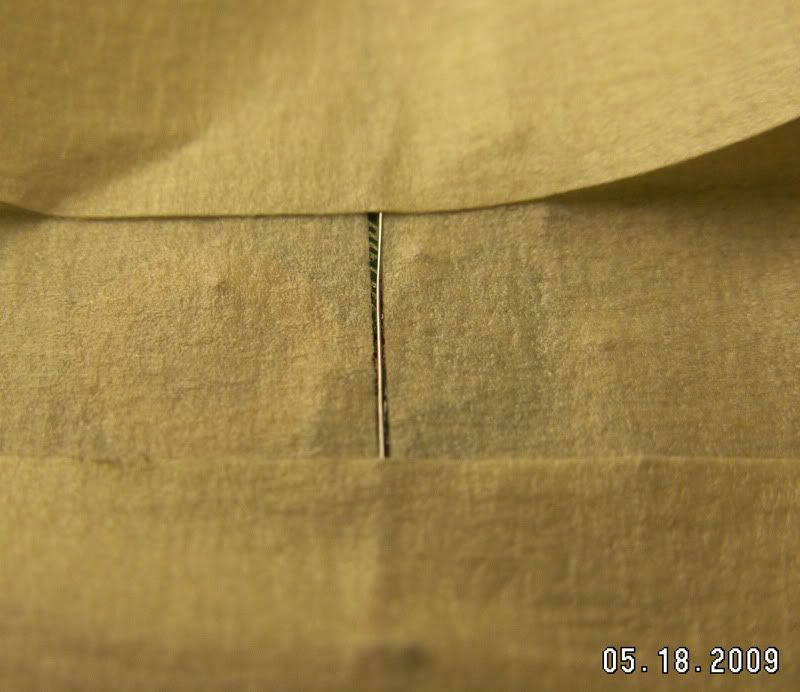 If all went well ya should end up with something like this after cutting the wire down to length after removing the Masking tape, you'll notice some of the Masking tape 'sticky' that was mentioned earlier is left behind..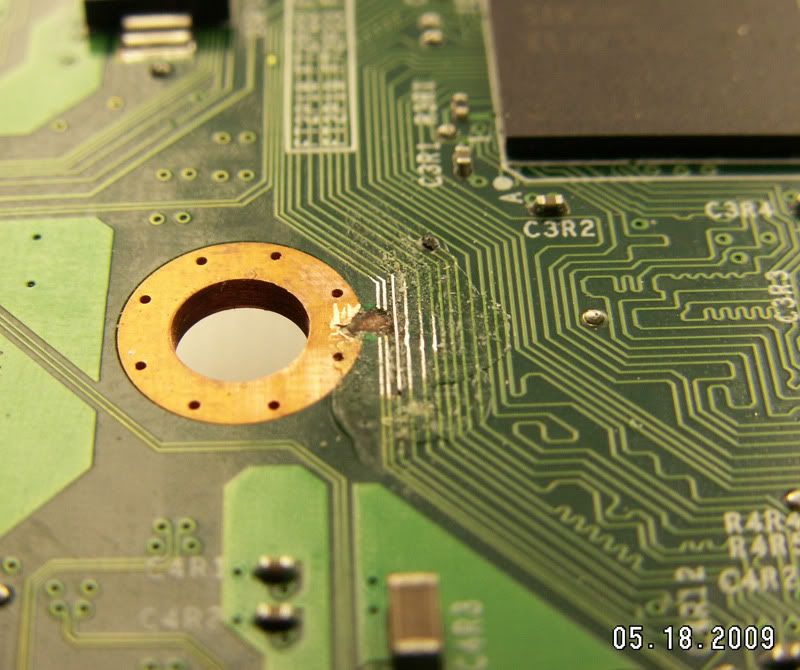 ..and then after repeating the steps for the rest of the traces ya (should) end up with something like this..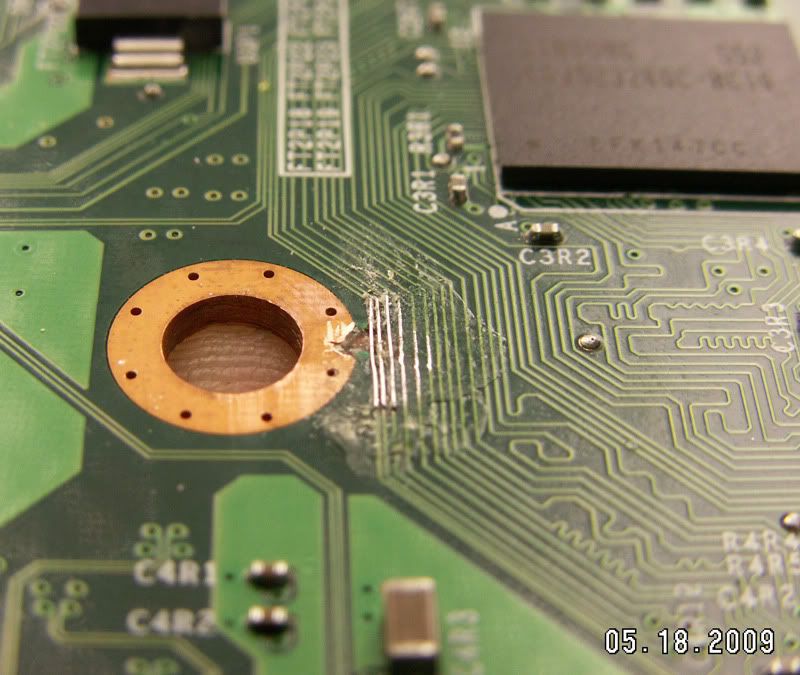 After it's cleaned up a little bit (optional really) ya end up with your pretty much finished repair..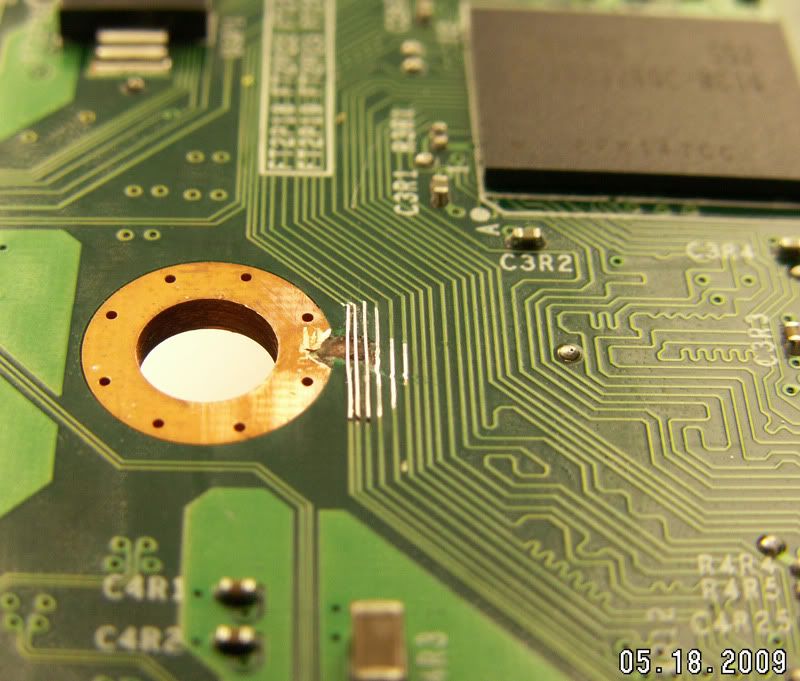 Covering the entire repair area with a thin layer of Lacquer or Super Glue is another additional step as well, even just a piece of Electrical tape will do really, but again it depends on the board you're working on and if it would really need the additional protection/insulation or not.
Edited by RDC, 19 May 2009 - 06:48 AM.