Well, i've been looking at getting a sport fourwheeler for awhile... my 400 kodiak was just too slow... well looking at the local ads.. i found a 02 660R Raptor for $1800. Talked them down to $1600, then the next day they told me they'd take $1500 so I went to look at it. Took it for a ride... handed them a check, loaded it up.
It looked like this...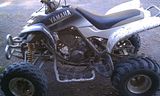 Rode it the night of 7/3 (day i got it)... rode till about 5am. Check oil the next day, was low so put in a quart... started it up, nothing but smoke at the back.
stripped it down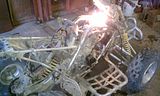 took the engine over to the local shop... it needed new rings and the cylinder was off round and the connecting rod had a lot of play in it... so its being rebuilt.
well I had all the plastics off, I decided to make it look nice again.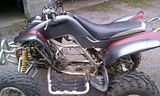 im getting shock covers so the shocks will match and the seat is all black now, doesn't have the off white at the back of it.... and im still waiting to get the engine back