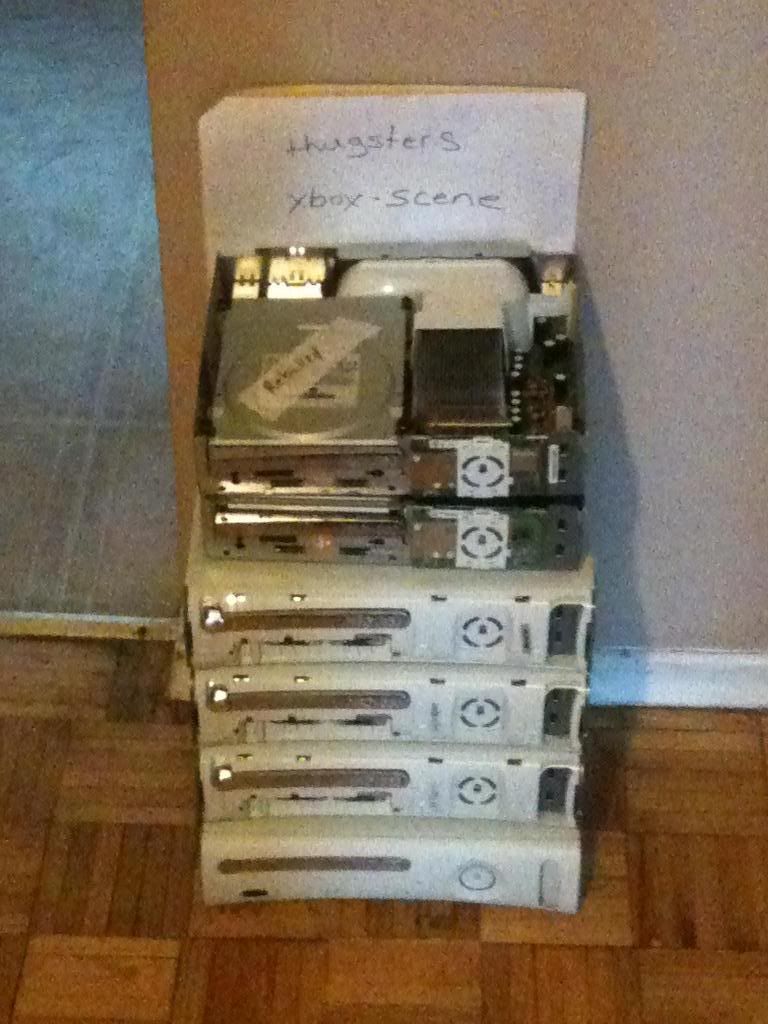 Sorry about the picture, cheap iPhone
Anyway Have 6 Jtags up for grabs, 5 are Xenon units and 1 is a Falcon. All with come bridged to prevent accidental updates and I will include original nand, current nand and cpukey, along with a few apps on disc.
Specs of the systems are as follows.
-All have had rrod, I buy returns from futureshop/bestbuy (apparently) as xbox just writes of their boxes and apparently hasn't take returns in awhile so my supplier has a warehouse full. Unconfirmed though just what I was told when I first started buying them over a year ago. 90% haven't been untouched before me.
-2 Xenon's are reballed along with the Falcon unit
-3 Xenon's are re-flown
-3 Xenon units have 2 gen gpu heat sinks but can replace others on request
-Diode method used
-Drives are samsung/hitachi on the xenon units and benq on the falcon
-Drives are also flashed with LT2.0 except for the hitachi obviously
-Stock x-clamps put back on along with Arctic Ceramique Paste
-The top two do have cases just haven't put them on yet
-All faceplates have usb covers missing
$100 for the Xenon reflown units + shipping
$120 for the Xenon reballed units + shipping
$140 for the Falcon reballed unit + shipping
I've sold on here before and have sold over 100 units on ioffer since last october. I'm unsure if I can post a link to my user name there for feedback, but as of late they no longer let me sell on there so I'm back to the forums
Payments are to be made as gift and buyer must be verified. Too many people are using prepaid cc cards and just filling unauthorized transactions so verified buyers are a must.
Edited by BoNg420, 28 July 2012 - 04:22 PM.