Details:
This is based off RarTo360 except without the Rar part (and a lot cleaner). RarTo360 can still be found
here
.
No bugs that I know of but please report any if found. I will release source code once I get it cleaned up a bit.
To use: open settings.conf in a text editor and fill in your settings, once set open IsoTo360.jar and fill in game name, select an ISO and choose local or FTP extraction.
tested working under wine on Linux for local and FTP extraction - only bug is that the check boxes aren't visible you have to click the area where they are (see screenshot). Native Linux support will be added as time permits.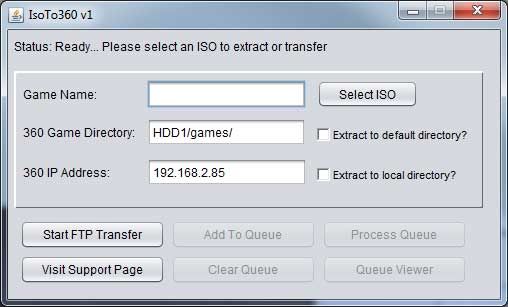 To Add:
Batch support
Progress bar (currently just opens up exiso in a dos box)
Native Linux support (currently works under wine)
Download:
IsoTo360 v1.1
(MediaFire)
Thanks to Aiyyo for modified exiso.exe that handles XGD3 ISO's.
Change Log:
V1.1 gui/layout change
Edited by ILLusions0fGrander, 04 November 2011 - 06:44 PM.