Hi, I've just attempted my 2nd wireless controller rol led swap (1st was successful) and think I could have a slight problem.
While desoldering the top right led I was a little careless and got solder near the recharge port. When i removed the solder, I'm sure it also removed a component, perhaps a resistor or diode? After installing the LEDs, they all light up fine with the charge cable in, but are very dim when using the recharge pack. So I'm wondering if this has something to do with this potentially missing component.
I don't really know which board is which, so here is a front and back image of the board.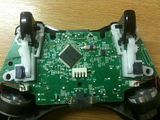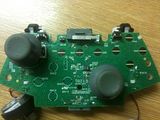 And here is the picture to show where I think the missing component should be. If there is something missing, if anyone could let me know what it is so I can order a replacement I'd be most grateful.