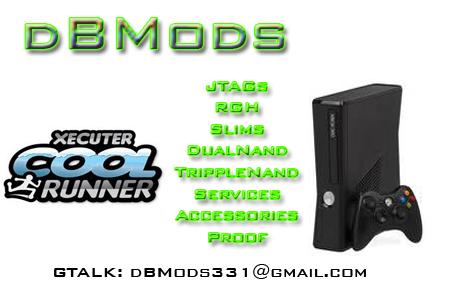 1) Do not contact me unless you have the money and ready to pay! I get countless amount of messages a day saying people are going to purchase and they never do.
2) I Do not ship to the United Kingdom. I only ship throughout the US and Canada.
3) All consoles EXCEPT XENONS come with a 90 day warranty. If you attempt to open the console or break the warranty sticker your console is no longer covered under warranty.
4) Do not spam me on aim or gtalk with 101 messages. Ill reply when i have a chance.
5) All consoles come with XeX Menu 1.1 on a CD and Org nand cpu key and other files that are needed for the console.
6) If you purchase a HDD i do not add games to the HDD that is copyright.
7) I will send you the TU7 and w.e is needed to host MW2 XP.
8) Shipping is $10.00, $15.00 for large flat rate.

Xenon-$140.00
Zephyr-$160.00
Falcon-$175.00
Jasper-$210.00
Slim-225.00
JTAG Service - $40.00
RGH Service - $65.00
Tripple Nand - $100.00
Dual Nand - $140.00
iPhone Screen Replacement - $60.00