Hello. I'm alittle afraid I've fried my mobo here
My 1.4 unmodded xbox has burnt a trace on the underside. I can't be certain, but I believe it happened when I was putting it back together, and when I plugged the ATX connector on the mobo, I saw the fan start up for a moment, and then stop, even though the PSU wasn't even plugged in. I started to get a FRAG with no video output at all, so I removed the mobo to look for solder splashes and such, and noticed a burnt trace. I'm not a skilled solderer, but I tried to connect the two traces with a bit of solder and started it up. It didn't frag anymore but the picture was messed up. It was almost a black screen but you can see small flashes of the xbox logo, usually off center. The audio comes through fine. Now from similar situations I've heard, I would say the MCPX chip is fried, but the burnt trace is so far from the MCPX cihp, I don't see how it can be related. I'm wondering if it's my poor soldering job just not giving a good connection. There is an IC nearby that I suspect may have been fried though, but thankfully it looks like an easy replacement.
Here are some pics of it, sorry for the bad quality: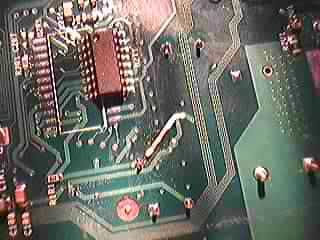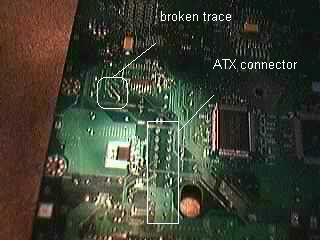 You can just see the burnt trace just above and to the left of where the ATX connect is located. On the topside this trace location is just in front of the CPU. Practically on the other side of the mobo as the MCPX chip, this is why I suspect the MCPX is fine.
Thats about as much info as I can think to give now. Does anyone have any suggestions? Are there any good tutorials on fixing broken traces so that I can try and do a better job?