WEll sir, Yeah. What you need to know first off is that there are about 5-6 revisions of the Saturn Board and the location of the jumpers similar to an Xbox 1.0-1.6.
There are several differnt configs of them. Easiest one to do would look like this.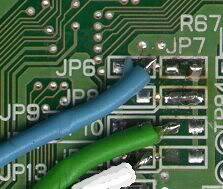 That is a pic of the Jumpers. If you can find those jumper #'s in a differnt config, post a pic up and I will find you what you need.
It's from a model 2 ( Round buttons - No access Light for cd rom)
If you just want to do Us/Jap then you will want this
If you want to do us/jap/uk you will need a 50/60hz switch and a region switch.
I am not on my Pc right now but I can get you a good amount of links as these have been my current projects aside from my Screened box that I am working on.
jsut so you know Black and REd represent 5v and Ground from the power supply. give me about 30 minutes to get abck on my pc at home and I will shoot you too the way back machine for Daves saturn page. BEst guide around.. Unless you can understand the one on Gamesx. I cant understand that one clearly though..
EvX