Hi guys,
I wonder if you can help at all...?
OK got my cool runner and it's all installed and booted up jtag.exe and read the nands again, so have 2 folders one with nand1 and another nand2 *still reading 2 bad blocks" (this is after using the wires direct and also 2 new QSB's)
Now if i go through the jtag tool then I get to the bit where it "flashes glitch board" the green LED goes out, then the next screen where it says "nand compare and your not going to be able to continue unless you have two matching nands" blah blah.
So I've downloaded and run "nand repair" and loaded nand 1 into source and then nand 1 as destination, it then gives me the warning of "it'll overwrite" etc. etc. So i allow it too and then if I try and load them nands back into jtag tool then it comes back with the failed blocks and of course can not continue.
So not sure what to do now as "nand repair" is telling me that it's saved them and amended them but jtag tool is still telling me that the blocks are bad.
Any ideas please I'm at a loss now.
32768 block(s) in nand image
2 non-matching block(s) found
44
34EB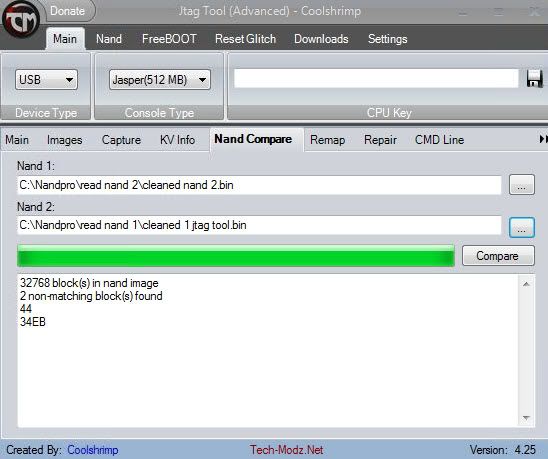 I've tried nand repair and that states that it's fixing them but as i say if i load them back into "jtag tool" then it tells me that there are still the two bad blocks.
So then i got told the following...
QUOTE
It is not possible to remove bad blocks. They are physically bad parts of the nand chip.

The image has to be modified so that it avoids the bad areas. Have a look at Coolshrimp's tutorial on remapping.
So i followed coolshrimps tut and he goes to "unmap" which it does fine, but then when i go to create freeboot i get the following error.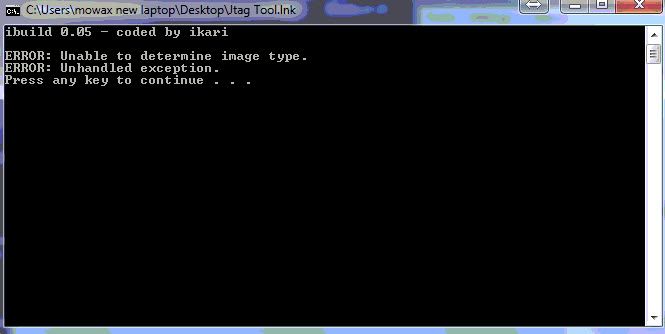 I've been reading and has some sound advice from a few on here and there saying that the xell is in the 1st 50 blocks and of course that's where i'm getting the nand bad blocks.
I was then going to follow the "degraded" post but that's also throwing the toys out the pram.
I get the following error when i try and open the 1st nand that i read. (Having a ball at this i am!)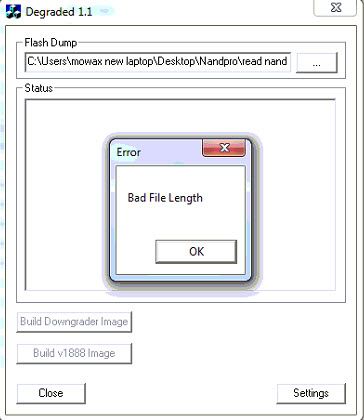 So then seen "downgraded"
Just tried it, edited the hex file to 2005 and then saved it but then read the following...
NAND wont open in Degraded? Here is how to fix that.
1) Make a copy of your NAND backup
2) Open that copy in a hex editor
3) At offset 0x0012 you will see 2004 - 2007 Microsoft Corporation
4) Change that to 2004 - 2005 Microsoft Corporation
5) Now you image will open in Degraded.
For Big Block consoles. Degraded will not open your image.
DOH!!!!
it's a huge jasper 500 meg sized 45 minute per nand read that I have been convicted off! (i know that there's a few saying that i don't have to read it all as xell confides in the 1st fifty blocks..or some thing like that) I was even thinking of ripping it all out and starting on another 360 but i ain't given up with it.
Nothing better than starting with the hardest most difficult thing going, (for me any way) done loads of broadcom reading/writing, blackkatz etc. so nearly getting my head around this new task!
Sounds like the nand was bad @ base, (so when M$ wrote it....according to why they are bad in the 1st place). (defo can't be the soldering as that's all sorted, tried 2 QSB's a direct wire etc.. Multi meter etc.. etc.)
Any ideas chaps.
Thanks for reading all this post, appreciated.